As you embark on the thrilling journey of wedding planning, one of the most exciting chapters awaits: choosing the perfect dresses for your bridesmaids. After all, they'll be standing next to you as your biggest support group and the most stunning wedding sidekicks you could ask for. So, what they wear should be more than just an afterthought – their dresses will serve to complement yours, creating a harmonious, cohesive look from across the board. 
But with thousands of dresses and different personalities and opinions, the quest for the perfect bridesmaid dresses can be a bit overwhelming. So, we put together this guide to help you easily navigate the process.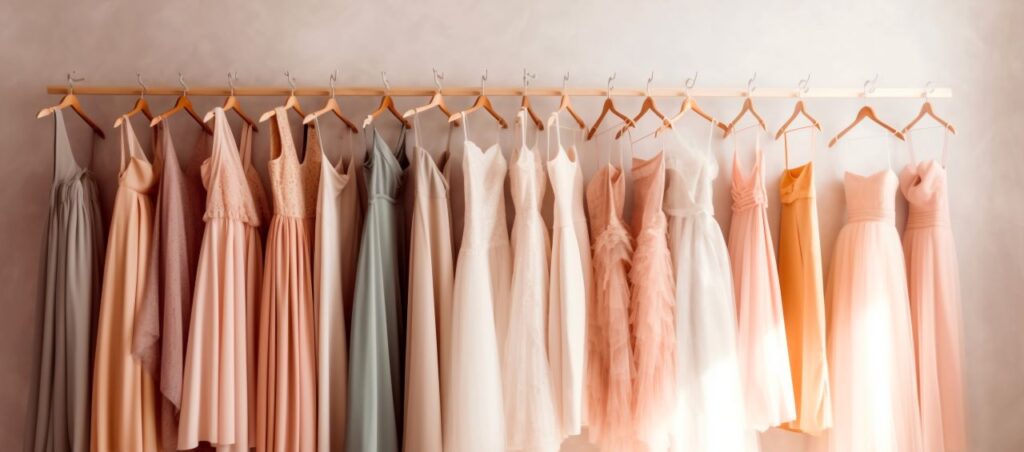 Start with a bit of inspiration
Ah, the quest for the perfect bridesmaid dresses, a thrilling adventure in tulle, satin, crepe and chiffon! Before diving headfirst into the sea of options and hitting every bridal boutique in town, take a moment to find your inspiration. Being prepared with ideas of which styles you like can help keep simplify and expedite the process. 
Start with Today's Bride magazine and www.todaysbride.ca! Get inspiration from our beautiful fashion shoots and real weddings. Scroll through Pinterest and Instagram to find looks that speak to you and spark your interest. Save your favourite pins, screenshot the weddings you like on social media, and take the pages out of Today's Bride with you when you begin shopping. These images will help steer you to the perfect dresses. 
But don't be afraid to venture outside your inspiration; sometimes, the perfect bridesmaid dress is something you never expected. 
Set a timeline
Most bridesmaid dresses have to be ordered, which can take anywhere from a few weeks to a few months. This means shopping for bridesmaid dresses should never be pushed to the last minute. It's essential that you make a plan for when to begin shopping and a timeline (or, shall we say, deadline) for ordering the dresses. 
Setting realistic timelines will help to avoid last-minute stress and extra fees for rush deliveries and shipping upgrades. Starting early will also allow time to accommodate potential alterations and unforeseen hiccups. Trust us, a stress-free bride is a radiant bride!
Consider the budget
Traditionally speaking, your bridesmaids will be the ones to foot the bill for the bridesmaid dresses, so remember to be sensitive to everyone's budgets. Be upfront about the potential costs and, if necessary, work out a solution for any bridesmaid who may be more financially strapped than others. If your budget allows, you can also cover the entire cost of all the bridesmaid dresses as a thank you gesture for participating in your wedding, or volunteer to pay for a portion of the cost. And remember, gorgeous bridesmaid dresses don't have to come with a jaw-dropping price tag – shop around until you find one that works for everyone.
The colour factor
The colour palette sets the tone for your wedding and so your bridesmaids should seamlessly blend into the theme. You can opt for a uniform colour scheme or choose varying shades of your wedding colour to create a stunning hombre or gradient effect.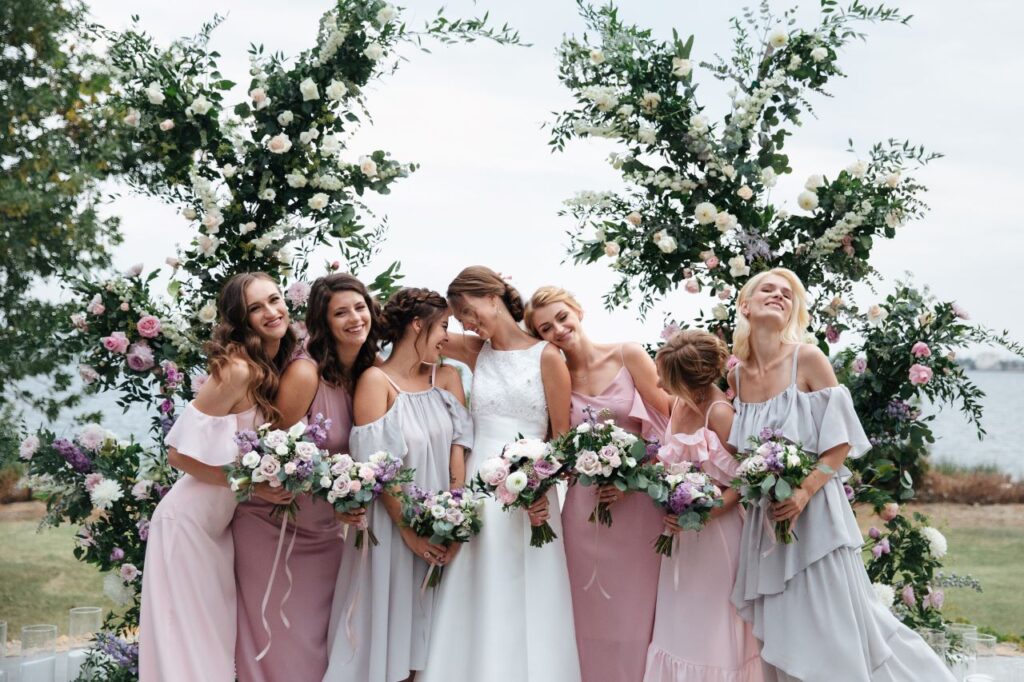 Consider the fabric
From airy chiffon that dances in the breeze, to the timeless allure of crepe that suits any season, your choice of fabric for your bridesmaid dresses should align with the wedding vibe. Take cues from your wedding dress, the season, and the event's formality. Remember, the fabric you choose isn't just about how it looks but also about how it feels and complements the overall aesthetic.
Embrace their uniqueness
One size does not fit all, a mantra to live by when it comes to bridesmaid dresses. Embrace the diversity of your squad by considering dresses that flatter various body shapes. Mix and match styles or choose convertible dresses that can be styled differently to suit each bridesmaid's unique taste.
Take measurements
The quest for the perfect bridesmaid dresses doesn't end with selection — in fact, it's only the beginning. Ensuring the right fit will allow your bridesmaids to feel comfortable and confident. Encourage them to have their measurements professionally taken to ensure accuracy down to the last detail. But also plan for alterations closer to the big day because most dresses won't fit perfectly.
In-store vs. online
To buy your bridesmaid dresses in-store or online? The choice is yours. 
In-store shopping provides a tactile experience, allowing bridesmaids to feel the fabric, try on dresses, and visualize the overall look. It can also be a bonding experience for you and your squad, an activity that you all can do together with plenty of 'oohs' and 'ahhs'. 
On the other hand, online shopping provides convenience and an extensive array of options at your fingertips. The virtual realm allows for thorough browsing, price comparison, and easy accessibility, and is an ideal option for bridesmaids who live further out. 
Whether you opt for the traditional in-store experience or the modern convenience of online shopping, it's crucial to understand the fine print before you click 'order.' Consider delivery times, return policies, and the efficiency of exchanges or refunds. And remember to slot in adequate time for any necessary alterations.