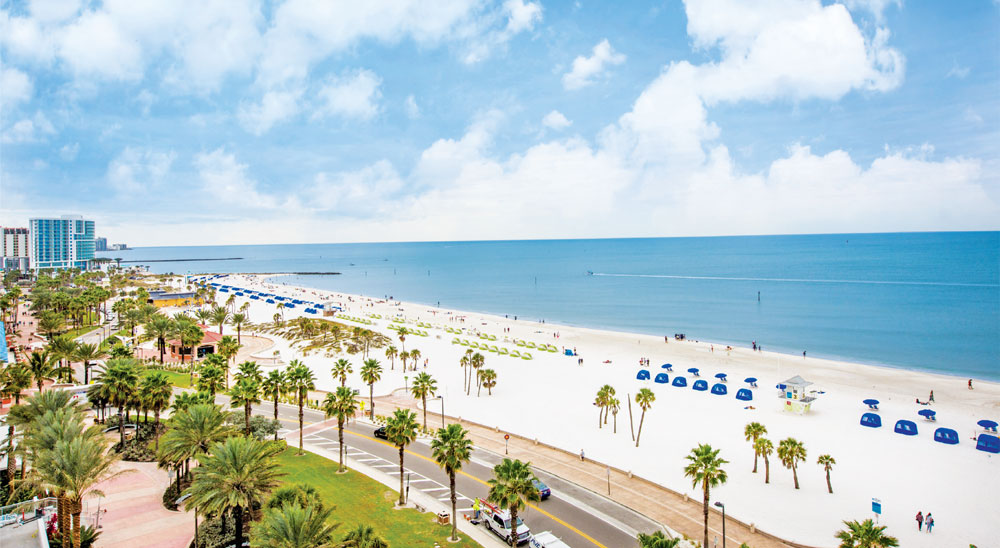 Clearwater Beach. You really don't have
to venture further than Florida's Gulf
Coast to experience a tropical
getaway.
To start, the beach is truly unbelievable and was recently named America's Best Beach by
TripAdvisor. You know that soft, white sand that everyone wants to sink their toes in? Well this
sand goes above and beyond. Picture how your toes would feel in flour. Plus, it is immaculate,
with grounds crews working hard at sunrise to remove debris, rake the sand and set up lounge
chairs and umbrellas.
Hotels along the beach are plentiful, all with spectacular views of the famous Clearwater
sunsets. The new Wyndham Grand Clearwater Beach is one of these properties, with beach
or marina views from each of its 343 rooms. Inside the hotel is Clearwater's only Asian-fusion
(Asian-French!) restaurant: Ocean Hai. Try the sushi; you won't be disappointed.
The Wyndham Grand is located right at Pier 60, which is an attraction in itself. Take a stroll
on the pier and then visit the Sunsets at Pier 60 daily festival, which features artisans, street
performers and crafters. Check the pier's sunset cinema schedule to enjoy a movie under the stars

There are plenty of water activities to enjoy – float along the coast by parasail, hit the waves
on a Jet Ski, charter a fishing boat or take a dolphin watching tour. Or, enjoy a romantic dinner
cruise. After dinner, head to Marina Cantina for a margarita or two. The restaurant has a heated
rooftop that allows you to soak in the marina atmosphere as you toast your married life!
5 Things to Know About Clearwater
You can tour the Clearwater
Marine Aquarium, home of
Winter the dolphin (from
the movie Dolphin Tale)
Florida is a
golfer's paradise.
Pack your clubs.
Indoor surfing is a thing.
Check out FlowRider
Indoor Surfing, which
makes it easier to ride
the perfect wave
The local favourite
seafood is grouper
(they actually have
"grouper week").
The St.Pete/Clearwater
craft beer trail includes
30+ craft breweries.