You've found the dress of your dreams, but now it's time to make it truly dazzle. As a bride, your wedding dress will be the focal point of the entire day, so why not add a few extra touches to it to make it truly stand out? From delicate lace to shimmering crystals, the options for embellishments for your wedding dress are as endless as your imagination. 
In this article, we'll explore some of the most luxurious fabrics and embellishments to bring your dream dress to life and make you feel like the princess you are on your special day. Get ready to sparkle and shine!
Elegant embellishments: Adding glamour to your wedding dress
Elegant embellishments like beading, crystals, three-dimensional elements, bows, feathers, fringe and embroidery are stunning ways to dazzle your wedding dress. Here are a few great ideas:
Lace
Delicate lace is a timeless choice for a bride. Whether you prefer floral Chantilly lace, geometric Art Deco patterns, classic Alencon lace or whimsical eyelet lace, there are countless ways to incorporate this luxurious fabric. Lace appliques, sleeves, a lace neckline or hem, or even a full lace overlay on a simple sheath dress are all dreamy embellishments.
Beading and crystals
When it comes to making your wedding dress shine, you've got plenty of options, whether you prefer simple elegance or extravagant beauty. If you're all about convenience but still want that instant wow factor, consider shopping for a wedding dress already bedazzled with intricate beading or crystal embellishments. These gowns come ready to dazzle, ensuring you're a vision of sparkle on your big day.
But, if you've fallen for a more understated, unembellished gown and want to add a personal touch, fret not. You can still elevate your dress to a whole new level of glamour with simple extras like a beaded or crystal belt cinched at your waist, or a sparkly bolero jacket that transforms your look from day to night. And let's not forget the charm of beaded or crystal cap sleeves or straps that delicately frame your shoulders.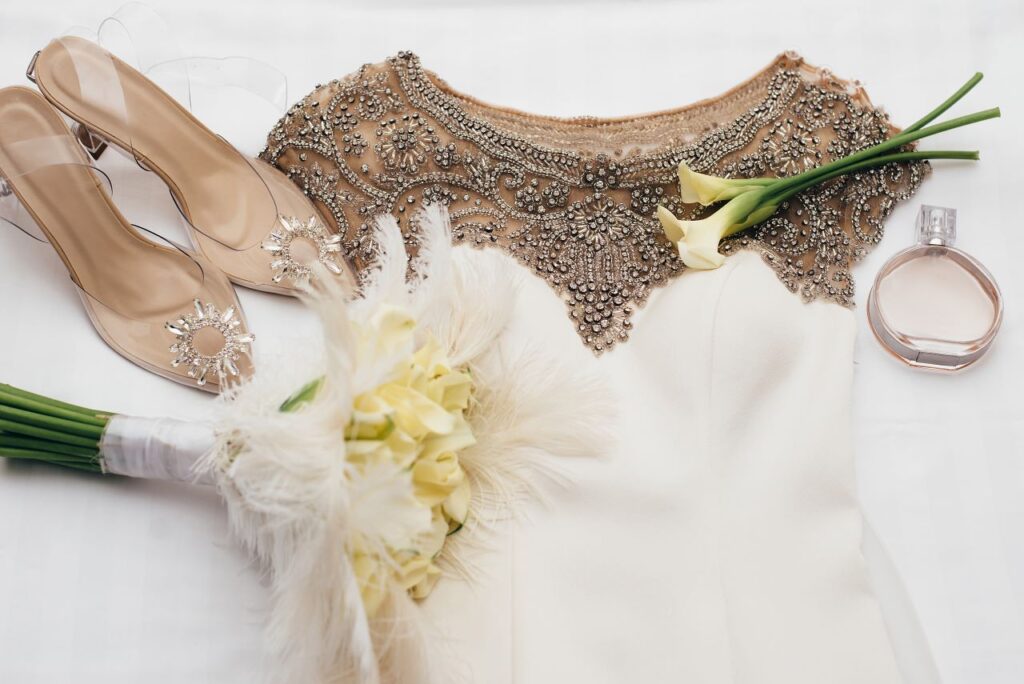 Three-dimensional elements
Consider adding three-dimensional elements to your dress like intricate fabric flowers, delicate lace appliques, or even small beaded accents. These tactile details not only catch the eye but also invite touch, adding a layer of texture and depth to your gown. 
Whether scattered across the bodice, trailing down the skirt, or adorning the veil, these embellishments create a sense of artistry and whimsy that make your dress one of a kind.
Bows
Bows have long been a symbol of femininity, making them a timeless addition to wedding attire. Whether you choose a large, dramatic bow at the back of your gown, or more petite, delicate bows along the neckline or sleeves for a more subtle charm, they always add an element of playful elegance, no matter the style of dress.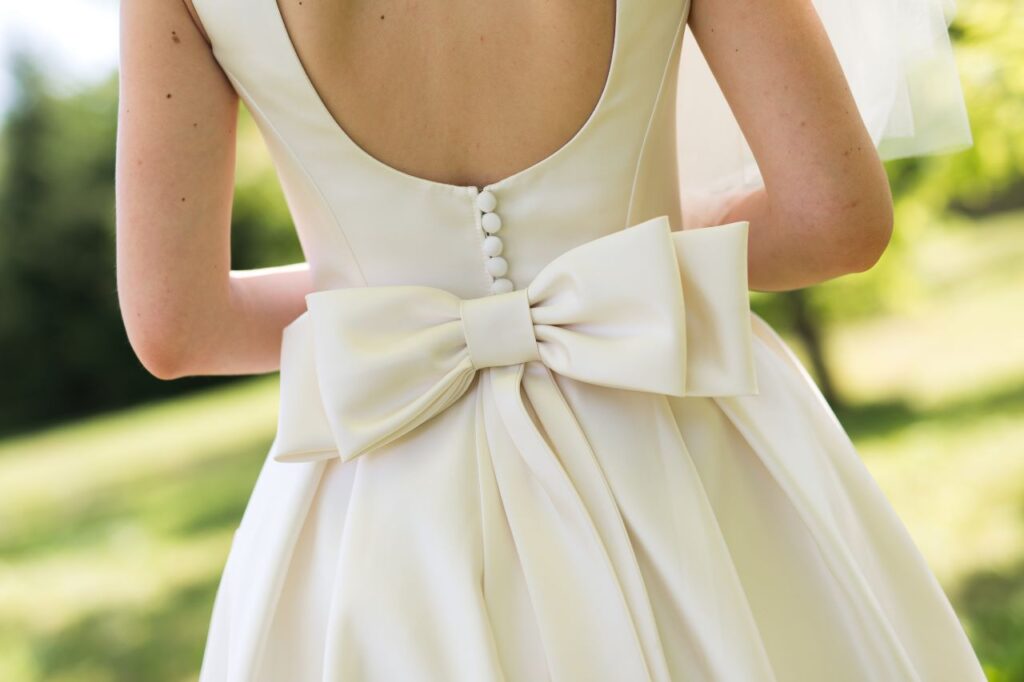 Feathers and fringe
For brides who appreciate a touch of vintage flair and whimsy, feathers and fringe are exceptional choices. These embellishments go back to the glamorous days of the Roaring Twenties when flapper-style dresses ruled the fashion scene. Feathered accents can create a sense of movement and lightness, while fringe adds a playful sway to your gown as you dance the night away. 
Whether you choose a few feathers as a hairpiece or embrace a full fringe dress, these embellishments infuse your wedding look with fun and nostalgia.
Embroidery
Elaborate embroidery like crewel work, smocking, or silk ribbon embroidery can elevate a wedding gown to an heirloom piece. Floral embroidery with buds, leaves and meandering vines is always a popular choice for a bride. As a nod to cultural traditions, consider embroidery styles like Japanese sashiko, Indian mirror work or Mexican colcha embroidery. With custom embroidery, the possibilities are endless.
Any of these embellishments, used alone or combined, will give your wedding dress a couture finish and a fairytale moment to remember. Details matter on your special day, so choose embellishments that speak to your style and make your dress uniquely yours.
Dazzling beaded embellishments: Sequins, pearls and crystals
If the razzle and dazzle of a fully beaded gown feels too extravagant for your taste, fear not — you can still infuse your wedding attire with a touch of subtle sparkle. Consider wedding dresses adorned with delicate pearls or glistening sequins. These understated yet elegant embellishments offer a perfect compromise between simplicity and radiance, allowing you to shine on your big day in a way that feels uniquely you.
Elegant pearls are a timeless choice for any bride. Look for pearl embellishments in beaded straps, sweetheart necklines, belts, or sashes. Teardrop pearl earrings or a pearl and crystal hair comb also create a vintage-inspired look.
Delicate sequins come in a rainbow of colours and sizes. Choose tiny sequins in a matching or complementary hue for a subtle shimmer. Or go bold with colourful sequins in a floral or geometric pattern. Sequins also come in matte or metallic finishes for different levels of shine. Cluster sequins together or scatter them across your gown's bodice, skirt, or train.
Romantic laces: Different types to consider for your dress
As you delve into the realm of wedding dress embellishments, it's essential to recognize that dazzling doesn't always equate to sparkle and shine. Lace fabrics, with their diverse textures, intricate patterns, and somewhat mysterious allure, can give your gown a unique and captivating charm.
Alençon Lace
Alençon lace, often called the "Queen of Lace," originated in France and has a rich history dating back to the 16th century. What sets Alençon lace apart is its intricate beauty, featuring delicate floral motifs outlined with fine cording. 
Alençon lace is known for its versatility, as it can be incorporated into various wedding dress styles. Whether adorning a full-length gown or serving as an accent on sleeves, bodices, or veils, this lace type adds an air of sophistication and romance. Its delicate and ornate patterns create a sense of depth and texture, making your wedding dress stand out.
Chantilly Lace
Chantilly lace, originating from the charming town of Chantilly in France during the 17th century, is a lace variety renowned for its delicate and intricate floral patterns. These patterns impart a feminine and ethereal quality, making them perfect for creating overlays or appliques on wedding dresses. Chantilly lace differs from Alençon lace in that it is generally more thin and flat, whereas Alençon lace has a cording detail around the lace pattern. 
One of the standout features of Chantilly lace is its incredible versatility. It can be used to craft various styles, from classic, traditional, modern, and bohemian. The appliques on Chantilly lace can be adorned with pearls and crystals for a touch of luxury or left unbeaded for a softer, more understated look.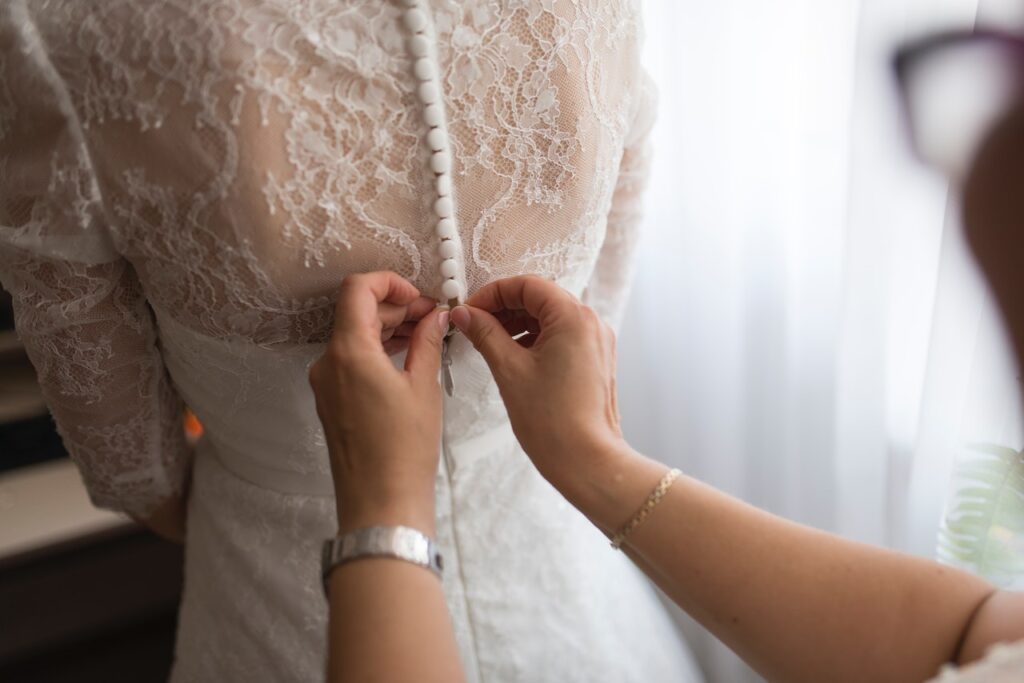 Venice Lace
Venetian lace, also known as Guipure lace, is celebrated for its striking and distinct character. This lace type has a unique origin, from Venice, Italy, known for its rich history of lace craftsmanship. Unlike some other lace varieties, Venetian lace lacks a net background, making it instantly recognizable for its intricate, raised patterns.
The beauty of Venetian lace lies in its bold and pronounced motifs, often featuring geometric and floral designs. This lace type creates a captivating contrast against the skin or any fabric it adorns, making it a standout choice for wedding dresses.
Luxurious fabrics: Satin, silk, chiffon and more
Wedding dress embellishments don't have to refer to what you add to the dress; sometimes, it can simply be the gown's fabric that dazzles. Consider some of these luxurious options:
Satin

: Satin is a classic choice for bridal gowns, known for its smooth, lustrous surface. Satin comes in various weights, from lightweight charmeuse to heavy duchess satin. For a dreamy, billowy skirt, choose a lighter satin. For more structure, go with a mid-to heavy-weight satin.

Silk

: Silk fabrics like crepe, georgette or organza are stunning yet ethereal. Silk crepe is lightweight but hugs the body beautifully. Flowy silk georgette or organza adds volume to skirts without extra bulk. These fabrics sway and shimmer with every step.
Chiffon: Chiffon is a sheer, lightweight fabric that gives wedding dresses an airy, whimsical feel. Chiffon comes in different weights; choose a heavier chiffon for the bodice and a lighter one for the skirt. Chiffon skirts flow and flutter for a dreamy, angelic look.