Summer is the perfect season for weddings! The warm weather,  longer days, beautiful scenery, and blooming flowers make a picturesque backdrop for your special day. Whether you're planning a small and intimate wedding in summer or a grand celebration with all your family and friends, there are endless summer wedding ideas to help you create the perfect day. 
From outdoor venues to bold colour palettes, there are endless possibilities to make your big day unforgettable. Today, we're exploring some of the hottest ideas for summer weddings that will inspire you to create a stylish and memorable celebration.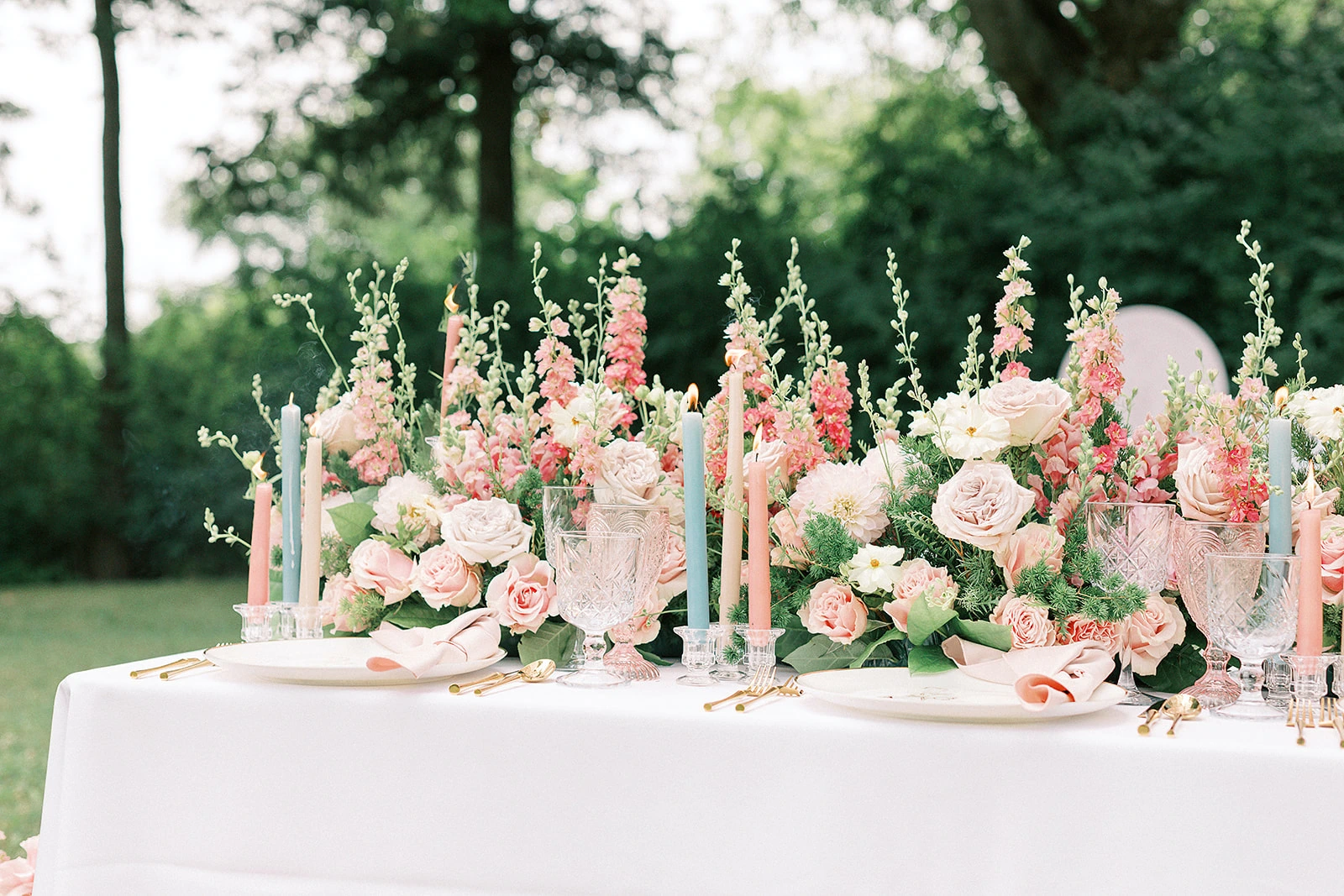 Creative summer wedding venue ideas
Outdoor venues are always a popular choice for a wedding in summer, but why not take it up a notch and opt for a unique location?
Outdoor venues offer stunning natural beauty and can provide an intimate and romantic atmosphere for your ceremony and reception. You can also consider a more unconventional venue, like a rooftop terrace, a historic estate or a mansion with sprawling gardens and lush greenery, to add character and charm to your wedding day.
For a beach wedding in summer with a twist, consider a secluded cove or cliffside overlooking the ocean. Botanical gardens, arboretums, national parks and zoos are also unique wedding venues with picturesque outdoor spaces for a touch of whimsy. 
Break from traditional attire. 
A  wedding in summer is the absolute best time to break out those brighter colours. More and more brides are opting to forego the classic white wedding gown for one in pastel shades like rosebud pink or baby blue. If you're a non-traditional bride, you can choose a floral print wedding dress in lighter fabrics like silk and chiffon and pair it with unorthodox styling elements like a hat or boots to complete your look. 
Sizzling summer wedding colours
The 2023 summer wedding season is expected to bring a range of beautiful and unique colour trends for couples. 
Trending colour pairings include delicate sea greens with neutral shades of taupe or champagne, dusty blues with yellow, sage and blush or pink, and mauve paired with green and lavender grey. These lovely colour palettes create a delicate and dreamy atmosphere for any wedding in summer.
Other couples may prefer bold and vibrant shades like fuchsia, tangerine, and deep red to make a statement and add a pop of colour to their wedding decor. 
Summer wedding catering trends to impress your guests
This year, couples are stepping up their food game with innovative and exciting menu ideas for summer weddings that are sure to impress. One trend gaining popularity is incorporating local and seasonal ingredients into the menu. This adds a personal touch to the wedding and ensures fresh and delicious ingredients. 
Another trend for a summer wedding is offering various food stations, such as a sushi bar or a build-your-own taco station, where guests can customize their meals.
Food trucks have also become a popular addition to summer weddings in recent years, offering guests a fun and unique dining experience. From gourmet grilled cheese to tacos and sliders, couples can choose from a wide range of cuisines and allow guests to mix and mingle while enjoying delicious food. If you want to wow your guests, this is one of the best ideas for summer weddings.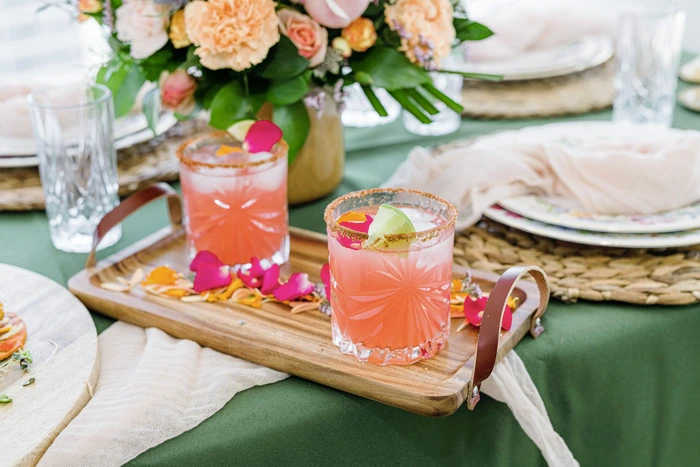 Refreshing summer cocktails: keep your guests cool and happy
A wedding in summer is all about fun and relaxation, and what better way to keep your guests cool and happy than with refreshing summer cocktails? From fruity sangrias to refreshing mojitos, endless options will quench your guests' thirst and add a touch of fun to your celebration. 
In addition to traditional cocktail options, couples can experiment with unique and creative summer cocktail recipes to surprise and delight their guests. For example, infusing cocktails with fresh herbs like mint or basil can add a refreshing and unexpected twist. 
Using unexpected ingredients like watermelon, cucumber, or ginger can create a unique flavour profile that guests will love. For a fun and interactive experience, couples can even set up a DIY cocktail bar where guests can mix and match their ingredients to create their perfect summer sip. 
And don't forget about your non-drinking guests! You can experiment with non-alcoholic options like sparkling lemonade or iced tea to cater to all of your guests' preferences. 
With these ideas for summer weddings, creative cocktails and a well-stocked bar, your guests will be sipping and celebrating in style.
Summer wedding entertainment
When it comes to planning a wedding in summer, entertainment can make a big impact on the guest experience. One popular trend for 2023 is offering interactive entertainment options that allow guests to participate in the festivities. 
Photo booths with fun props, lawn games like giant Jenga or cornhole, or even a DIY flower crown station are just a few examples of interactive entertainment options that guests will love. 
Hiring a live band or DJ to keep the dance floor packed is always a crowd-pleaser for those looking for a more traditional approach. 
Couples can also consider adding unexpected entertainment options, like firework displays or aerial performers, to really wow their guests. With so many creative and exciting summer wedding entertainment options available, couples can create a celebration that truly reflects their personalities and leaves their guests with unforgettable memories.