Are you excited to start shopping for your dream wedding dress but overwhelmed with all the options? Looking for the perfect wedding dress can be both exciting and overwhelming. It can be easy to feel lost in a sea of endless gowns with different fabrics, dress styles and prices. But fear not! From setting a budget to trusting your bridal stylist, with these tips, you'll be one step closer to saying "yes" to your dream dress!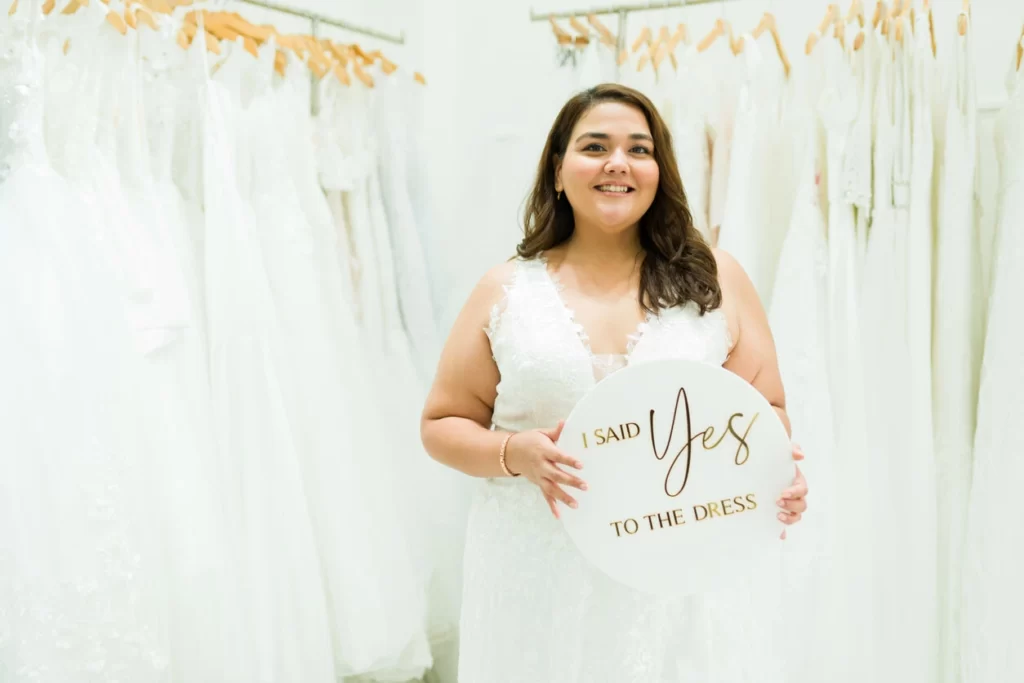 Set a budget before shopping for a wedding dress
Setting a budget before shopping for a wedding dress is a wise decision that can save you from unnecessary stress and financial burden. By establishing a spending limit, you can focus on finding the perfect dress within your means and avoid the temptation of overspending on a garment you'll wear only once. Remember, the price tag doesn't define the beauty of your wedding dress, and you can look stunning while being mindful of your budget. 
Research different wedding dress styles
Next, you'll want to do some research to learn what types of wedding dress styles are currently available and to see which styles you are drawn to. If you're familiar with specific wedding dress designers, you can visit their websites to see the current selection of dress styles. And while doing this, you'll want to save some of your favourites so you can show the boutique what you like. 
Most websites will allow you to save your favourite dress styles, but you can also create a Pinterest board with all your favourites. 
Find a reputable bridal shop
Finding a reputable bridal shop is key when shopping for a wedding dress! Shopping for your bridal gown should be an exciting and enjoyable experience; the bridal shop you visit can have a tremendous impact on that. So, to find a reputable bridal shop, we suggest that you do the following:
Review their reviews on Google and Facebook

Ask for recommendations from friends and family

Check out their social media – doing this will allow you to see how they interact with customers' comments, how they describe real weddings, and see their gown selections. 
Make an appointment
Once you've researched and decided where you will begin shopping for a wedding dress, make an appointment to try gowns on. It's always best to schedule your appointments in advance because if you just 'show up,' the store may be busy with other bridal appointments, and they could potentially turn you away. 
The simple task of scheduling an appointment will help you avoid disappointment at the very start of your bridal gown shopping experience.
And when you speak to them to book the appointment, pay attention to how they communicate with you. The best bridal boutiques should have a team of stylists who are genuinely excited for you, show interest in you, and are eager to help you find your dream wedding dress. If you don't get that feeling when speaking with them, you may want to look for another boutique.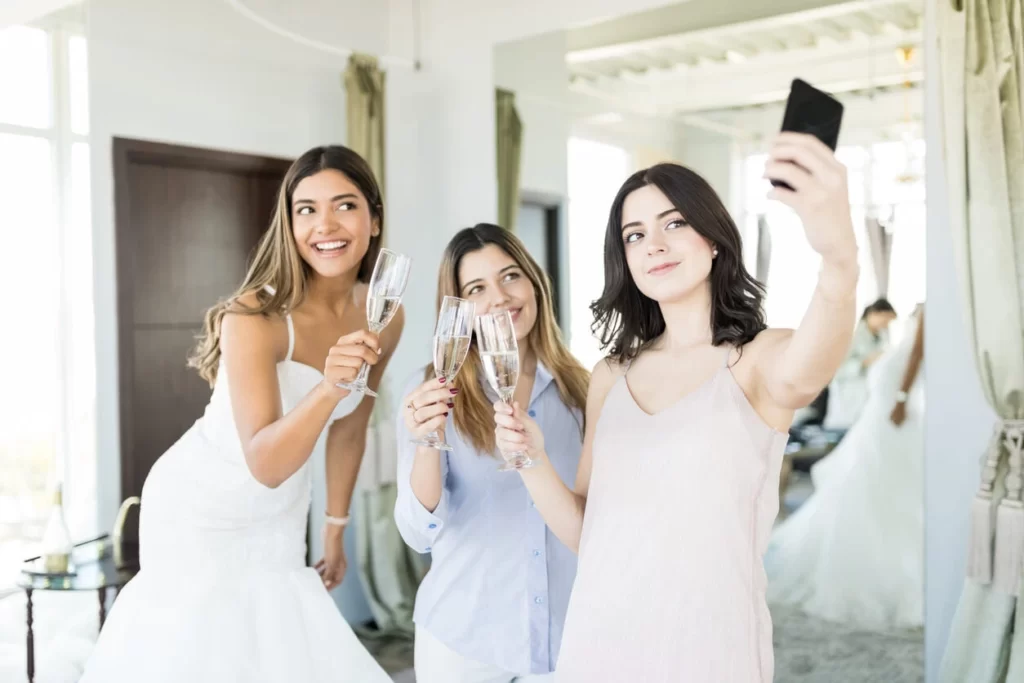 Keep an open mind
The biggest tip we want to share with you is to keep an open mind while shopping for a wedding dress. It's a great idea to share your Pinterest wedding dress inspiration board with your bridal stylist because it will give them a good idea of what you are "visually" drawn to. But make sure to tell them what you like about each dress. 
When you look at wedding dress styles online, you may like different elements of each dress. So, make sure to express what details you like about each dress. For example, you may love the sleeves on one gown, the neckline on another, and the colour or silhouette of another. If you openly share these details with your stylist, it will help them narrow down the best selection of wedding dress styles to show you. 
Trust your stylist
Another important tip is to trust your stylist. While you are trying on wedding dresses, they will pay attention to what you say about each dress and how you react to each one. They will use that information to find you the perfect dress. 
So, don't go in with a closed mindset on a specific style, like a mermaid wedding dress. Instead, trust your stylist to pull a selection of gowns that check off some of the boxes on your list. If they suggest a gown with a different silhouette or in a material you hadn't initially envisioned, go ahead and try it on — you may just realize it's the perfect one. 
Bring the right people with you to your appointment
Choosing who to bring with you to your wedding dress appointment can make a big difference in your overall experience. While it can be tempting to invite everyone from your mom to your great aunt twice removed, it's important to remember that too many opinions can lead to confusion and stress.
It's best to only invite 3-4 of your closest family and friends, and make sure they are the ones whose opinions you value the most.