Are you and your partner dreaming of a magical and intimate wedding day that's just for the two of you? If so, an elopement wedding may be the perfect choice. 
While many couples opt to head south for a quick, easy and sun-soaked elopement wedding, Canada also has its fair share of ultra-romantic locales that serve as the perfect backdrop to 'secret' nuptials. Home to vast mountain landscapes, scenic coastal towns, and cosmopolitan hubs that offer incredible nightlife and entertainment, our very own backyard has a plethora of options for wedding destinations in Canada. 
And the best part? Eloping close to home means you won't have to travel as far, saving you on travel costs and freeing up your budget for a future dream honeymoon.
So if you're looking to say "I do" with just the two of you, we've compiled a few helpful tips and ideas that will help pull off the ultimate elopement wedding in Canada.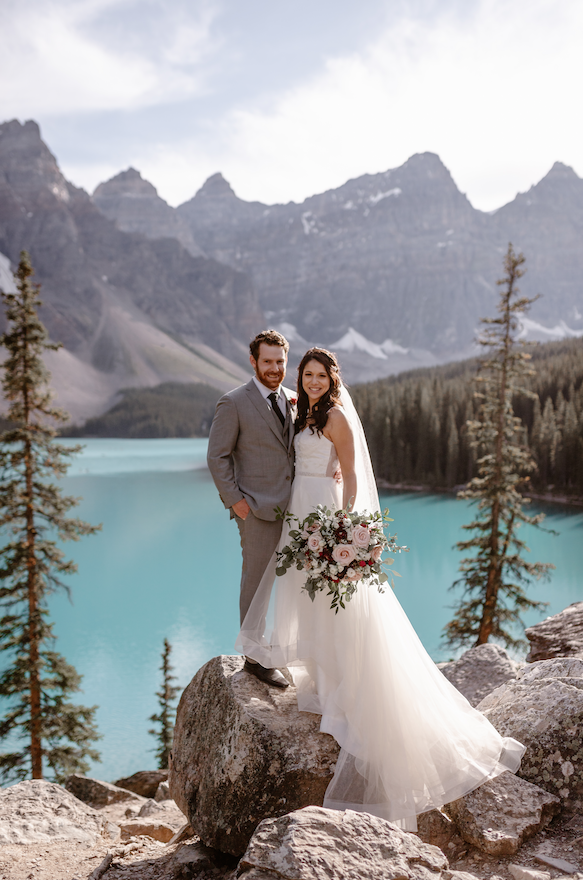 Why choose an elopement wedding in Canada?
Less stress
Eloping allows you to have a truly intimate wedding, free from the stress of compiling an extensive guest list and making hundreds of decisions that accompany planning a big wedding. You won't have to worry about who should be sitting at whose table, or how much the open bar will cost, or what time the limo should pick up the bridal party. All you need to do is pick out your wedding attire, obtain your marriage licence and hire an officiant, and book your travel arrangements, which can easily be handled by a travel agent. 
Incredible wedding destinations in Canada 
There are countless outdoor wedding settings in Canada for couples in love to choose from, from mountaintops and downtown life and everything in between. A cozy cabin in a national park, for example, would make for an intimate and rustic elopement wedding ceremony and honeymoon.
There are also mountain resorts like the Fairmont Banff Springs where couples can wed amid the backdrop of the Canadian Rockies, not to mention a wide array of glamorous hotels in major cities like Toronto, Montreal, Calgary and Vancouver that offer beautiful gardens and rooftop patios for romantic ceremonies.
Looking for something different? Charter a boat and set sail on Lake Ontario, or look into an intimate ceremony at one of Canada's iconic landmarks, like the CN Tower or Niagara Falls. Lucky for Canadians, there's no shortage of beautiful spots to wed.
Inclusivity
Did you know? Canada made history as the fourth country in the world, and the first outside of Europe, to legalize same-sex marriage nationwide in 2005. This is just another reason to make Canada where you exchange your vows. Canada's stance on inclusivity and acceptance of all couples is a testament to its people. Few countries in the world are as welcoming and hospitable, making Canada a top choice for elopement weddings. 
Benefits of planning an elopement
Planning elopement weddings can offer a range of benefits you might not get with a traditional wedding. 
For one, elopements are often more intimate and private, allowing you to focus on your love for each other without the distractions of a large guest list. This can be especially appealing if you want a more meaningful and personal experience. 
Elopements can also be more affordable because you won't have the big food and beverage expenses you see at traditional weddings. 
Additionally, elopements offer more flexibility in terms of location and timing, allowing you to choose a destination that feels truly special to you as a couple.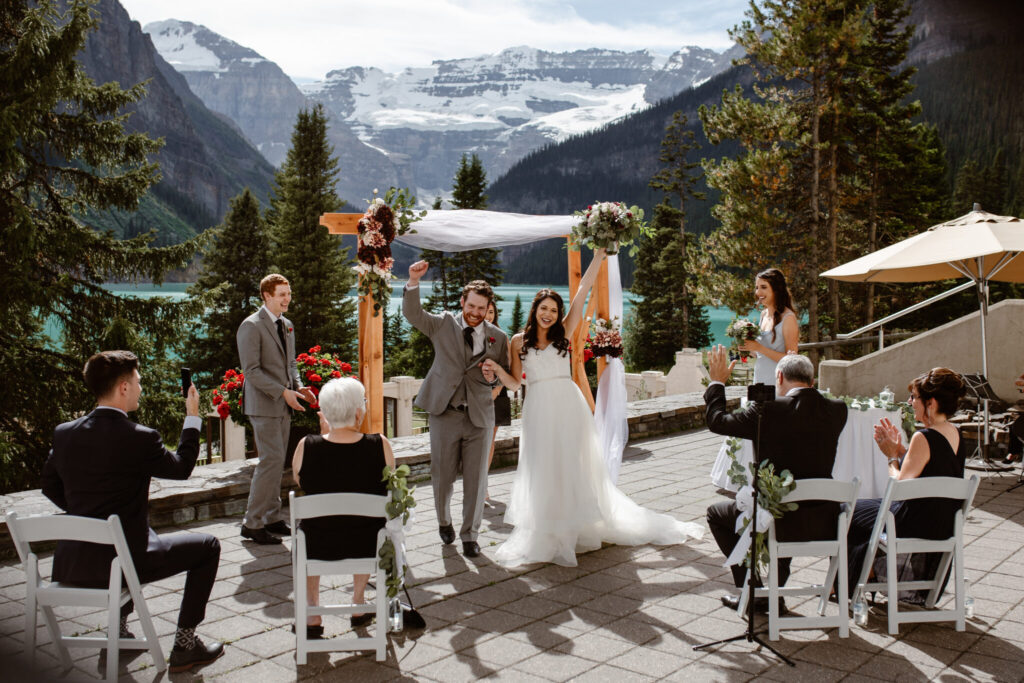 Factors to consider when planning your elopement
There is no doubt that with its stunning natural beauty, friendly locals, and easy-to-navigate cities, Canada is the perfect place to say your "I do's." However, before you start daydreaming about your Canadian elopement adventure, it's essential to consider a few things.
The budget
While elopements can be more affordable than traditional weddings, they can still add up if you aren't careful. We suggest you list all the expenses of an elopement to ensure you can afford it. 
Things that impact your elopement budget: 
Airfare 

Accommodations

Wedding attire

Any guest expenses

Hair and makeup

Marriage licence and officiant fees

Site permit fees (if applicable)

Flowers

Photography

Cake and food
Legal Requirements for getting married in Canada
The legal requirements for elopement weddings in Canada are relatively straightforward, making it an attractive option for couples worldwide. However, before you can officially tie the knot, you'll need to get a marriage licence from the province or territory where you plan to say "I do." 
The requirements for obtaining one vary slightly depending on the location, but generally, you'll need to provide identification, proof of age, and proof of your marital status. Be sure to check the specific requirements for your chosen location. 
Once you've obtained your marriage licence, you'll need to find an authorized person to perform the ceremony. This could be a religious or civil officiant, depending on your preferences. 
If you're not a resident of Canada, you'll also need to check with the local government offices in your area to determine what's required to recognize an International marriage as legal.