When it comes to infusing your wedding day with a touch of elegance and excitement, few things rival a champagne tower. We can see it now: a tower of crystal-clear glasses, each brimming with effervescent bubbles, ready to be raised in a toast to love and new beginnings. Fabulous!
The tradition of a champagne tower dates back to the 1920s era, giving it a Gatsby-esque vibe and a definite pop of luxury at your reception. So, if you want to add some glamour to your wedding, a champagne tower is a must!
What is a champagne tower
?
A champagne tower at a wedding is a stunning display of stacked champagne glasses, often in a pyramid shape. The tower is usually created by carefully placing the glasses in a tiered arrangement, with the top glass being filled first and allowing the bubbly to cascade down into the glasses below. 
In celebration of their nuptials, the wedding couple will join together to hold a champagne bottle and pour champagne into the top glass, which will then overflow to the glasses below, creating an exciting visual display of sparkling bubbly. 
The tower can be used as a design element and interactive entertainment, and when it's time for a toast, everyone can grab a glass to toast the newlyweds.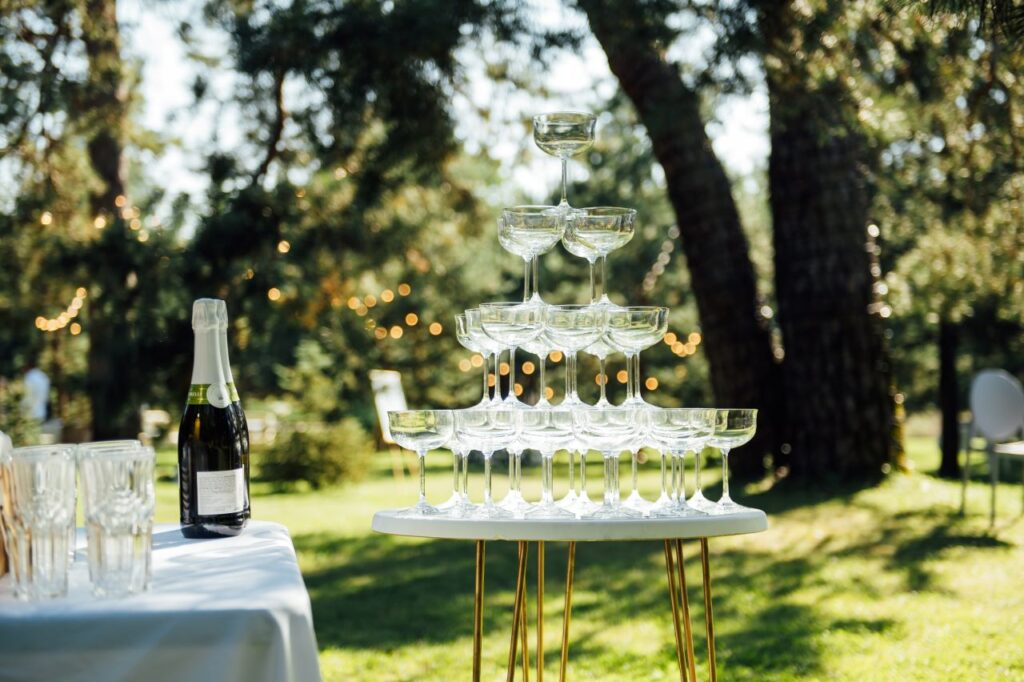 Where to put your tower of champagne
One of the first things to consider is where you will put the tower because, as you can imagine, a table filled with stacked glasses is fragile. One crucial piece of this puzzle is figuring out when you want to pour the champagne. Do you want to do it during the cocktail hour at the start of the wedding reception to kick off the festivities with a bubbling splash, or do you want to wait until it's time to serve dessert?
Understanding the timing will help you determine the placement so that it's easily accessible. But you also want to ensure there's enough space around the table to avoid any mishaps (for example, too close to the dancefloor or speakers could be disastrous). 
How to set it up
The easiest way to set up your champagne tower is to let the professional wait staff do it. The placement of the glasses is vital to it working correctly; if you've never done it before, you don't want to risk it toppling over on your big day. So, we suggest working with your catering team to have them set it up for you. It will be one less thing for you to worry about. 
How many glasses do you need?
Great question! First, you must decide if you need a glass for every wedding guest or if some will be served on trays. Once you determine that, it all boils down to how many guests you have. Six to eight tiers of glasses are standard, but four to five will also look incredible. 
What type of glasses are best?
As sophisticated as everyone feels holding a champagne flute glass, they won't work well in a champagne tower. Glasses that are wide and flat, such as coupe glasses, are ideal. Just make sure all of the glasses are the same.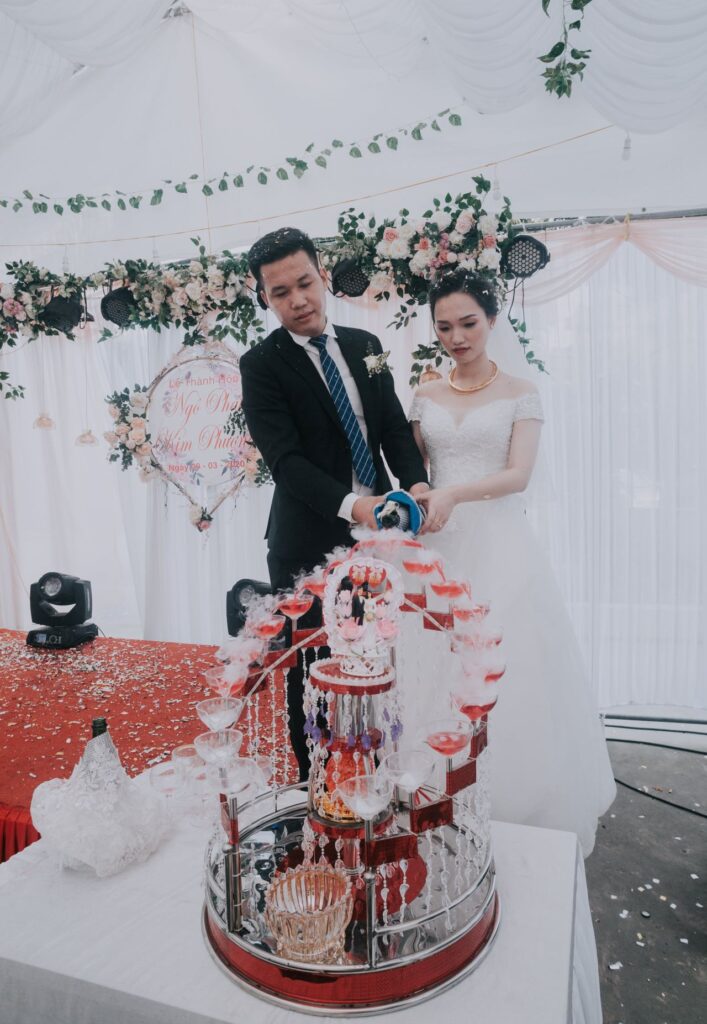 Wedding champagne tower ideas
Rosé Champagne
One of our favourite ways to personalize your champagne tower is to use Rosé Champagne. The pink sparkling effervescence of the Rosé creates an eye-catching display that few will be able to ignore. 
Edible flowers
For something unique and unforgettable, you can place edible flowers in your champagne glasses before the pour. This will not only be beautiful but will look incredible in photos. 
Misty tower
Another creative idea is to use mist or smoke around your champagne table to add mystery and drama. Speak with your DJ or caterer to arrange this.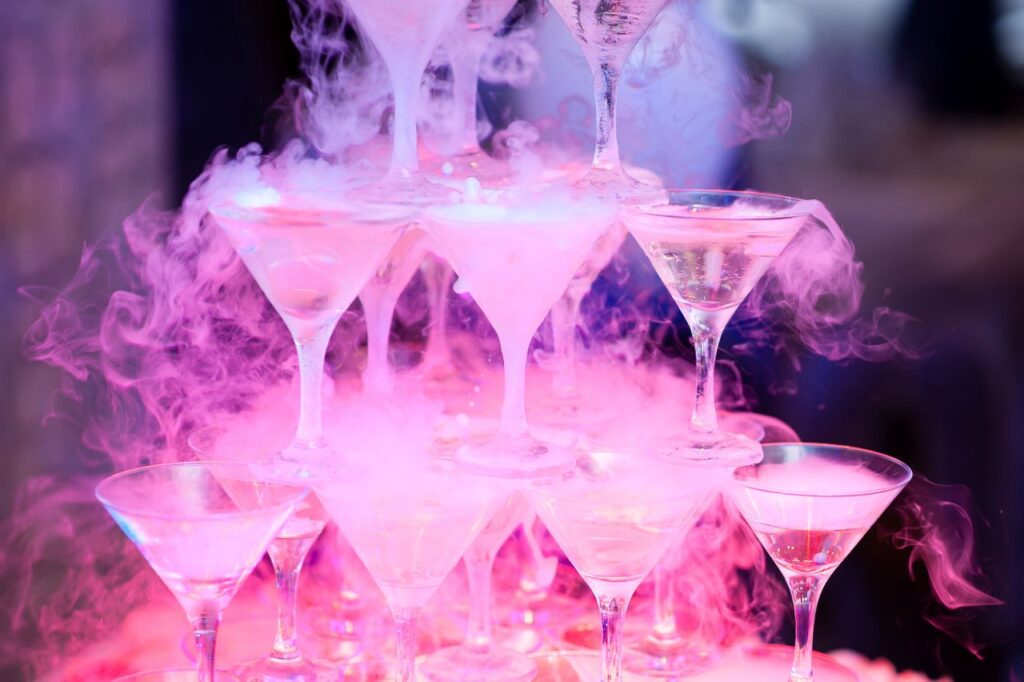 Champagne tower with sparklers
If you want to wow everyone and create an exciting experience, pass out sparklers to your guests. They can light them as you pour the champagne for an utterly magical display. 
Berry tower
Floating fresh berries inside the champagne glasses can also elevate the experience, bringing a pop of colour to the display and adding natural sweetness to each sip.
Magnum champagne bottle
To make an unforgettable impression, why not take things up a notch? While pouring from a standard 750-millilitre bottle is lovely, consider going bigger and bolder. You can opt for a magnum (the equivalent of two standard bottles) or even a jaw-dropping jeroboam, which is equal to four standard bottles of champagne. Now that's how you go big!
These larger-than-life bottles not only ensure a show-stopping pour into your champagne tower but also make a statement that your guests will remember long after the last drop is sipped. So, check with your vendors and see if you can supersize your champagne experience – it's a surefire way to elevate your celebration to the extraordinary!