The pandemic has changed how we live our lives on a day-to-day basis and given us a whole new appreciation of what spending time with family and friends means. It feels normal to wear a mask now. Social distance awareness is prevalent and showing proof of vaccination is a rule when dining out or going to a sporting event. But how has the pandemic affected the way we do destination weddings?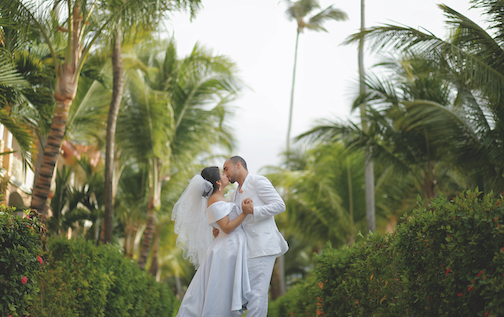 No matter what your dream destination wedding is, whether it's on the beach in Jamaica or a rooftop terrace overlooking the ocean in Mexico, the good news is your dream will come true. It will be just as you envisioned; the only difference is that it could be even better than the pre-COVID days.
Destination weddings have changed but the change is a positive one. During the pandemic, it's been disheartening to see so many couples having to cancel and reschedule their weddings. Thanks to the vaccine, the world of travel has begun to open and destination weddings for 2022–2023 are on the rise.
One of the positive changes couples are loving is the flexible booking/refund policies and low deposits required to book their destination wedding. It enables couples to start planning with no or low-risk penalties if they have to change or cancel their booking. And that takes away some of the stress.
Not much has changed as far as the destination wedding itself is concerned, but there is a significant change in the journey to get to and from your wedding destination. You will have to be aware of the latest destination entry requirements as each have their own policies and procedures. PCR testing will more than likely be required, as well as temperature checks and proof of vaccination. Travellers, when returning to Canada, must use the ArriveCAN app and fill out required documents 72 hours before arriving in Canada. If these forms are not complete, you may be denied boarding. It's an easy process and only takes a few minutes to complete the forms. ArriveCAN is also a great source for mandatory travel information and all you need to know to return home.
The resorts have taken all the necessary steps to ensure the well-being of your wedding guests. The attention to cleanliness and hygiene is highly visible, social distancing is adhered to and PCR testing is available on-site at most resorts. Any special requirements such as food allergies or any needs for elderly guests will be taken care of and, rest assured, all your wedding details, from tea lights to fireworks, will be executed to perfection!
The resort experience has also changed in a good way. Top of mind is the safety and welfare of all guests. Resorts have gone above and beyond when it comes to their guests with increased health and safety protocols in place. For example, AM Resorts promote a government-approved "CleanComplete Verification" with 360-Degree Safety and Hygiene Protocols. And Playa Resorts' "Playa Safe Stay" initiative represents their commitment to keep their guests safe, including private check-in for wedding groups, enhanced cleaning standards and anti-viral measures taken throughout their resorts.
Read this story and more in our Spring issue of Destination Wedding magazine!
–Written by Liz Scull, General Manager, Destination Wedding & Honeymoon Specialists Association