There are many ways to show your appreciation to friends and family who are attending your wedding, and personalizing wedding favours is one of our favourites. Customizing each favour to reflect your unique relationship will not only make your guests feel extra special, but will leave them with a heartfelt memento to help them remember your special day.
Whether you choose a heartfelt message, favourite photo, or private joke for an added touch, these meaningful favours are a perfect way to say thank you.
Get personal: Monogrammed or engraved favours
Monogramming or engraving your wedding date, names or a special message on favours is an easy way to create a custom touch. Things like glassware, candles, picture frames or jewelry boxes are popular items for personalization. An engraved wine glass, for instance, is something your guests can use for years to come and will be a reminder of you and your wedding day every time they do. 
To make the personalization process as simple as possible, look for favours that can be engraved or ask your stationer if they also provide customization services. Provide them with the text or monogram design you want to use and they can handle the rest. For a rustic wedding, engrave wood slices or river stones. For an elegant affair, silver plated or pewter items like bookmarks, cake knives or bottle openers are great options.
Don't forget, personalization does take time so be sure to order your favours at least 2 to 3 months in advance of your wedding. The extra effort will be well worth it when you see the look on your guests' faces as they discover that special engraved or monogrammed favour made just for them. It's the little details, after all, that make a wedding memorable and unique.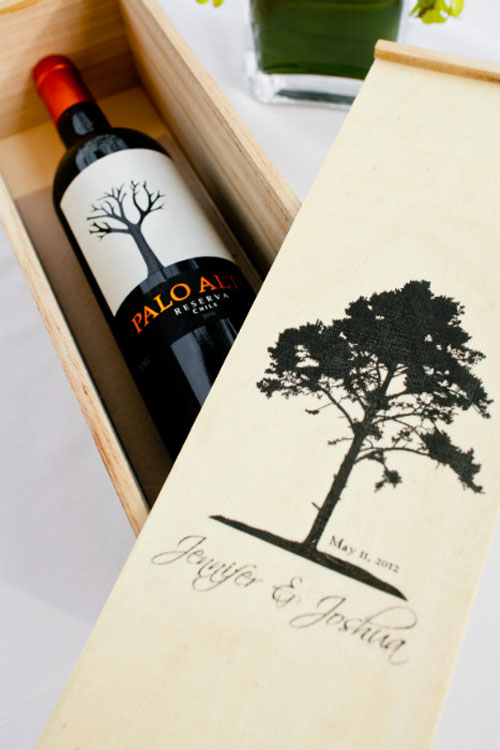 Choose a theme: Match your wedding style
When it comes to wedding favours, personalization is key. Customizing your favours to match your wedding theme shows your guests you put thought into even the smallest details. Here are some great ideas on how to infuse your wedding favours a with your chosen theme or style.
Match your wedding colours:

To create a cohesive look throughout your wedding, incorporate the same colour palette in everything from your flowers, linens, decor and wedding favours.

 If your main wedding colours are pink and gold, choose favours like scented candles, soap or stationary in varying hues. Or have items like cookie cutters, measuring spoons or wine stoppers engraved in your wedding colours. Your guests will appreciate how the favours tie everything together.
Incorporate your wedding location: Another great idea is to have your wedding favours reflect your wedding venue or location. For example, if you're having a beach wedding, you can have seashell-shaped soap, starfish wine stoppers or sandalwood-scented candles. For a rustic barn wedding, great options include mason jars filled with homemade jam, packets of wildflowers, or cozy blankets or shawls. And if you've chosen an outdoor wedding, gift your guests with personalized sunglasses, custom koozies, or paper fans etched with your wedding date and names.
Feature your wedding flowers: If you have a floral theme, use the flowers themselves as wedding flowers! Give single blooms, seed packets or tiny succulents as favours. Or choose items featuring your wedding flowers such as floral note cards, lavender bath salts or rose petal preserves.
Include a personal message: For an extra special touch, add a heartfelt handwritten or printed message on your favours thanking your guests for sharing your day. Short and sweet is perfect, like "Thank you for helping us celebrate. Love, [Your Names]".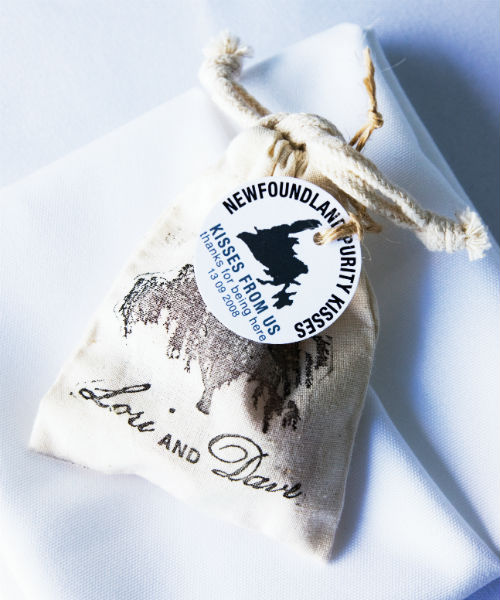 Edible wedding favours: Always a crowd pleaser
Edible favours are always a crowd pleaser at weddings. As a couple, you want your guests to enjoy themselves and providing tasty treats is a perfect way to do that. Whether you make the favours yourself or source them from a local bakery or chocolatier, your guests will appreciate the personal touch. Some homemade options include:
Decorated cookies or cupcakes: You can have fun with custom designs, colours and messages to match your wedding theme. Guests will love biting into these sweet treats!

Candies like mints, toffee, or mini chocolates: Place these in small boxes, bags or jars and customize the packaging to suit your wedding style.

Mini bottles of local wine, craft beer or spirits: For an adult favour, source single-serve bottles from wineries, microbreweries or distilleries in your area. Your guests will receive a tasty souvenir, plus you get the added bonus of supporting a local business.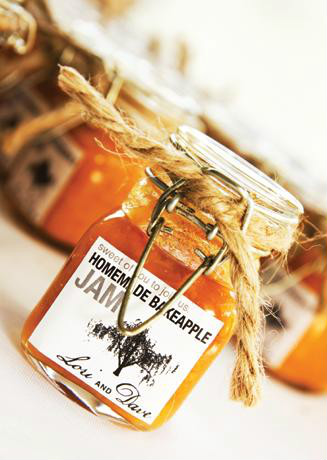 Wedding favour FAQs 
Planning a wedding comes with so many questions. Here are some of the most frequently asked questions about wedding favours to help you in your planning process.
Do I have to give a favour to every guest?
It is customary to provide a wedding favour for each guest, including children, as a small token of appreciation for attending and celebrating with you. However, it is ultimately up to you and what fits your budget. 
If cost is a concern, you can give favours only to guests at the reception or limit them to one per family or couple. Another option is to donate to a charity in your guests' names in lieu of favours.
When should wedding favours be given?
Wedding favours are usually given to guests in the receiving line, at their place setting or at the end of the reception.