We interviewed Paloma Blanca head designer Elsa Carlesimo and talked all things dresses. Plus, we got a preview of their new designs.
Q: What can we expect to see from the Paloma Blanca and Mikaella lines this fall?
A: Our Fall 2020 Paloma Blanca collection brings classic silhouettes to the next level with the addition of new beaded laces, eloquent embroidery and detachable overskirts. We are featuring fuller ball gowns for the more traditional bride and will introduce a wide pant suit for the modern bride. Our attention to fine details includes delicate sequins, pearls and velvet ribbon. Spectacular separates and larger than life bows highlight our Mikaella Fall 2020 collection. Flared removable tulle overskirts and organza trains have been matched with elements that bring to mind classic Hollywood glamour. This season we have a fascinating combination of textures and fabrics in addition to our fabulous Mikaella crepe we are known for. We still have our signature minimalist gowns with modern twists and will introduce a more fitted pant suit for the fashion forward bride. Brides seeking a truly personal touch can also add custom embroidery to select gowns and veils in both Paloma Blanca and Mikaella collections.
2. Are there any trends brides should be aware of?
A: The world of fashion has a tendency to evolve at a rapid pace and we have made it our mission to always embrace the latest trends. With so much diversity in our lines, it's hard for us to pick just one design feature as our favorite! Some of the hottest trends emerging in the bridal world right now are dramatic low backs, plunging necklines, coloured lining and delicate corset bodices just to name a few.
3. What trends are over and on their way out?
A: I don't feel that there are any trends that are on their way out in bridal. Everything is coming back whether its dresses with floral prints and colour to puffy sleeves.
4. Are many brides ordering more than one dress? 
A: We have seen several brides ordering two gowns. Typically they order a ball gown for the ceremony and a lace fitted gown for the reception. However a bride can also achieve the same look with a dress that has a detachable overskirt which is much more affordable.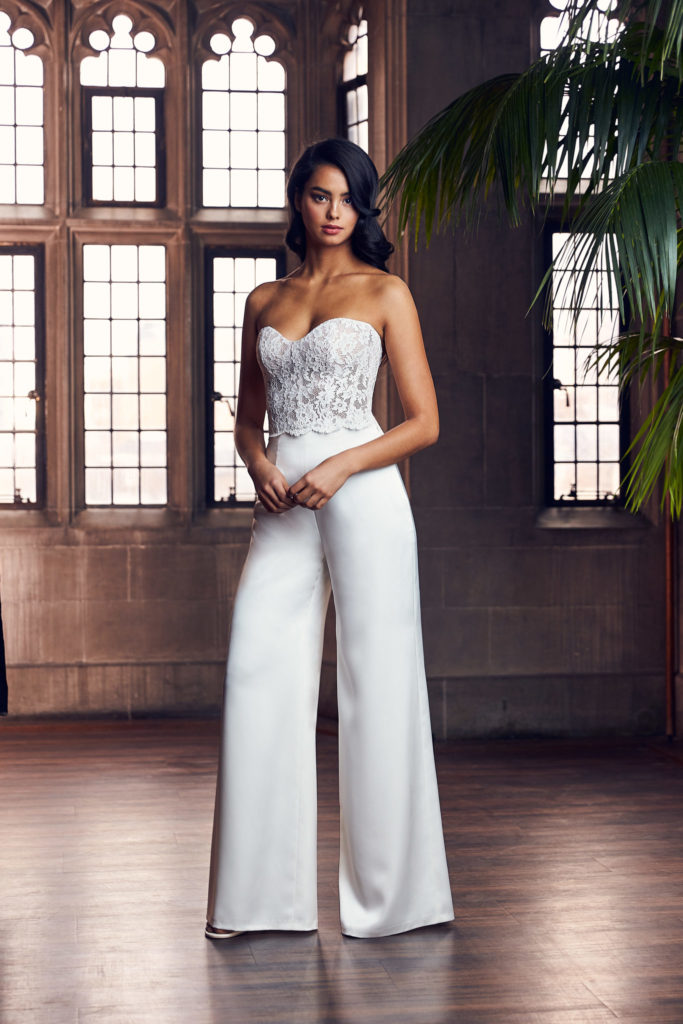 5. Brides have been worried about not receiving their dresses in a timely fashion right now. What is Paloma Blanca/Mikaella doing to be sure dresses arrive?
A: We design and manufacture all of our gowns from our factory here in Toronto, Canada. Although we are only working remotely at this time we have been able to problem solve and satisfy all orders. We are a family owned business and have been extremely proud of all our employees who have each gone above and beyond during this delicate time while still maintaining the high quality we are known for. We work side by side with our retailers, who in turn work closely with each and every bride offering any kind of support they need.
6. What advice can you give to brides when it comes to selecting their dress?
A: Brides should be prepared to do some research before heading out to a shop. Having an idea about what style you like to see yourself in beforehand is very beneficial. Also, try to limit who you bring to your bridal appointment. Bring someone who knows you best, like your mother, your sister or a best friend. If you bring a whole entourage things can become overwhelming and confusing.