Can we talk about grooms for a moment? Often we hear "It's the bride's day." Let's stop with that. The groom is just as important and deserves to be noticed and celebrated just as much as any bride. And so, dear grooms, here are some tips for your wedding day look.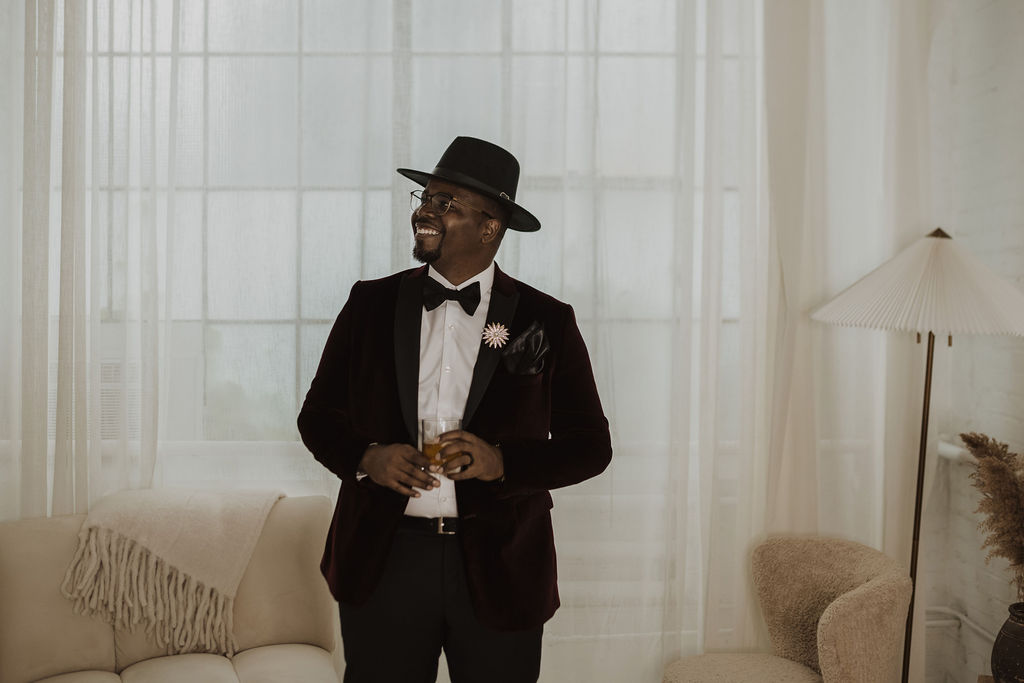 Don't skimp on the primp
Brides are not the only ones who deserve to be pampered before the big day. Get a facial so your skin is glowing (do so well before the big day in case your skin reacts badly) and indulge in a mani/pedi. Photographs of sliding that ring on will look better with well-groomed nails. And if it's a beach wedding, everyone will thank you for getting a pedicure. Have your hair cut a week or so before the big day, so your hair looks fresh, but not too fresh. And don't forget a stress-reducing massage!
Think outside the black tux
Back in the day (not that long ago, really), it was assumed that every groom would wear a black tux. And the groomsmen would, too. And then they could all stand up at the altar, looking like cookie-cutter versions of men. Who decided that was the rule? Shake things up. Go for bold colours, prints and different textures. A velvet jacket? Yes, please! A floral shirt rather than the classic white? Also good. Express yourself through your wardrobe. (And, if that means a traditional black tux, go for it. We won't judge.)
Keep in mind that you don't have to go matchy-matchy with your wedding party. Groomsmen/groomswomen can wear different colour suits. For two-groom weddings, sticking with shades of the same colour palette (but not wearing the exact same colour) can be nice. If possible, grooms can work with their tailor to create a semi-matching look in secret, so that first look is still a surprise for one another.
Accessorize that look
Hats, scarves, cufflinks, watches, pocket squares, lapel pins – these are all ways to show off your personality and taste. Subtle pops of colour can be really interesting. Prior to your wedding day, be sure you learn how to tie a tie, if you don't already, and figure out how to fold a pocket square correctly.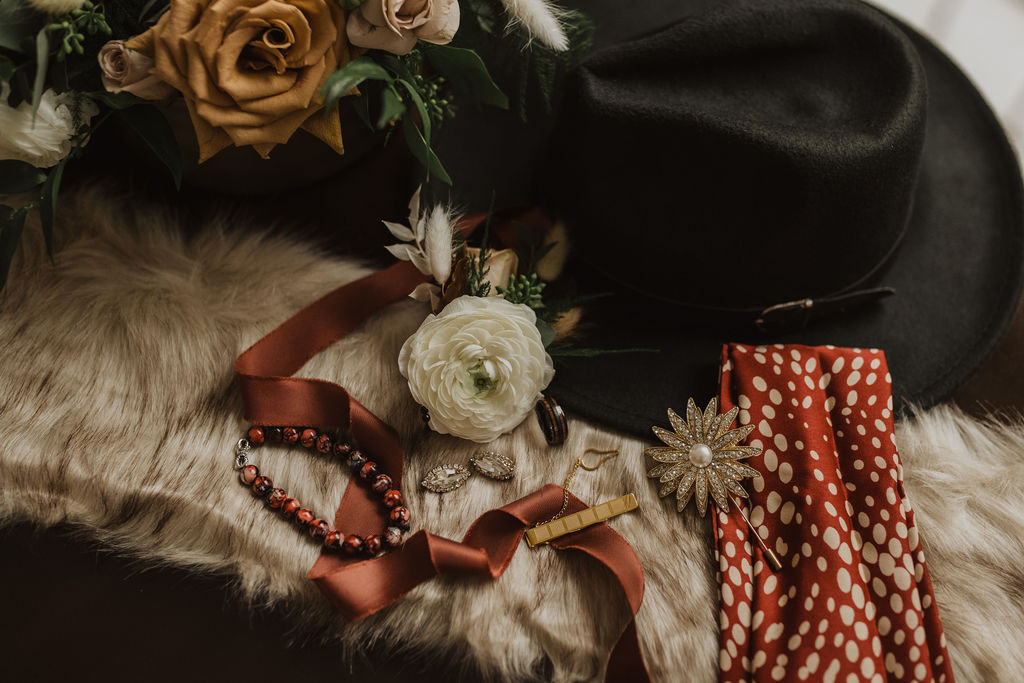 Pack extras for the day
You'll want to be comfortable above all else, and this may mean having a bag of extra clothing to be prepared. An extra undershirt or dress shirt can be handy if it's a hot day and you're getting a little sweaty. If you're wearing rented or new shoes, bring an old, comfy pair to put on for dancing (Chucks or Vans are always a fun wedding look). And you may want to consider bringing an entirely different reception outfit. If a bride can wear two dresses, you can wear two suits!
Treat yo'self
Renting a tux is easy and convenient. But if you have a need for it, consider buying a custom suit rather than renting for the day. If you're going black tie, you may not have the need for a formal tuxedo in your everyday life, but if your wedding style is more laidback/boho/casual, a nice suit can be a great investment. If you do go this route, have your name and wedding date embroidered on the inside of the jacket.
Check out this shoot for all the inspo you'll need.
Photography, concept & planning: Scarlet Lens Photography
Venue: Sol Atelier Toronto
Styling: Paul, Von Anderson Image Consultant
Suit: 4MenUnited
Accessories: The Allen Avenue (bow tie, scarf, bracelet, broach, hat, pocket squares, bag)
Jewelry: Sfara Designs (ring, tie clip)
Florals: Blackberry Stone Florals
Makeup: Autumn Artistry, Makeup & Hair
Model: Jordan Bullen