In a world where connections span continents and hearts recognize no borders, multicultural weddings have blossomed into something extraordinary. They offer us a chance to celebrate not only two hearts joining as one but also two cultures. But let's be honest: as exciting as it is to plan a multicultural wedding, it can also be quite challenging. You want to be sensitive to the traditions, customs and nuances of another culture, and yet give equal weight to both so as not to alienate any one side.
To help you navigate this intricate process, we have some great ideas on how to pull off a multicultural wedding so that both families feel represented and honoured. 
Tips for planning a multicultural wedding
When it's time to start planning your multicultural wedding, there are a few things you can do to make sure certain essential cultural elements are included in your big day. 
First, make a list of the important things you want included in the ceremony and reception and what you want to omit from the wedding altogether. These can range from wedding morning preparations and the exchanging of rings to traditional dishes and any cultural dances or performances during the reception.
Remember, with a multicultural wedding, both cultures will have unique traditions, and it's essential to have a balanced blend of the two. So begin with a long list of things you want to include, and then you can work together on getting it down to the most essential elements. 
Once you have your list, the next essential item to tackle is to sit down with the parents (and sometimes grandparents) to discuss what's important to you and them. Together, you can craft a list of beautiful and meaningful traditions and cultural elements from both sides that will turn your wedding into an incredible celebration of love and heritage.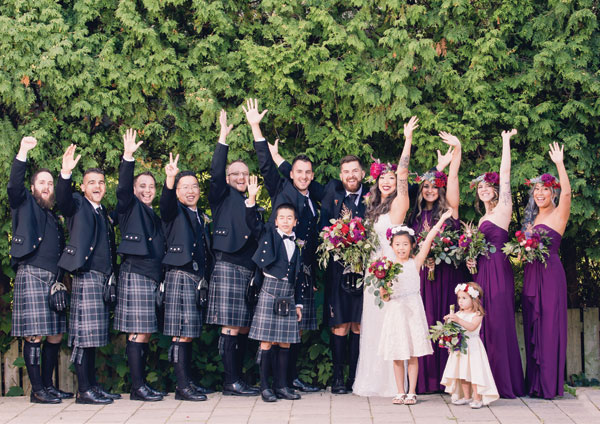 How to implement different cultures in weddings
Once you've figured out the multicultural elements you want to include in your wedding, it's time to figure out where to add them. Here are some ideas:
Ceremony fusion
Kick off the day by combining elements from both cultures in your wedding ceremony, each representing a different cultural tradition. You can incorporate rituals, prayers, or blessings from each culture to symbolize the union of two families.
You can also infuse the ceremony with unique design and decor elements from one or both of your cultures. Think aisle runners in traditional fabrics, embroidered rugs, oil lamps, paper lanterns and fans, porcelain vases and more. It's a great way to celebrate and honour both heritages in a beautifully symbolic way. 
And since you'll likely have wedding guests from a wide array of cultural backgrounds, you should include some information explaining the different elements and experiences they will witness in your wedding program.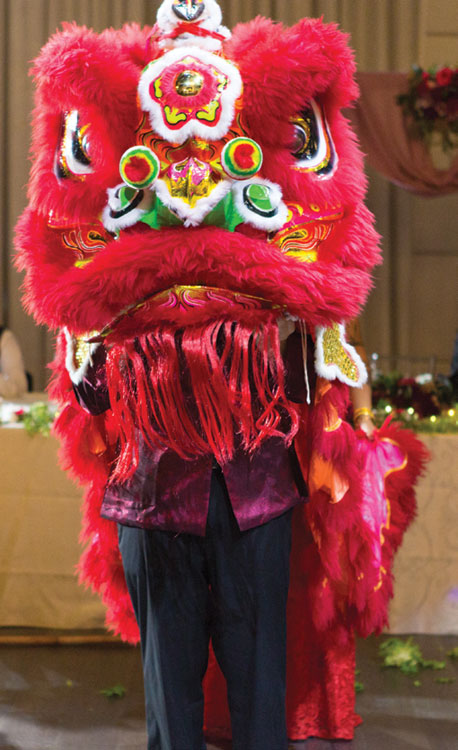 Culinary delights
Oh, yes! When it comes to multicultural weddings, the food is what your guests will be most looking forward to. Forget the bland chicken – you want the food to represent the very best of both cultures, so don't be afraid to serve traditional and authentic dishes. Your guests will love learning about and sampling new cuisines!
You can have a sit-down dinner with both cultures represented in each course, or choose to keep things separate by having one culture represented during the cocktail hour and dessert as the prelude and end to the culinary experience, while the other culture can take center stage as the main course. 
But you can also keep things more relaxed by having a multicultural wedding buffet. This is an excellent option for a wedding that blends two cultures because it allows guests to sample everything!
Wedding fashion
With multicultural weddings, it's customary to incorporate traditional dress into your wedding look. You can go all out and wear a full traditional ensemble, or pick and choose just a few elements to reflect your cultures, like jewelry, shawls, scarves or pocket squares. For example, pairing Indian bangles or jade pendants with your white wedding dress, or batik pocket squares with sleek, black tuxedos is the perfect way to blend modern and tradition, east and west.
You can also choose to wear a traditional dress from your culture for the ceremony, then change into a modern, white gown for the reception. And why stop there? You can invite your guests to participate in the fun, too, by handing out cultural accessories that they can wear for the ceremony and take home as a keepsake.
The decor and ambiance
At multicultural weddings, the decor becomes a vibrant canvas that beautifully weaves a tapestry of traditions. From intricately designed signage that welcomes guests in multiple languages, to ceremony settings adorned with symbols from various cultures, every detail tells a story of unity and diversity. 
Use traditional fabrics for tablecloths and napkins, place cultural items like silk parasols, red lanterns, pinatas and horseshoes around the room, or incorporate traditional flowers and floral garlands for a vibrant touch. And if a certain colour is revered in your culture, be sure to include pops of it throughout the space. 
Even wedding favours can take on a global charm, offering guests a token of appreciation that reflects the rich cultural journey they've been a part of. Hand out mini traditional cakes or cookies, or bottles of wine from your country of origin, or traditional bowls or candy dishes.
The possibilities are truly endless when dreaming up your multicultural wedding. However you choose to blend both cultures, you'll be rewarded with a rich celebration that's not only beautiful but deeply meaningful to you and your guests.