If you're throwing a luxury wedding, you'll want to make a good first impression with your guests, starting with your invitations. With new trends constantly entering the mix each year, it can be overwhelming when deciding on a look for your luxury wedding invitation, one that reflects your unique personalities and sense of style. But we're here to help you set the tone for your big day with our favourite invitation designs that are trending on the up and up. 
What's trending in luxury wedding invitations?
Minimalist designs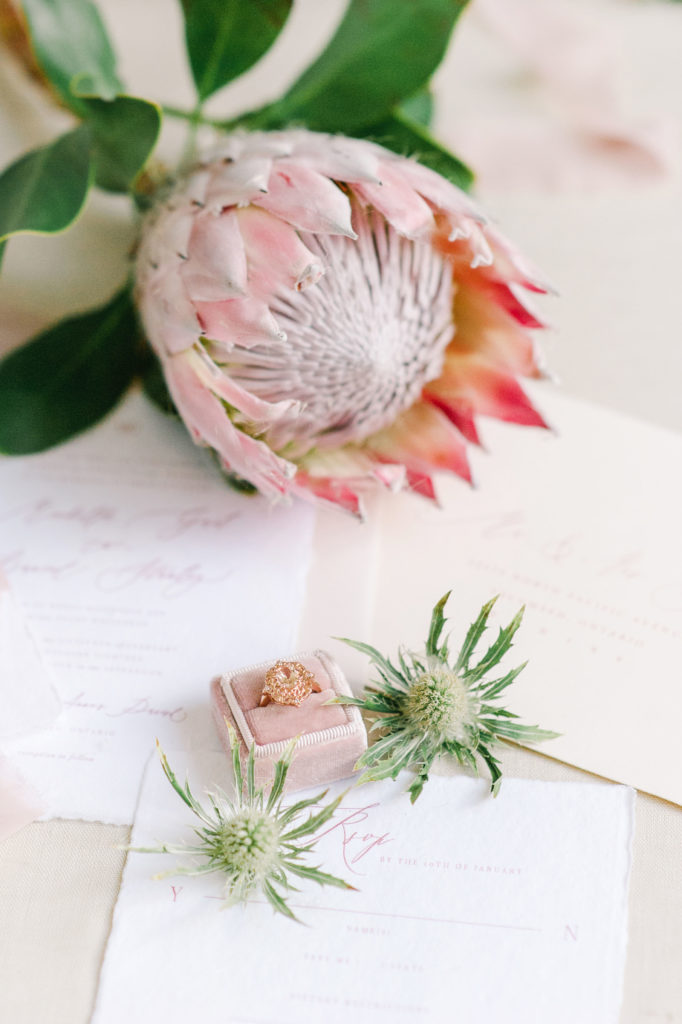 Minimalism is the key to creating sophisticated invitations. Modern trends in luxury wedding invitations have couples opting for sleek and refined invites featuring simple typography, clean lines, and neutral colours. Introducing too many design elements, colours and fonts will run the risk of looking overly busy and garish. 
Personalization
This year it's all about personalization. And nothing says "special" quite like adding a personal touch to your luxury wedding invitations. Make your bespoke event stand out by opting for customized calligraphy. You can place a unique message that beautifully reflects your relationship and makes your invite more meaningful.
Sustainability
As the world becomes more environmentally conscious, sustainable wedding invitations are becoming increasingly popular. Couples are now opting for recycled paper or eco-friendly materials, ensuring their day leaves a minimal carbon footprint and doing their part to help protect our planet.
Customized monograms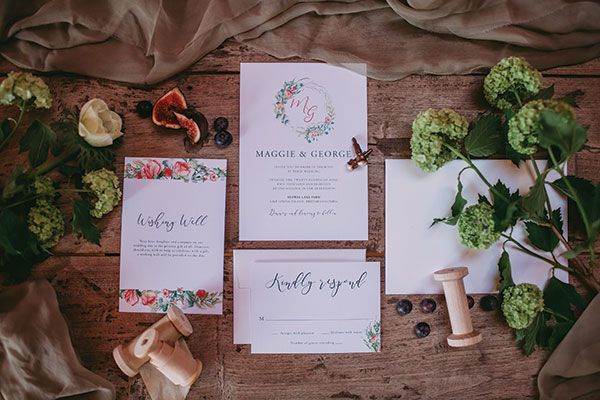 One of the best ways to add a personal touch to your luxury wedding invitation is to incorporate a monogram. You can emboss, print, or add a monogram into a wax seal, customized to match your wedding colour theme and style. Find a designer who can combine modern typography with an image or design to create the look. It will help put an individual stamp to your invitations, one that's unique to your relationship. 
Unique Materials 
The most opulent wedding invitations are ones that experiment with unconventional materials. Invitations crafted from luxurious velvet, silk, or handmade paper evoke a sense of tactile elegance and elevate the overall aesthetic.
Foil accents
Consider incorporating foil accents if you want to add a classy touch to your luxury wedding invitations. You can use foil to highlight important details like your names, initials, and wedding date, lending an air of sophistication to your invitations. In addition, foil can be used to craft captivating designs and borders that are both elegant and dramatic.
Ethereal watercolours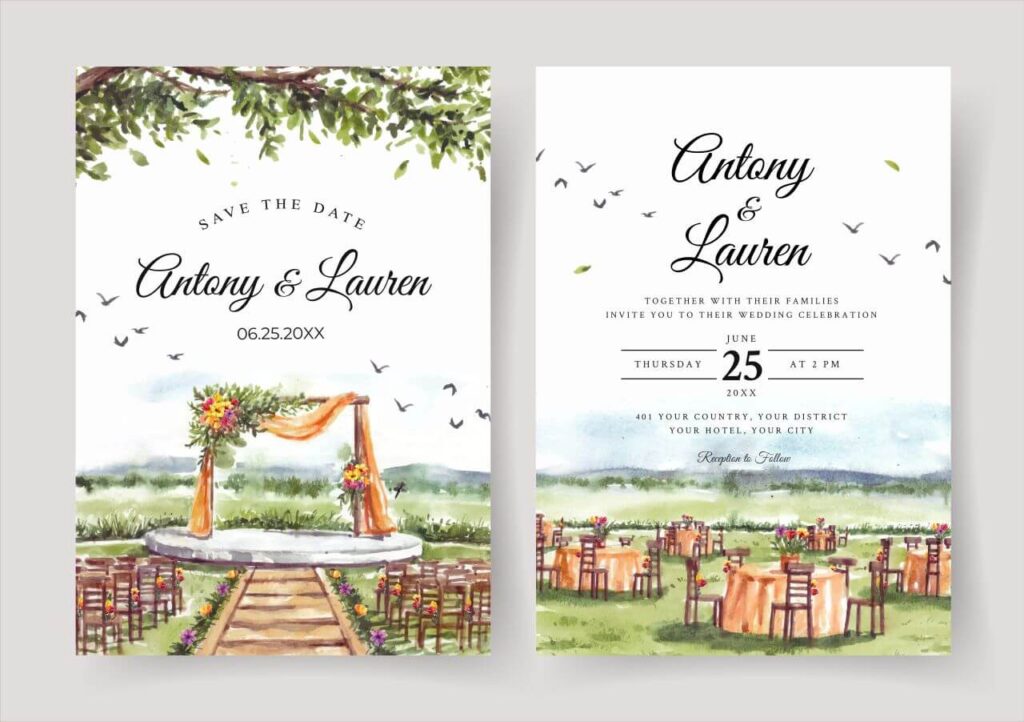 Soft, dreamy watercolour designs are gaining popularity in luxury invitations. If you're going for a whimsical and romantic aesthetic, choose pastel hues, gentle brushstrokes, and subtle blending.
Laser-cut elegance 
Intricate laser-cut designs make a grand statement in luxury wedding invitations. Delicate lace-like patterns, filigree details, and ornate motifs create a visually stunning effect, adding an exquisite touch to the invitation.
Florals and foliage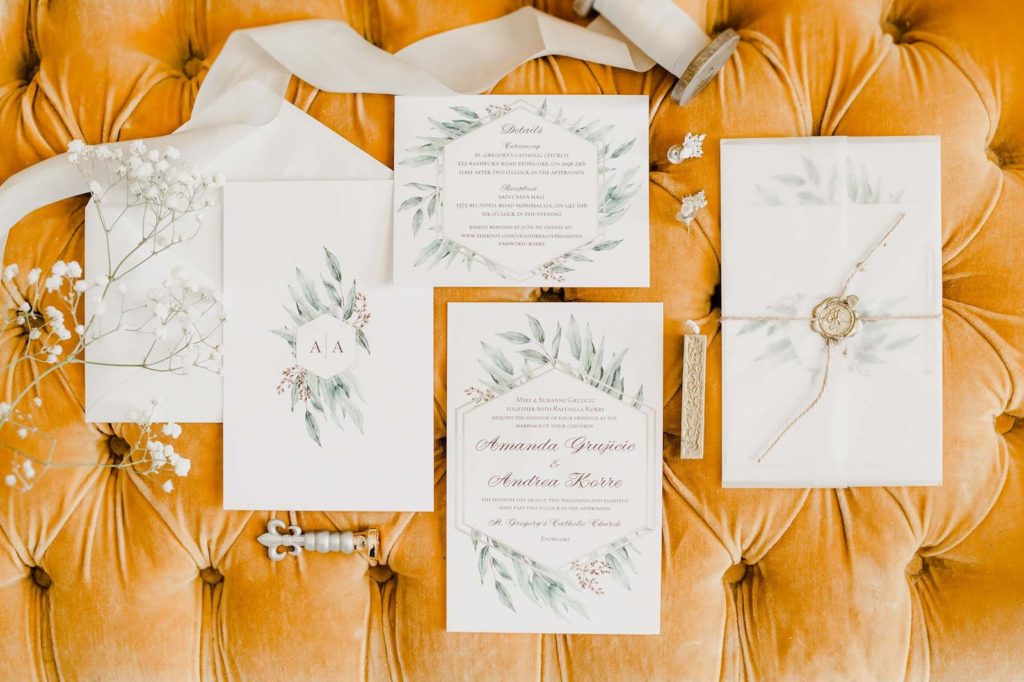 There has been a considerable rise in the popularity of greenery in wedding decor and bouquets, and now we're seeing the trend move into luxury wedding invitation designs. We're seeing a lot of romantic florals and foliage make their way into the invitation designs, one of our favourite new trends.
You can look for hand-drawn leaves, gold trims, and elegant swirly fonts, which works well with deep purple, jewel and blue tones. The finished look will feel like a fairy tale wedding and will never be out of fashion. It is versatile and sophisticated, and you can pair it with a monogrammed finish for a truly modern wedding invitation.
Illustrations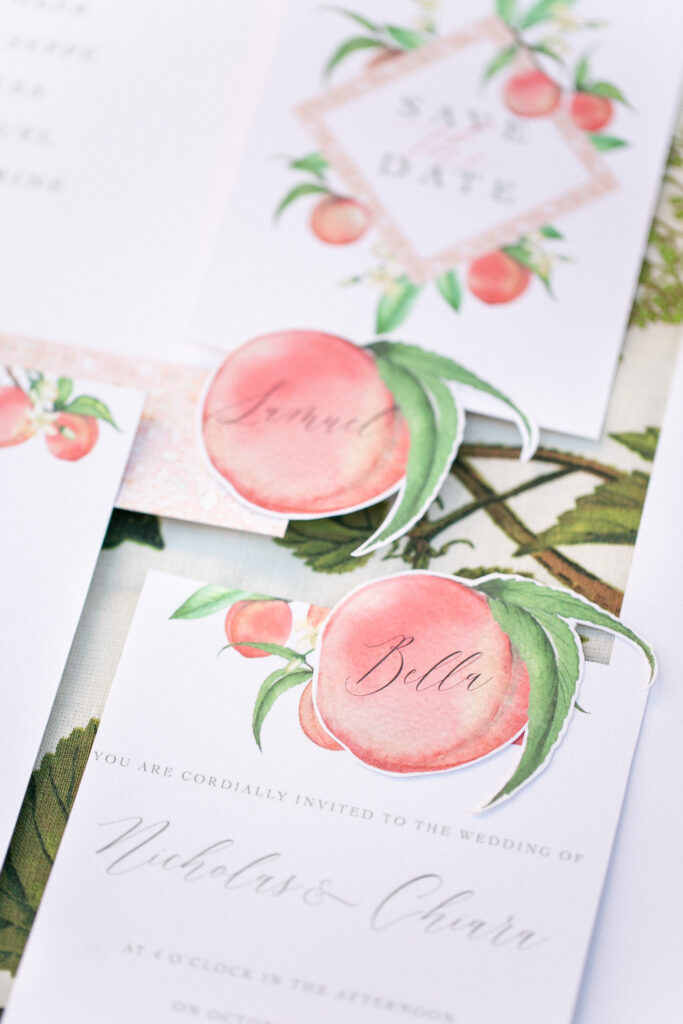 Hand-drawn illustrations are a traditional way to ensure your wedding invite is unique, plus, they make for a beautiful keepsake. Many couples will choose to illustrate their wedding venue on their invitations, but you can select anything that's important to you. 
Embellishment
Embellished invitations have become popular over the past few months. You can use pearls, Swarovski crystals, tiny ribbons, oversized bows or rhinestones with gorgeous patterned paper to create a dramatic look. Whatever colour scheme you choose, including embellishments will add a surprise element to your invitations. 
Interactive elements 
Adding interactive elements to wedding invitations creates a memorable experience for your guests. These can include pull-out cards, pop-up designs, or hidden messages that will engage recipients and leave a lasting impression.