If you're heading down the aisle this year, you already have a lot on your plate. But don't forget about the most important plate: your wedding cake! 
The joy of a wedding day is made sweeter by indulging in delectable desserts that make your tastebuds dance with delight. This year, some deliciously unique trending cakes are taking over the wedding cake world. 
From towering tiers to unique flavour combinations, wedding cake trends are guaranteed to satisfy any sweet tooth. So let's dive into the world of confectionary bliss and indulge in love with these deliciously delectable wedding cake ideas!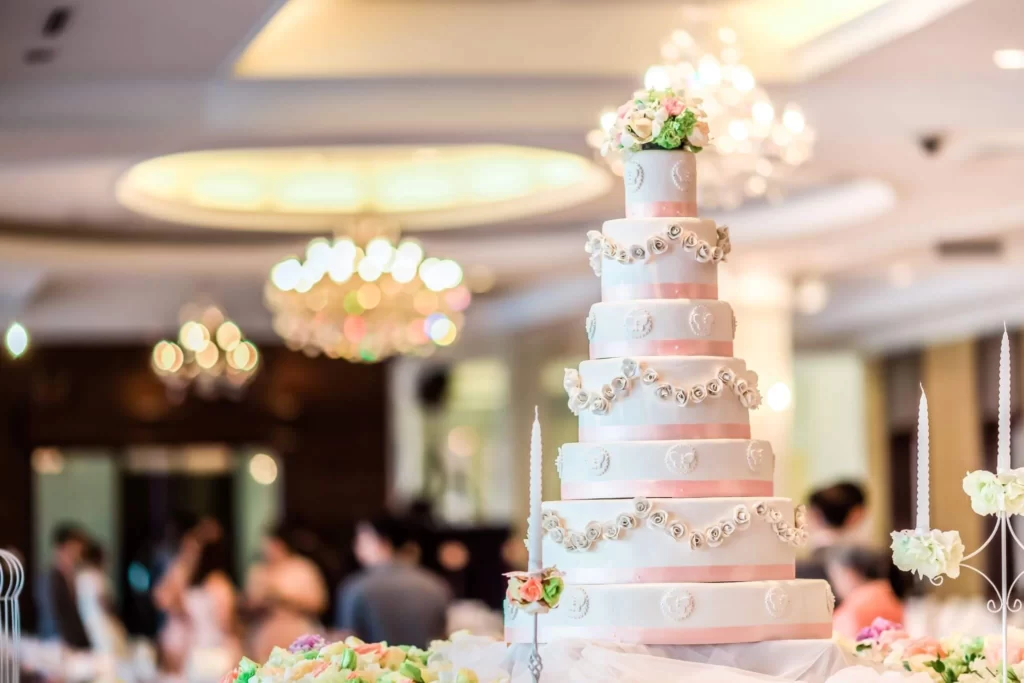 Grand multi-tiered cakes
When it comes to wedding cakes, there are few things grander than a multi-tiered one. Imagine the grandeur of a really tall wedding cake with several tiers that can be seen anywhere in the room. These cakes are often lavishly decorated with intricate designs and details, making them a show-stopping centrepiece for any wedding reception. 
The are grand in scale, tantalizing to the taste buds and certainly a great opportunity for Insta-worthy photos. 
Lambeth wedding cakes
Lambeth wedding cakes are traditional English cakes dating back to the Victorian era. The cake is made with two thin layers of spongecake, filled with a rich fruit filling, and covered in a hard candy coating. Lambeth wedding cakes are often decorated with elaborate designs, making them a focal point of the wedding reception.
The popularity of Lambeth wedding cakes has grown in recent years as more couples are looking for ways to incorporate tradition into their big day. While these trending cakes can be expensive, they are worth the investment for couples who want a truly unique and memorable wedding cake.
Edible pressed flower wedding cakes
Pressed flowers are a beautiful option if you're looking for a romantic and unique wedding cake. Even better, pressed flowers can also be edible, making for a delicate and delicious concoction. As one of our favourite wedding cake trends, edible flowers are truly the icing on the cake!
Custom cake flavours
When it comes to planning a wedding, there are a lot of decisions to make. But out of all of them, picking the perfect cake flavour is one of the most personal choices a couple will make. In 2023, custom cake flavours will be one of the hottest wedding cake trends as couples look to create a unique and unforgettable dessert experience for their guests.
Expect trending cakes with more unusual combinations like lavender and honey or citrus and basil. These custom cake flavours allow couples to express their personalities and make a statement on their big day.
Here are some other unique flavour ideas for trending cakes:
Earl Grey and Vanilla

Mocha and Lavender

Chocolate and Coffee

Almond and Peach

Blueberry and Lemon

Matcha

Jasmine Green Tea Ganache
Greenery
From lush garlands to delicate olive branches, there are many ways to incorporate greenery into your wedding cake design. If you're looking for a fun and unique way to give your wedding cake some extra charm, consider using real foliage like ferns, leaves and berries as cake toppers and decorative touches. It's a pretty and whimsical way to add personality to your special day, and it's one of the wedding cake trends we expect to be around for a while.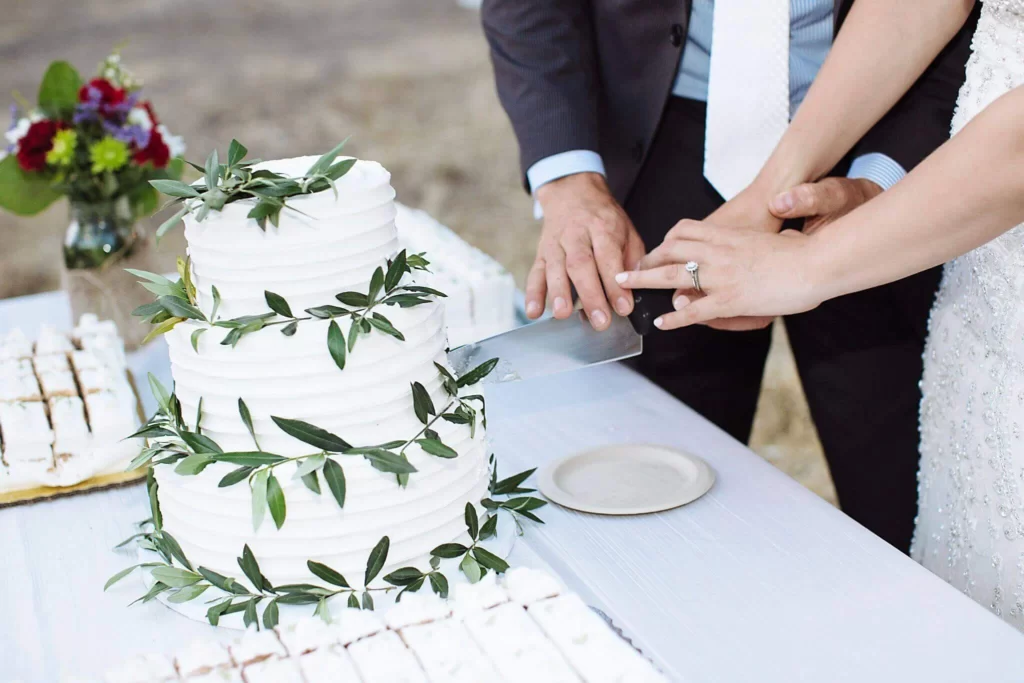 Hand-painted cakes
One of the latest wedding cake trends for 2023 is hand-painted cakes. This technique uses food-grade paint to create beautiful and intricate designs directly on the cake. From delicate floral patterns to bold and abstract designs, hand-painted cakes are a unique way to add a personal touch to your wedding cake. 
Whether you choose a minimalist or more elaborate design, hand-painted trending cakes will surely be a stunning and unforgettable addition to your special day.
Alternative cake ideas
Break from the typical trending cakes and instead wow your guests with an alternative wedding cake. This can mean something as simple as how you decide to decorate your cake, choose a specific flavour, or go for an entirely different dessert option. 
You can have a cookie wedding cake, assorted mini desserts, a macaroon tower, Millefoglie (a traditional Italian wedding cake), croquembouche (a French dessert composed of profiteroles shaped into a cone and bound with spun sugar), or anything else your heart desires.