Are you dreaming of a magical outdoor wedding that will leave you and your guests breathless? A simple yet effective way to create the mood and sweep your guests off their feet is through the power of outdoor lighting for weddings! 
Illuminating your wedding with the proper lighting can transform any outdoor space into a stunning and romantic wonderland. Imagine saying your vows under a canopy of fairy lights, dancing the night away surrounded by flickering candles, or enjoying a romantic dinner under the stars with soft, warm wedding lighting above you. To put it simply, wedding lights can instantly turn an ordinary wedding into a magical one with just one flip of a switch.
Whether you're going for a whimsical fairy tale vibe, a chic and modern feel, or a rustic and cozy atmosphere, you'll find endless possibilities for gorgeous lighting for an outdoor wedding. We've rounded up some gorgeous outdoor wedding lighting ideas for couples who want to create a truly unforgettable celebration.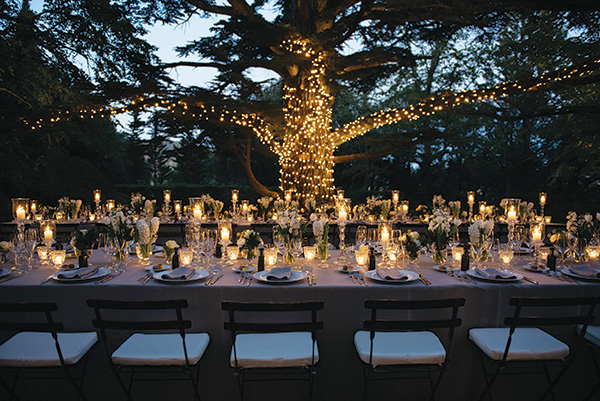 Fairy lights 
Fairy lights are a classic and timeless option and one of the most romantic options for outdoor lighting for weddings. They're versatile and can be strung up in trees, wrapped around poles, or hung from the ceiling to create a soft and romantic glow.
Fairy lights are often called string lights and look incredible suspended above outdoor wedding tables. It creates an immediate sense of wonder and amazement when guests walk in and gives the illusion they are dining under a sea of stars that they can almost reach out and touch. As far as outdoor lighting for weddings, this one does the trick. 
Chandeliers
Chandeliers are a sophisticated go-to choice for wedding lights. They add a dazzling sparkle and an unexpected element to any event, taking wedding decor to a new level. Long associated with opulence and elegance, chandeliers add a regal touch to any wedding reception. 
And today, the exciting thing about this type of wedding lighting is that they aren't limited to indoor ceremonies anymore. Instead, wedding planners suspend romantic chandeliers from trees, pergolas, trellises and other outdoor fixtures. And we love it! It's such a lavish outdoor wedding lighting idea.  
Edison bulbs 
Edison bulbs have become increasingly popular in recent years and are perfect for adding a rustic or vintage touch to your wedding. They're larger than traditional bulbs and emit a warm and inviting light, perfect for outdoor celebrations.
To elevate your wedding decor, consider suspending rows of Edison bulbs over your reception tables or use them to create an awe-inspiring head table backdrop. 
Neon Signs
Neon wedding signs with sayings have become increasingly popular in recent years as they add a fun and modern touch to wedding decor. These signs can be customized to display various messages, such as "because love," "happily ever after," "the beginning of forever," "but first photos," or whatever your heart desires.
Neon signs can also add a retro vibe, making lighting for an outdoor wedding a main focal point. They can be placed on walls, behind the head table, or above the dance floor to create a stunning visual display that doubles as lighting decor. 
Whether you're going for a modern or vintage-inspired look, wedding neon signs with sayings are a great way to add personality and style to your wedding lighting.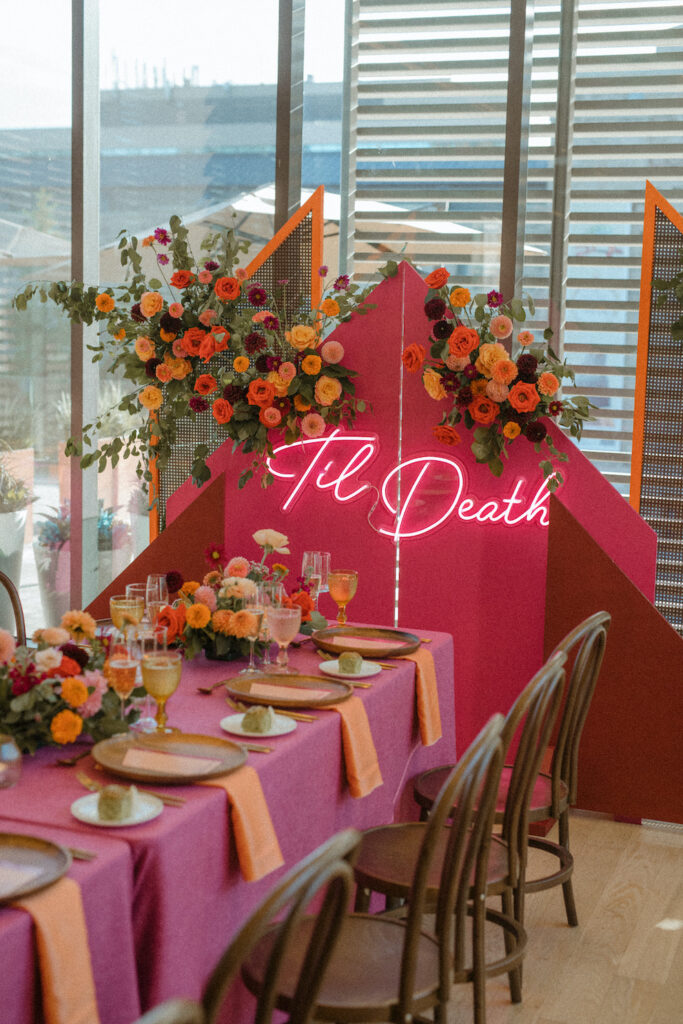 Candlelight 
Candles are a simple, cost-effective and elegant way to create a romantic atmosphere. They can be placed in lanterns along walkways, encased in mason jars and hung from trees, or placed in candlesticks or candle holders on tables to create a warm and inviting ambiance. 
Uplighting
Uplighting involves placing lights on the ground to illuminate trees, walls, buildings, or other objects from below. This can create a dramatic and visually striking effect, especially when combined with other lighting techniques like candles and lanterns.
Paper lanterns
Paper lanterns are a popular choice for wedding lighting as they are easy to set up and add a whimsical touch to the decor. In addition, they come in various colours, shapes, and sizes, allowing for endless creative possibilities. 
Whether you hang them from trees for an outdoor wedding or cluster them above the dance floor, hanging paper lanterns can create a dreamy atmosphere that will leave a lasting impression on your guests. 
Projection mapping 
Projection mapping is a modern and innovative way to add a unique touch to your wedding. It involves projecting images or patterns onto surfaces such as walls, trees, or the ground to create a captivating and immersive experience. It can also be a cost-effective way to replace expensive decor elements. For example, instead of a wall of fresh flowers as a backdrop to your vows, projection mapping can illuminate a wall with thousands of flowers with one simple switch.