Located in the Persian Gulf, Dubai is the best of the best in everything. From epic architecture, to stunning beaches, to next-level opulence, there's a reason it is known as The City of Gold.  If over-the-top lavishness is your thing, you'll feel right at home.
Tip: start saving now; this is a pricey trip if you want to go all out. But it's worth it.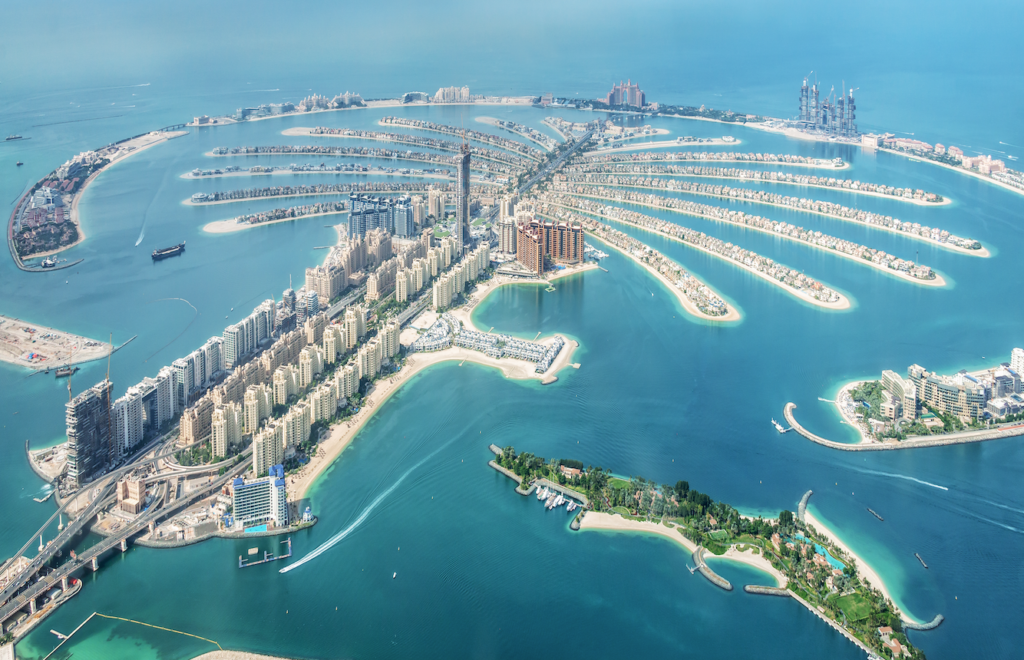 Flying
Start your honeymoon off right by flying with the best-of-the-best airline: Emirates. Flying with Emirates will ruin you for all future flights in your life, especially if you go business class or first class. As you enter (from your private lounge, and through priority boarding), you'll be escorted to your sleeping pod and handed a glass of Champagne. Before you have a chance to take in your surroundings, you're also offered socks, headphones, blanket, mattress for a bed, sleep mask, and an incredible toiletry bag filled with BVLGARI goodies. Then, settle in, indulge in premium cocktails, select your favourite meal from the menu, binge a show (there are hundreds of viewing options) or go visit the bar/lounge and stretch your legs. Before you know it, that 13-hour flight has flown by (literally) and your Mercedes is waiting on the other end to take you to your hotel.
Staying
The choices are pretty endless when it comes to hotels and resorts. If you're looking for reasonable (by Dubai standards) then Jumeirah Beach Hotel is a great option. Located right on the beach, the hotel has recently been fully renovated and you have epic views of the Burj Al Arab (especially from your balcony at night). The staff is eager to help with romantic experiences, like bubble baths filled with rose petals, bouquets of flowers waiting in the room (they have an in-house florist), and delicious, sweet desserts delivered to your door.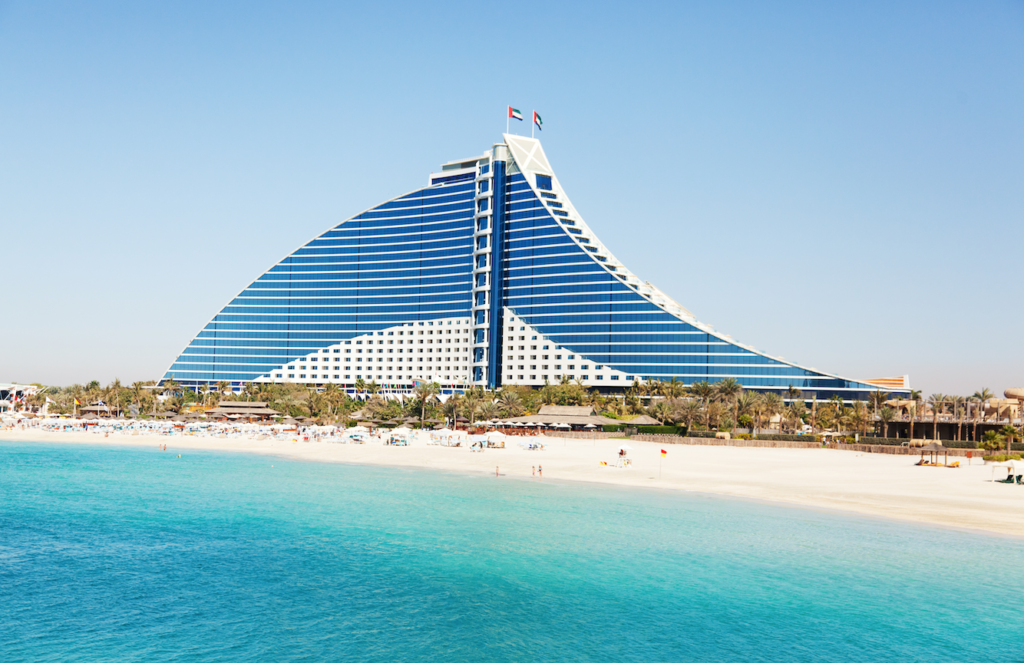 With the Burj Al Arab right next door, you'll have to stop by for a tour or a spa treatment. Dubbed "the best hotel in the world", you won't want to miss exploring the iconic building. A tour includes a visit to the Royal Suite, which will level-up your idea of luxury. And unless you have Justin Bieber or Kardashian money, you might want to stick with a smaller room. If you don't plan on staying, you can relax at the Talise Spa, share a couples massage, and take a dip in the infinity pool, which provides perfect views of the Dubai skyline.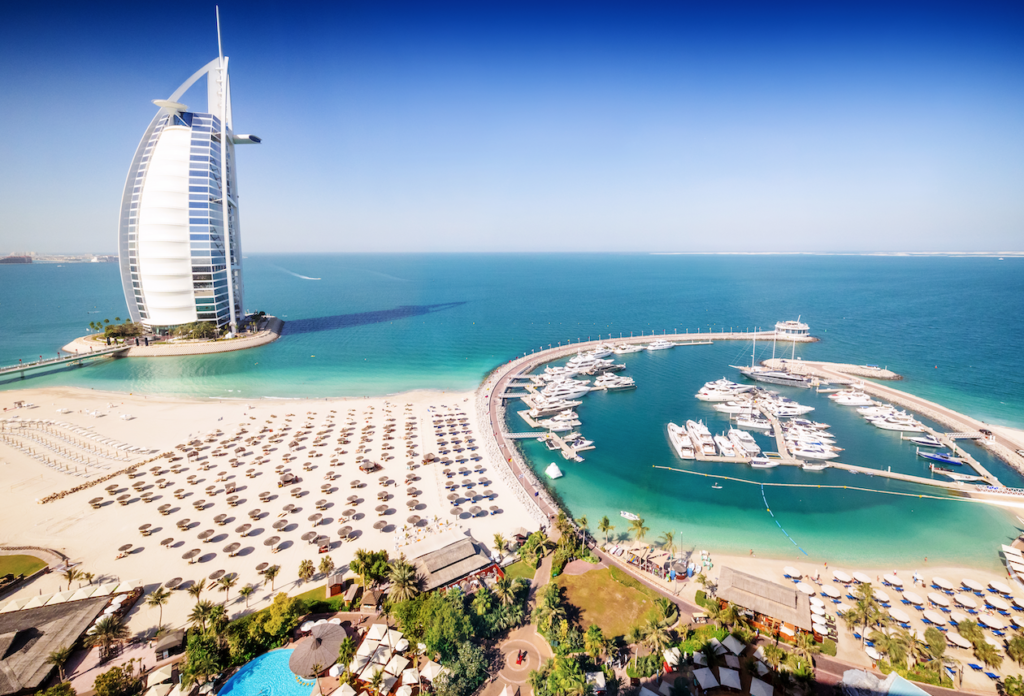 If you're looking for something completely different, escape to the desert and stay at Babs Al Shams, a hotel nestled among the sand dunes, with a more traditional Arabian look and feel. Sip a pomegranate cosmo by the infinity pool, or take a nature hike to discover what the desert has to offer. They are currently renovating to make your stay better than ever.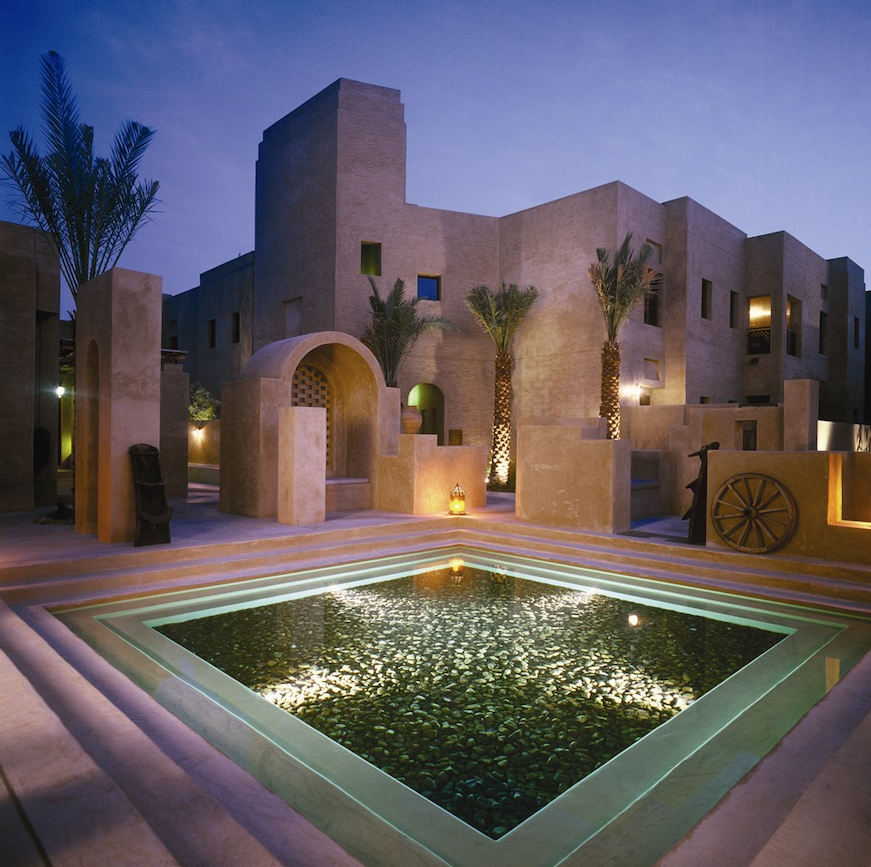 Atlantis is another luxurious option. Atlantis is the focal point of "The Palm" (the man-made islands on to coast of Dubai) and offers rooms surrounded by their underwater aquarium. That's right. You can hop into the bathtub with views of rays, sharks and hundreds of fish. Sunsets at Atlantis are magical – the perfect romantic ending to your day.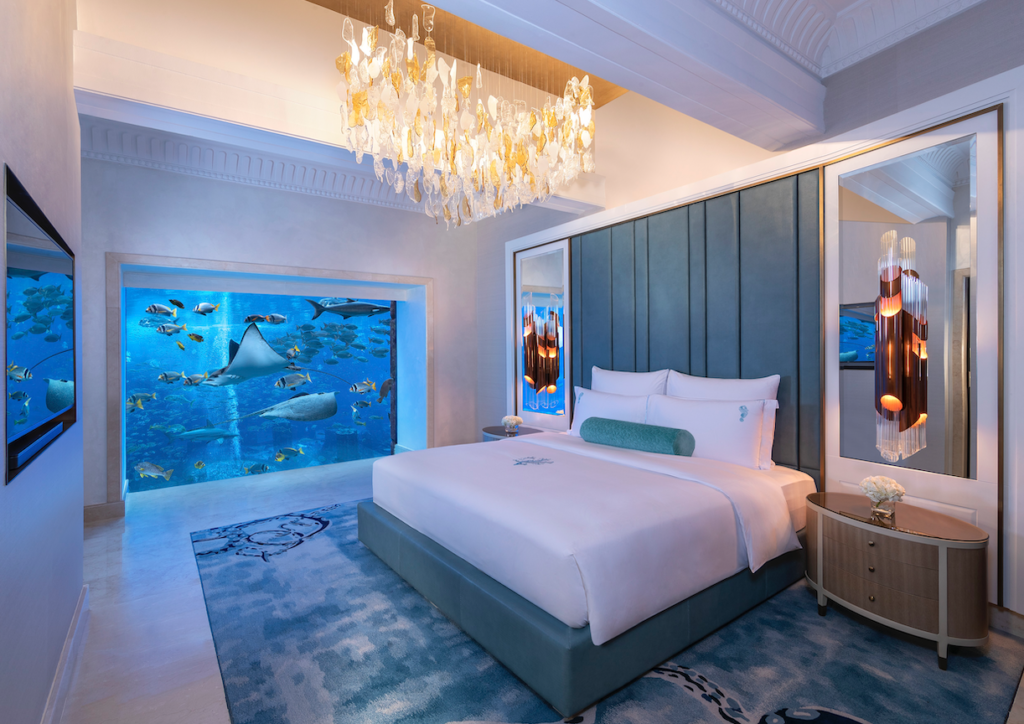 Doing
At the top of the list for adventure and romance is a hot air balloon ride. Don't be nervous. It is the most calm, peaceful feeling – nothing to be scared of. Start your day early with Balloon Adventures Dubai – around 4 a.m. – by heading into the desert in the dark, surrounded by just the sand and stars (keep your eyes on the sky, for shooting stars!). You'll climb aboard one of half a dozen balloons and float up to 4,000 feet above the desert as you take in the sunrise. It truly is a once-in-a-lifetime experience that can't be missed. Upon landing, you'll make your way to vintage Land Rovers, for a quick trip through the desert, to a Bedouin camp for breakfast and a camel ride.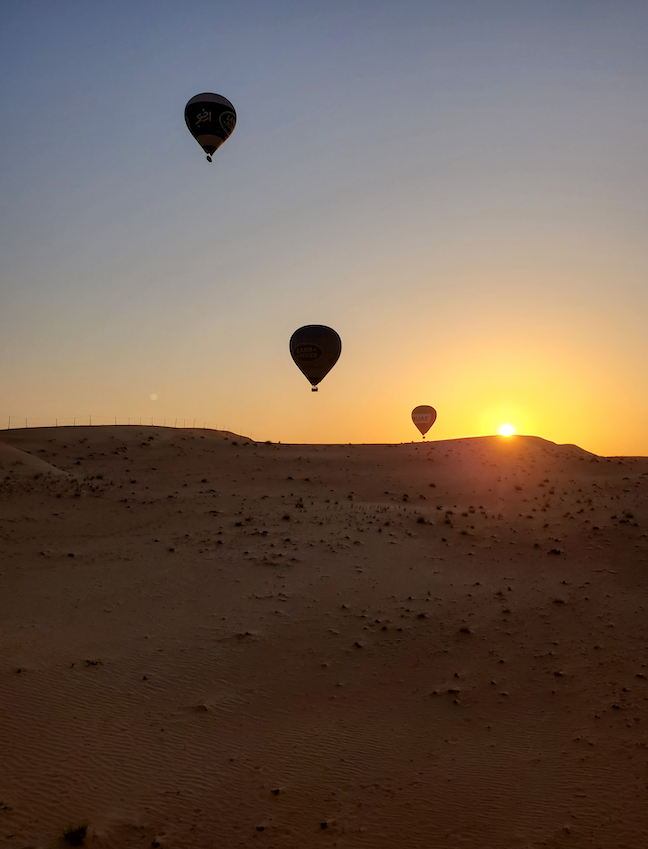 When your adventure is done, it might be time for some relaxation. There's no better way than heading to Aura Skypool, the world's highest 360-degree infinity pool. At 200 metres high, the pool offers views of Dubai like no other. As you make your way around the pool, you'll be able to see Dubai from every angle. And when you're done cooling off, sunbathe on one of the many sunbeds and take in the panoramic views (this is done best with a cocktail in hand, of course).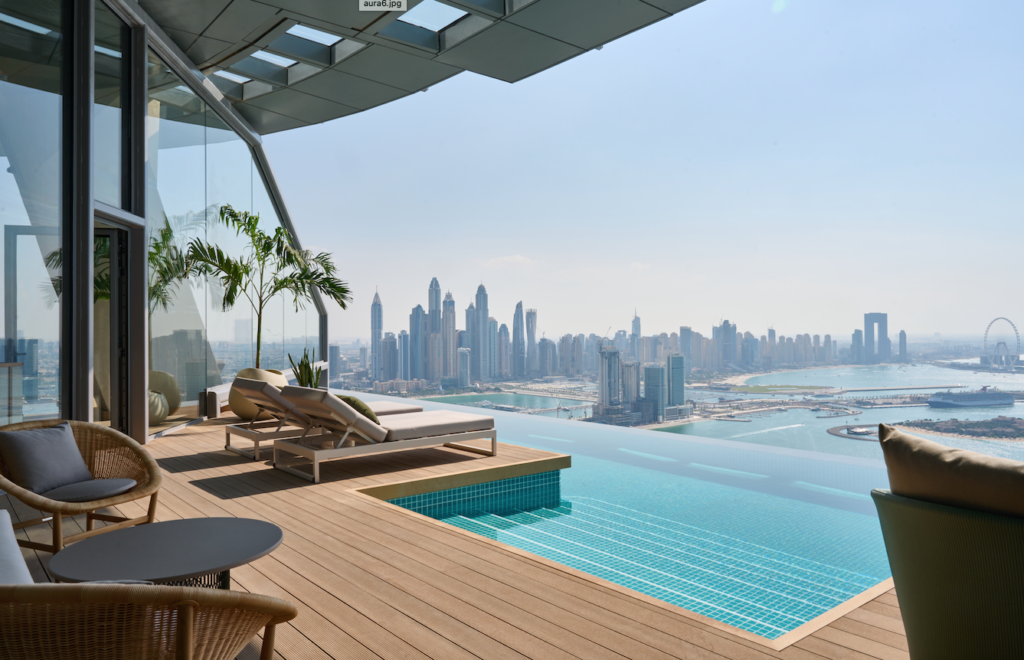 Make sure the Burj Khalifa is on your to-do list. The skyscraper is the tallest building in the world, standing at 829.8 metres (nearly a kilometre!). Whether you simply stand outside and marvel at its height, take a tour or visit the observation deck, this is a bucket-list structure you have to see to believe.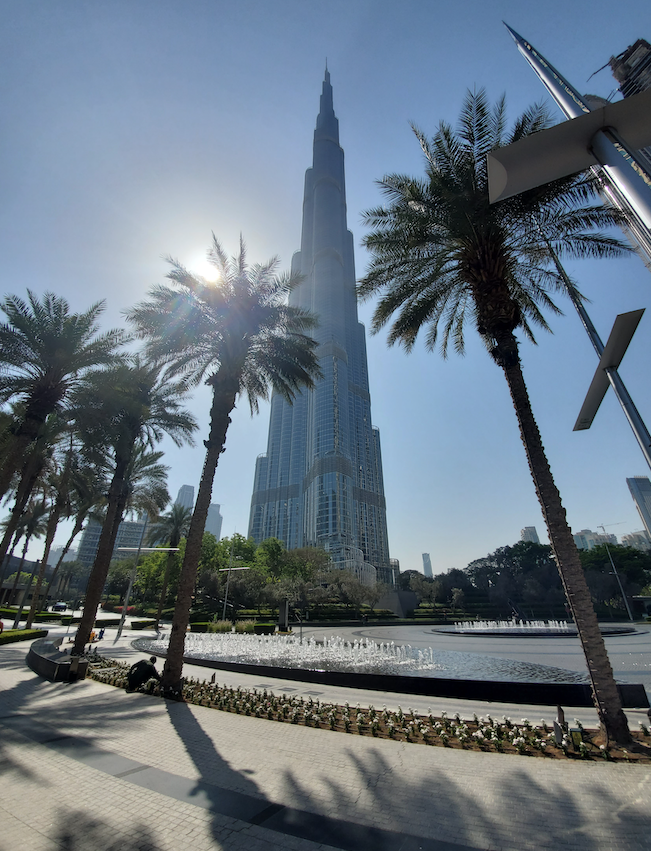 Eating
At Jumeirah Beach, Bastion is the way to go. The steakhouse serves mouth-watering apps, entrees and desserts. The tableside beef tartare is a must-try and the kiwami wagyu is heaven on a plate. After dinner, visit Floor 24 for some after-dinner cocktails.
While at Aura Skypool, you can't miss the sushi. You'll want to order a little bit of everything and try as much as you can. Every bite is delicious.
The Atmosphere is the perfect place for a romantic brunch, and the views are nothing short of spectacular. Located on the 122nd floor of the Burj Khalifa, you can indulge in a gold cappuccino (yes, it is actually covered in gold) while you take in the epic scenery.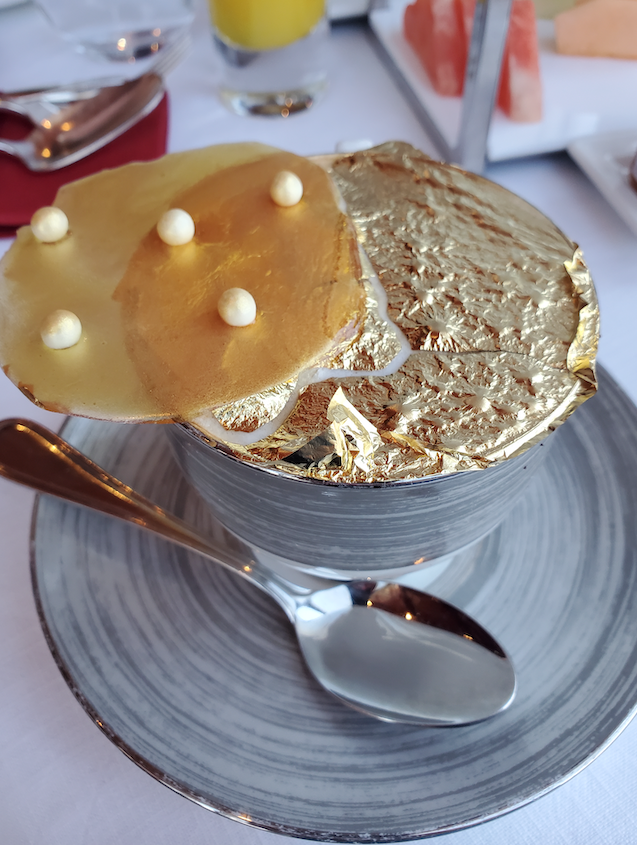 The 9-course tasting experience at Ossiano (a Michelin-star restaurant in Atlantis) is a unique meal that you won't forget. Chef Grégoire Berger will take you on a culinary journey like nothing you've ever experienced. This luxurious dinner is for adventurous eaters only!
By Amy Bielby
See more amazing honeymoon ideas here!