Christina & Adam
Adam (from Banff) and Christina (from Edmonton) met, and within a month they decided to do the long-distance thing. "We knew right away we had something amazing," says Christina. "After that year, I finished school and I moved to be with him in Banff." Christina shares more about their plan to elope.
Why did you elope?
We chose to elope because we wanted something special just shared between us. We wanted to just focus on the decision to be together and we both found wedding planning to be exhausting and overwhelming! So it was an easy choice to just elope.
Best part of the day?
The best part of the day was saying our vows on the top of the mountain. The weather turned out to be incredible and it was just us, wanting to be together and share our love. It was so intimate and special.
Did you celebrate afterward?
We ended up spending a vacation with my parents the day after we were officially married so they could share in the happiness. We also saw my husband's mom in Regina shortly after to celebrate with her. We then went to Montreal to celebrate with my husband's dad. We both have small families that live in different areas of the country and sharing some special memories with our families made the immediate glow after eloping continue on for months.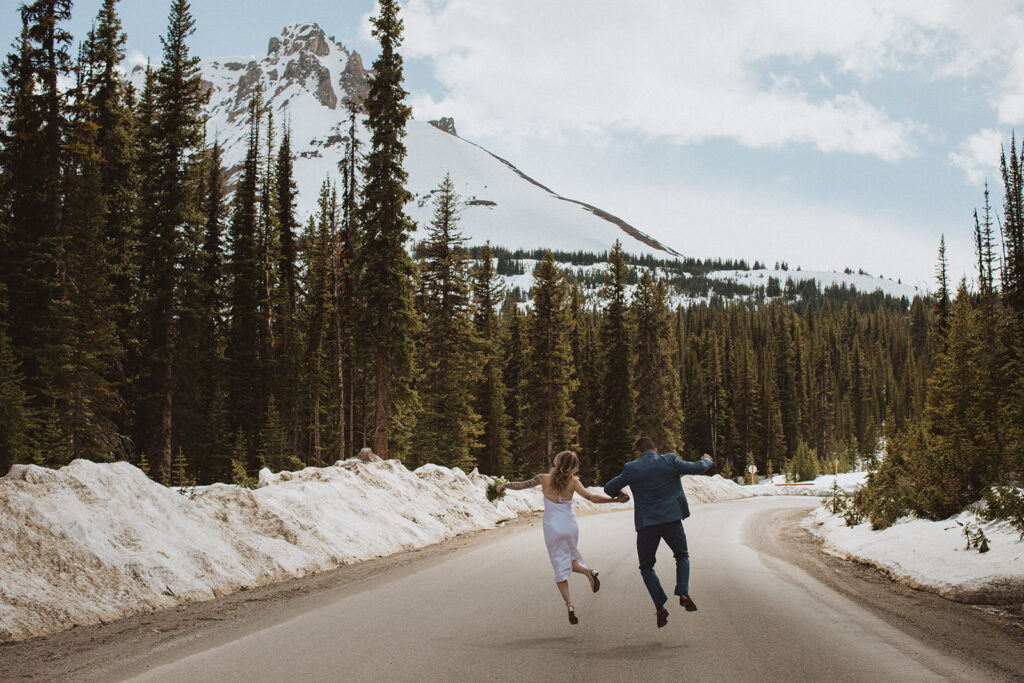 What would you say to someone who is thinking of eloping?
If someone was considering eloping I would tell them to go for it. It can be a bit of a process with family accepting your decision, but you have to be true to yourselves and Adam and I knew this was the best fit for us. It felt authentic and intimate and we couldn't imagine doing it any other way. The pictures turned out incredible and being on the top of a mountain together is one of our favourite memories of our life together so far. The happiness our photographer was able to capture was beautiful and we were just focused on being together and laughing without having any stress at all. The hardest part was deciding what locations to take pictures at (which wasn't really hard at all). It was so stress free.
Wedding photographer: Liv Hettinga Photography
Helicopter tour: Rockies Heli
Dress: Park & Fifth
Check out more mountain-side wedding inspiration.