Every bride dreams of looking their very best on her wedding day, with a radiant bridal glow being the ultimate aspiration. But with all the anxiety and stress leading up to the big day, it can be hard to achieve skin perfection. And unfortunately, skin enhancement cannot be achieved overnight – your wedding day beauty regimen must begin at least six months before your big day. 
Today, we're unveiling several bridal beauty tips and secrets to healthy skin care that will help you achieve that coveted wedding day glow. And for all you grooms out there, good news – these tips also work for you! Whether you're a bride or a groom, we understand that your wedding day is a cherished milestone, and we want your skin looking flawless and luminous.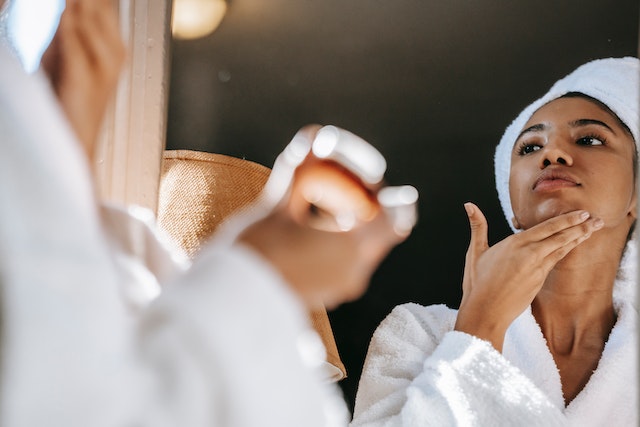 Don't stress out
One of the top ways to achieve healthy skincare and that coveted bridal glow is to avoid unnecessary stress. Stress can wreak havoc on your skin, leading to breakouts, dullness, and a lacklustre complexion. 
By implementing these bridal beauty tips and stress-management techniques into your daily routine, you'll promote a calm mind and nurture your skin's vitality, allowing it to radiate with a natural bridal glow:
Wake up early and go for a morning walk

Do stretching exercises

Try breathing exercises

Practice meditation

Do skin treatments at a spa such as exfoliation and oxygen facials

Try aromatherapy 
Stay hydrated
Ok, ok, we know! Staying hydrated is essential to maintaining all levels of health and wellness. But did you know that the amount of water you drink also affects your skin?
Drinking adequate water throughout the day helps to flush out toxins, maintain skin elasticity, and promote a healthy complexion. So it goes without saying that drinking water must be included in your wedding day beauty routine. 
Aim to drink about 8 glasses of water daily, and consider incorporating hydrating foods like watermelon, cucumbers, and citrus fruits into your diet. Additionally, herbal teas and infused water can provide a refreshing and flavourful way to stay hydrated while adding natural radiance to your skin.
Here are the advantages of staying hydrated:
Water helps to clear the toxins from the skin

Skin stays fresh

Natural glow on the face

Treats acne issues

Revives elasticity and firmness of the skin
Quality sleep can help
When you sleep, your body magically repairs and rejuvenates, leading to healthier skin. Aim for 7-9 hours of uninterrupted sleep each night to allow your skin to regenerate and restore its natural radiance. Establishing a relaxing bedtime routine, such as avoiding electronic devices before bed and creating a soothing environment, can help you achieve the rejuvenating sleep your skin craves. 
Quality sleep can help to achieve a bridal glow in the following ways:
Good sleep heals skin cells

It calms the mind and body to stay fresh all day long

Good sleep reduces dark circles under your eyes

Stops early signs of aging

Brightens your complexion
Start a healthy and nutritious diet
Nourishing your body with a healthy diet is essential for achieving your bridal glow and plays a vital role in your overall well-being. Your food choices impact not just your skin but your energy levels, immune system, and long-term health. 
Opt for nutrient-dense foods that are rich in antioxidants, such as colourful berries and leafy greens, and incorporate wholesome fruits and vegetables like avocados and sweet potatoes. By fuelling your body with these nourishing foods, you'll enhance your skin's radiance and promote a healthier and more vibrant life, inside and out.
Here are some more ideas for creating a healthy diet:
Include a variety of vegetables and colourful fruits in your meals

Choose whole grains like quinoa, brown rice, and whole wheat bread

Incorporate lean proteins such as chicken, fish, tofu, or legumes

Include healthy fats from sources like avocados, nuts, and olive oil

Limit processed foods, fast food, sugary snacks, and sodas

Enjoy dairy or dairy alternatives in moderation

Add flavour and nutrition with herbs and spices instead of excessive salt

Consider mindful eating, focusing on portion sizes and listening to your body's hunger and fullness cues

Plan and prepare meals in advance to make healthier choices easier
If you're thinking of changing your diet in any way prior to your wedding day, it's best to consult with your doctor on the best course of action.
Implement a skincare routine
Implementing a skincare routine six months before the wedding can help achieve a radiant and glowing bridal look in preparation for the big day. Here are some suggestions to include in your routine:
Cleanse your face twice daily to remove impurities and maintain a clear complexion

Exfoliate once or twice weekly to remove dead skin cells and promote cell turnover

Moisturize daily to maintain hydrated and supple skin

Apply sunscreen with 30 SPF to shield your skin from UV radiation damage

To address specific skin concerns, incorporate a serum or treatment with ingredients like vitamin C or hyaluronic acid.