This bold yellow décor is ideal for a wedding or bridal shower – or both! It is bright, cheery and unique.
Here are five details we absolutely love about this wedding inspiration.
The wedding invitations
Invitations set the tone of your event. If they are extra beautiful, your guests will be excited immediately after opening the envelope. (And yes, mailed invites are more exciting than online invites, just saying.) Your wedding invitations don't necessarily have to match your décor, but it's nice if they do, especially if you'll be photographing them.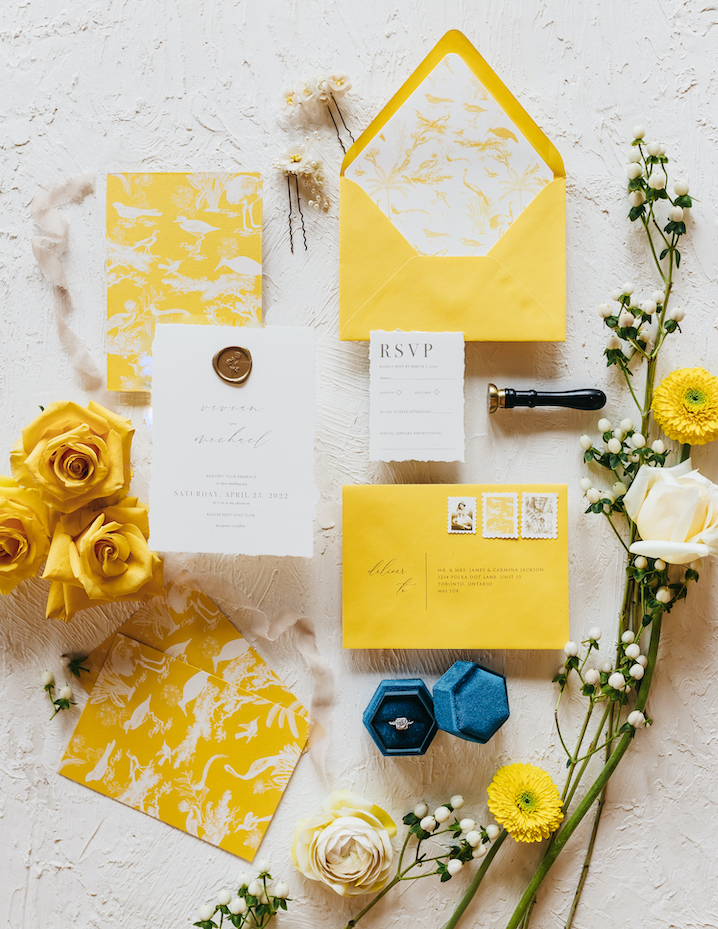 The wedding dresses
Mini dresses are very trendy at the moment, so we love the mini option, with the train, in case you aren't comfortable going full mini. We are also feeling the idea of more than one dress. It's your wedding day – if you want two (or more!) wedding dresses, go for it!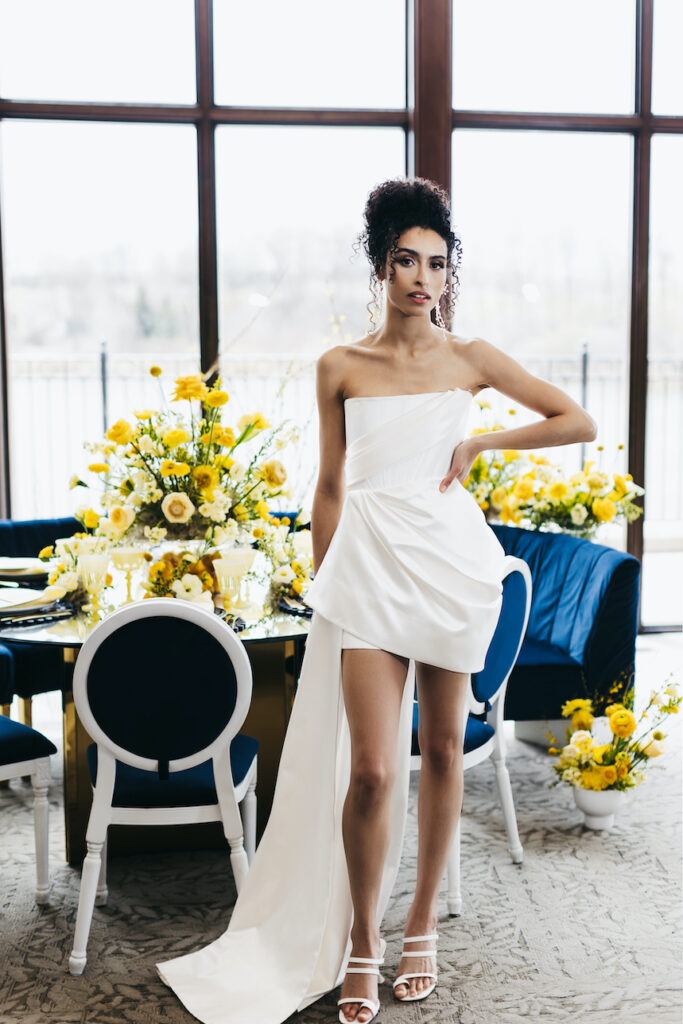 The wedding accessories
When it comes to your wedding day look, simple can be really gorgeous, but if you truly want to make a statement, you have to add the accessories. Earrings, necklaces, hairpieces, headbands, shoes – they will all complete your perfect-day look.The only thing you might want to forget are extra rings; let your wedding band be the star!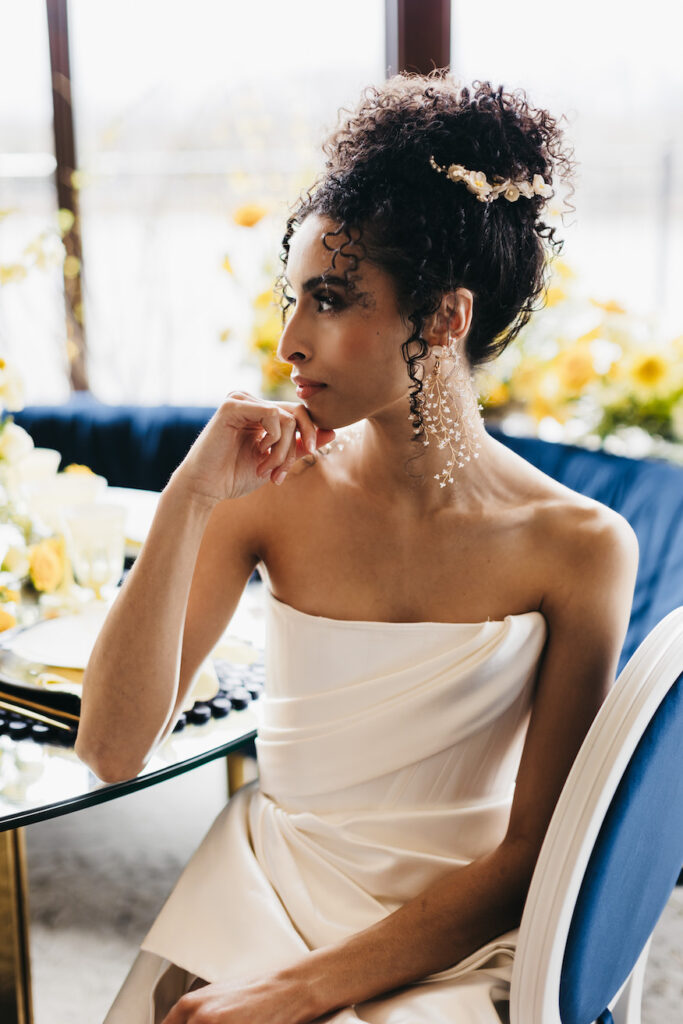 The wedding florals
Our opinion? The more flowers the better. They will tie together your entire event. Yes, they will take up a major part of your budget, so allow them to do double duty. Use the same ceremony floral arrangements for your reception. Or, place vases on the head table to hold all the bridesmaids' bouquets. The flowers will last longer, and add some decoration, too.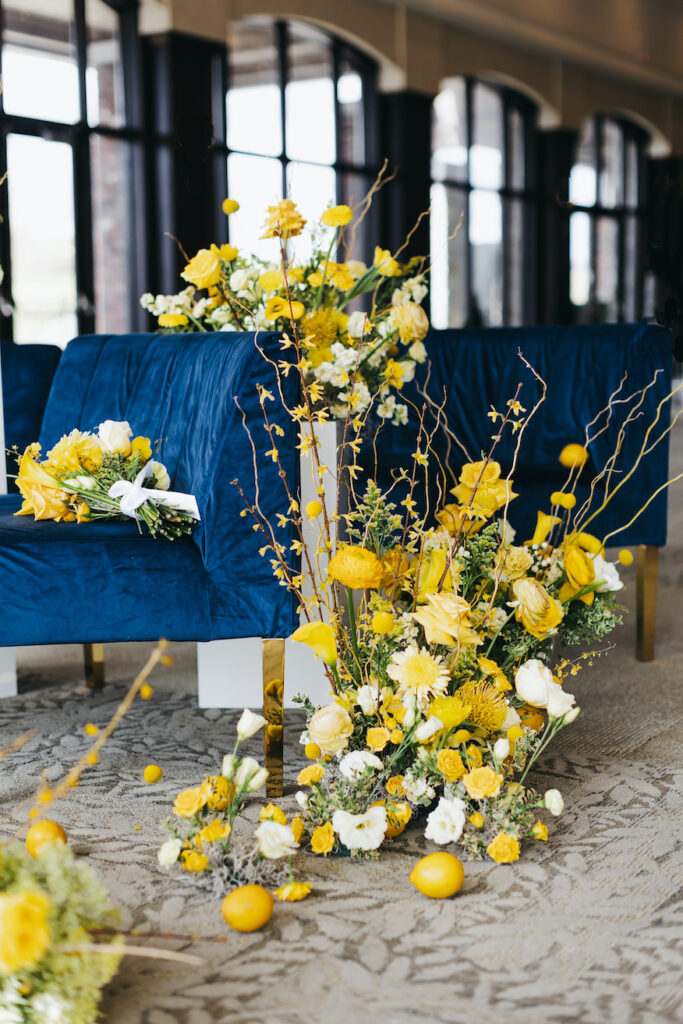 The wedding cake
A statement wedding cake will never go out of style. From a distance, this cake looks simple. But up close, you can see all the intricate details. Be sure to communicate with your cake designer and florist if you want to incorporate matching florals into your cake.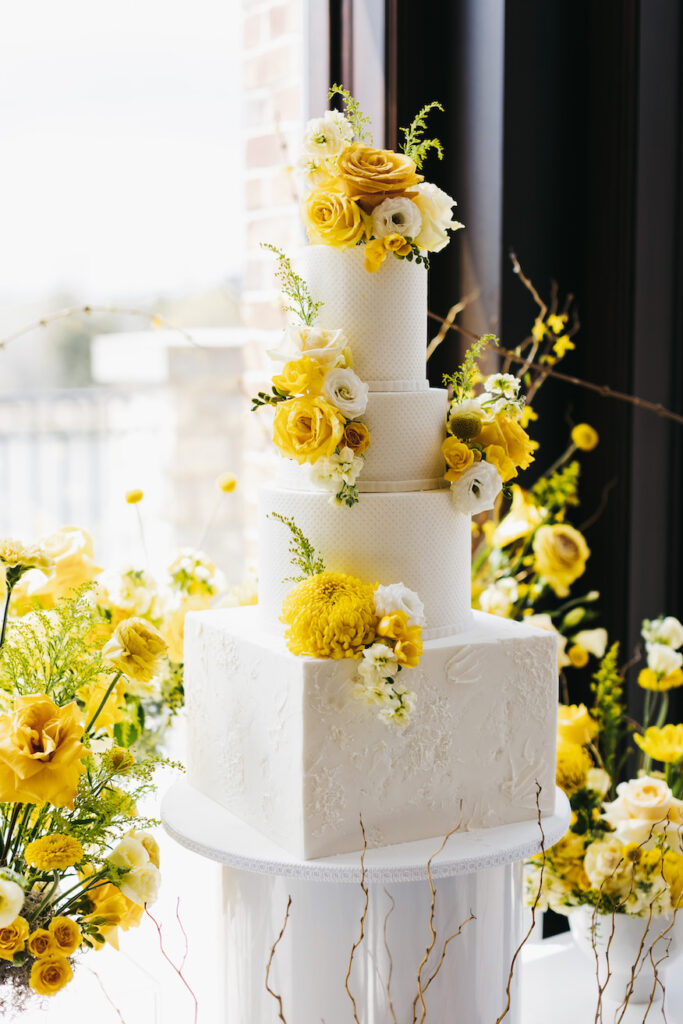 Event design & planning: Alyssa and Co. Events
Photography: Cacie Carroll Photography
Venue: Eagles Nest Golf Club, Maple, Ont.
Florals: Waxflower Floristry
Tabletop & couch: Plate Occasions, Luxe Modern Rentals
Wedding stationery: The Polka Dot Paper Shop
Wedding cake: Cake Creations by Michelle
Custom vinyl wrap: Jay Wraps
Wedding dress: Alex Perry
Hair & makeup: Pearl Girl Makeup
Model: Chelsey Hawkins, Elite Models, Toronto
Have you seen our Spring Wedding Guide? Take a look!