As you embark on the thrilling adventure of planning your nuptials, engagement parties stand out as the prelude to the grand celebration. Today, we're diving into why engagement party games and activities add that extra spark to wedding celebrations. We've also listed a few of our favourite games that are guaranteed to break the ice and turn moments into lasting memories. Let the games begin!
Why you should include engagement party games 
As with any party, games can mean the difference between a good time and a boring one. It's important to remember that these aren't just silly games to pass the time; they're the catalysts for unforgettable experiences, etching your engagement celebration into the hearts of all who attend.
Engagement party games also help break the ice among a group of guests who all don't know each other, which is likely if you end up inviting a wide range of family and friends from both your side and your partner's. Giving guests a reason to interact with one another in a light-hearted and often hilarious way will tee them up to build new friendships ahead of your wedding day.  
Incorporate personal touches
Similar to how your wedding day should be all about you and your relationship, so too should your engagement party infuse your personality and unique love story. Try to incorporate engagement party games that weave your personal details into them. Consider creating a personalized trivia game that highlights milestones in your relationship or a scavenger hunt that retraces significant places in your life. Print photos of you and your partner at different stages of your relationship and get your guests to guess the year or location of each photo. 
Create activities that highlight your interests and passions. For example, if you love music, set up a DIY karaoke station. A literary-themed quiz or a "Build Your Love Story Book" station could be perfect if you're a bookworm couple. 
By tailoring activities and engagement party games to reflect your unique passions and hobbies, you ensure that every moment of the celebration is a genuine expression of who you are.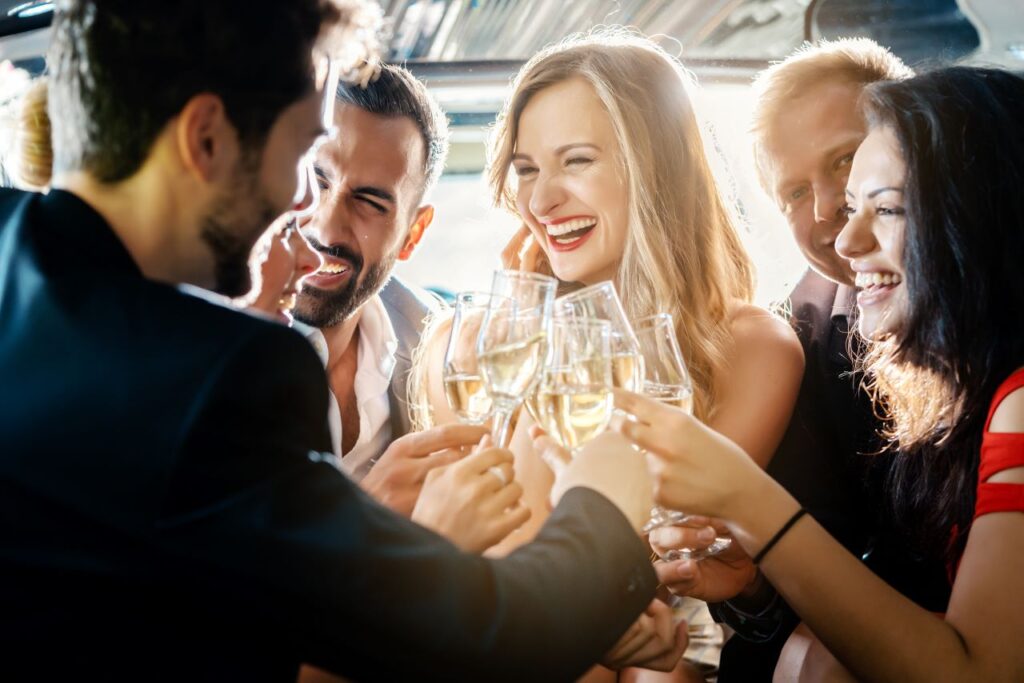 Our favourite engagement party games & activities
The Shoe Game: The engaged couple sit back to back, each holding one of the other's shoes and one of their own. Ask a series of fun and quirky questions, and the couple responds by raising the corresponding shoe. It is a hilarious and heartwarming display of how well the lovebirds know each other!
Engagement Party Bingo: Create custom bingo cards with words or phrases related to the couple, their love story, or shared interests. Guests mark off the spaces as they hear these elements throughout the party. Take the laughter up a notch by including inside jokes on the bingo cards.
The Newlywed Game: This classic game never gets old. Prepare a set of fun and lighthearted questions about the couple's relationship, preferences, and quirks. Ask the questions in a game-show format, with the couple jotting down their answers separately. Every matched answer earns them a point.
DIY photo booth: Renting a photo booth can instantly ramp up the fun at your engagement party. Many rental companies also include fun props ranging from silly hats to oversized glasses and funny signs. Some companies also offer 360-cameras that will make your guests feel like red carpet celebrities. 
Wedding-themed scavenger hunt: Transform your venue into a treasure trove with a wedding-themed scavenger hunt. Craft a list of items that are both amusing and relevant to the upcoming nuptials or meaningful to your relationship, and place them around the room for your guests to find. This engaging activity not only sparks excitement but also encourages guests to get up and be interactive.
Message in a bottle: Provide guests with a unique opportunity to share their wisdom by setting up a "Message in a Bottle" station. Encourage them to give heartfelt advice, funny anecdotes, or well-wishes for the happy couple. This activity not only adds a sentimental touch but also creates a timeless keepsake.
Cornhole tournament: When it comes to a cornhole tournament, personalization is the key to elevating the experience. Transform ordinary cornhole boards into unique masterpieces that reflect your personalities and love story. Consider adding custom decals, paint, or photos to make the boards a conversation starter and a cherished memento for the engaged couple.