Your wedding day will probably be the biggest celebration you'll ever throw, but have you ever wondered about its impact on the planet? 
While concerns over the environment may not have been top of mind among wedding couples in the past, we're all a little more conscious about Mother Earth today. From the flowers to the invitations to the delicious food, a typical wedding that lasts about six hours can produce anywhere from 400-600 pounds of waste. Incredible, right? 
So let's talk about how we can minimize this waste by planning an eco-friendly celebration without forgoing any of the bells and whistles. With this helpful guide, you'll be able to make more eco-conscious decisions and achieve the wedding of your dreams – a win-win for everyone!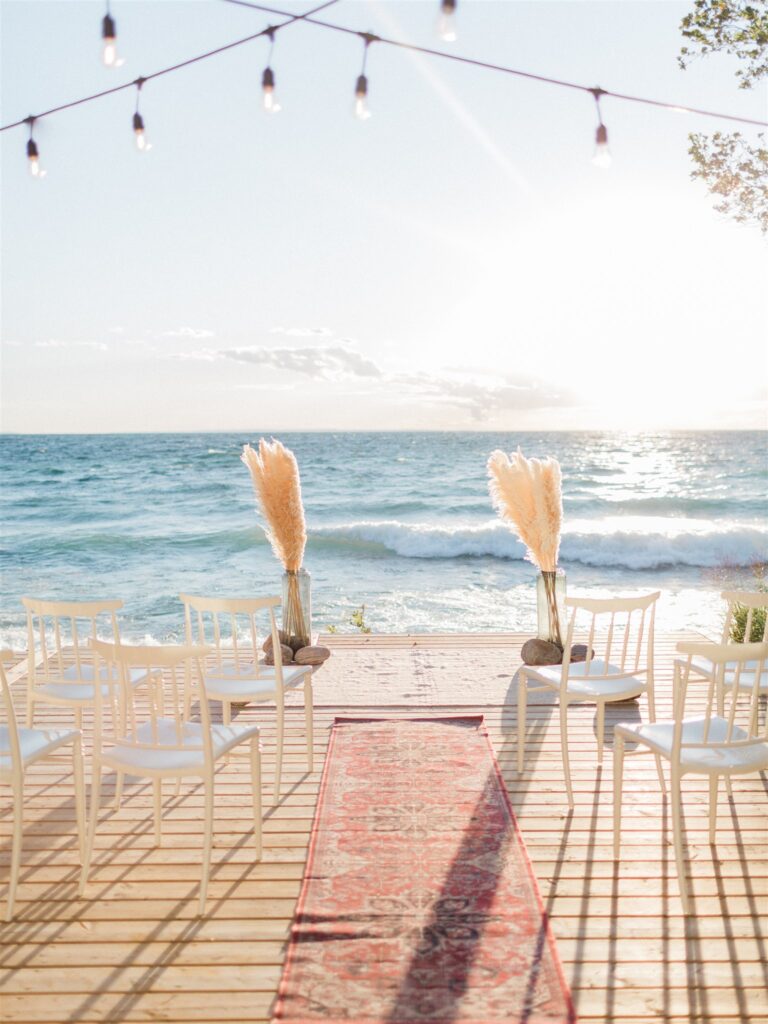 Eco-friendly wedding venue
Another great idea for hosting a "green wedding" is to select an eco-friendly venue. Search for places that have made sustainability a core part of their identity, like botanical gardens, tranquil national parks, or eco-resorts in the heart of natural beauty. 
These venues not only offer breathtaking backdrops but also walk the walk when it comes to green practices. Ask about things like waste reduction, energy conservation, single-use plastics, and recycling. If the venue aligns with your own eco goals, then you'll know it's a match made in heaven.
Eco-friendly engagement rings
Weddings don't just start and end on the big day — the whole process begins at the proposal, so why not start there with your eco-friendly wedding practices? 
There are many sustainable brands today that offer a beautiful selection of engagement rings and wedding bands. Brilliant Earth, Mejuri, Clean Origin, and Taylor & Hart are a few to consider. You can also shop for vintage or estate jewelry, or use a beautiful family heirloom. Repurposing means less waste and, more often than not, sweeter sentiments. 
Sustainable invitations and paper products
Sustainable wedding invitations and paper products are a fantastic option if you're an eco-conscious couple looking to make your special day as kind to the planet as possible. When you opt for recycled paper or plantable invitations, you're not just sending out love in envelopes, you're also planting seeds of environmental responsibility. 
These eco-friendly options add a unique touch to your wedding while reducing your carbon footprint. It's a small step that has a huge impact, proving that love and sustainability go hand in hand beautifully.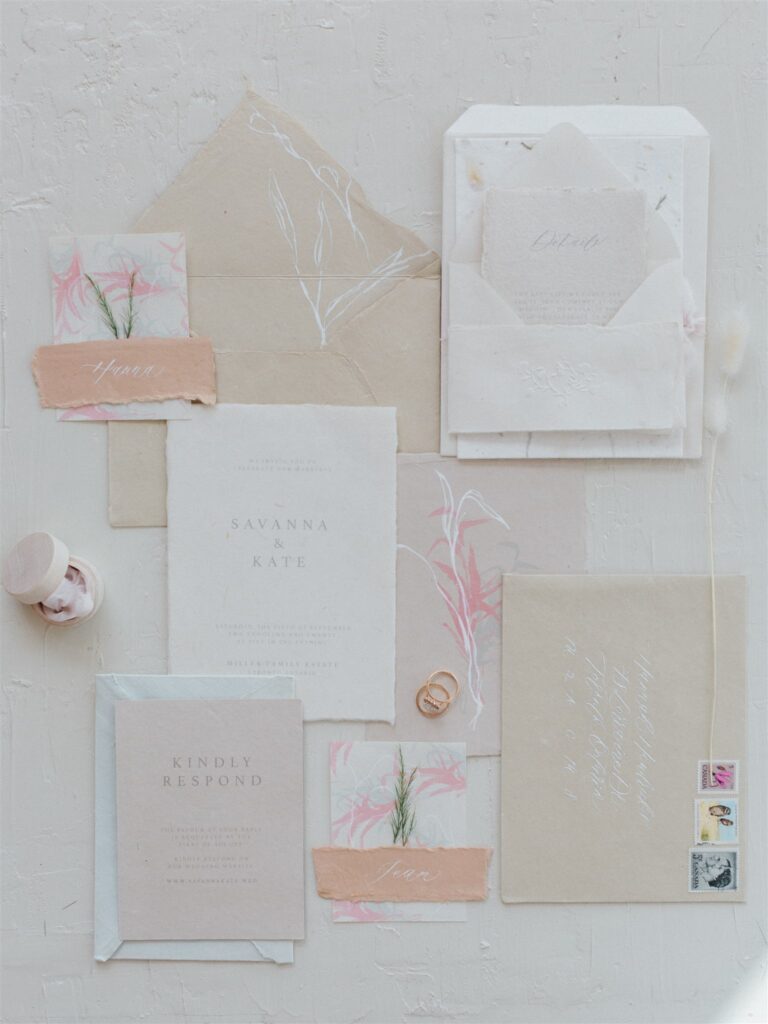 Sustainable wedding fashion
When it comes to sustainable wedding fashion, the impact on the environment is significant. The production of a single wedding dress can consume a staggering amount of resources. According to Earth911.com, "approximately 2,542 gallons of water are used to produce just one yard of silk fabric. That means the average ballroom gown, which requires eight to 10 yards of fabric, uses up to 26,420 gallons of water. A mermaid gown uses four to six yards or up to 15,850 gallons of water, and a tea-length dress, at around 3 yards of fabric, consumes almost 8,000 gallons before you try it on." 
It doesn't end there: once you tack on emissions from the factory, the process of dyeing the fabric, and transporting the gown to the bridal shops, you're left with a massive carbon footprint for one dress that will be worn for a single day. 
To reduce this impact, consider eco-friendly alternatives. Look for wedding attire made from sustainable materials like organic cotton, hemp, or recycled fabrics. You can also buy a pre-loved or vintage dress. These are all fantastic options that not only save resources but also add a unique touch to your special day.
Eco-friendly registry
Creating an eco-friendly wedding registry is a thoughtful way to extend your commitment to sustainability beyond your wedding day. Instead of traditional items, consider asking for gifts that support green living, like reusable kitchenware, energy-efficient appliances, or organic linens. 
You can also register for experiences, such as cooking classes or memberships to environmental organizations, which not only reduce waste but also create lasting memories. Another option is to request contributions to a charity or an environmental cause that's close to your heart. 
Rent when you can
The fewer items you have to buy brand new, the better impact your wedding will have on the planet. So, rent as many things as you can, which in today's modern times means just about anything. 
Say no to disposable plates and opt for classy china or upgrade your event's aesthetics by renting elegant glassware and flatware, which will reduce landfill waste in the process. Linens like tablecloths, napkins, seat covers and aisle runners can also be rented, adding a touch of sophistication while saving resources. 
You can also rent a hybrid or electric car to transport you and your wedding party throughout the day, and even rent pedicabs or an old streetcar to transfer your guests from a designated meeting spot to the venue.