Creating wedding hashtags has become a popular trend that adds a personal touch to your special day. They're a fun and easy way for you to engage with your guests, with the added benefit of having incredible wedding memories snapped and shared for all to see.
But if you're new to the concept, it can be a bit confusing navigating through the logistics of hashtags. Fear not! We're revealing expert tips and tricks for creating a picture-perfect wedding hashtag that will have your guests reaching for their phones and sharing your love with the world.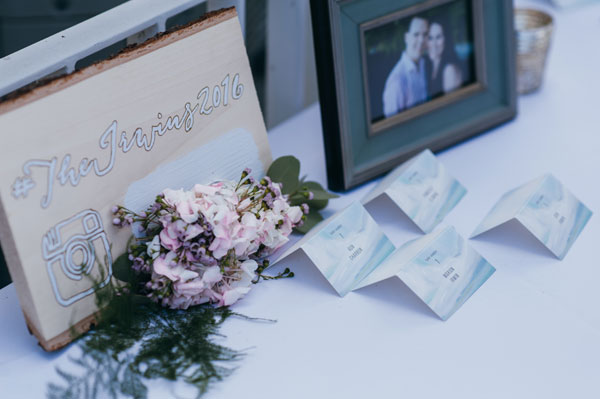 What are wedding hashtags?
Wedding hashtags are unique and personalized taglines or phrases used on social media platforms, especially Instagram and Twitter, to aggregate and organize all the posts related to a specific wedding.
They are typically created by the wedding couple who will then encourage their guests to use the hashtag on social media when sharing photos and videos related to the wedding.
This will make it easy for your guests, and even family and friends who aren't able to attend the wedding, browse through everyone's photos and reminisce about the special day. We like to say it's like an online wedding photo album!
And the best part about having wedding hashtags is that you get to see your wedding from an entirely different view – the guest experience.
They're a reflection of you
The perfect wedding hashtag is one that reflects your unique love story and personality as a couple, so you'll want to create one that's unique to you. Remember, the world of social media is vast and varied, and thousands of couples get married every month. You don't want your wedding images to get mixed in with other couples' pictures by way of the same hashtags.
Imagine using #happilyeverafter as your wedding hashtag. How many other couples have used or will use that hashtag in the future? At the time of writing, over 3 million posts have included this hashtag. Would you want photos from your wedding to be lumped in with 3 million others? This would be incredibly frustrating for you and your guests to search through countless photos and videos for ones taken at your wedding.
So instead of using something generic, consider what makes your relationship unique and try to incorporate those elements into the hashtag for your wedding. It can be an inside joke, a mashup of your nicknames, an interest you share, or a memorable moment. Infusing these elements will make your hashtag more personal and meaningful.
Keep it short and simple
Even though this is a big moment, some elements need to be simple and to the point. Wedding hashtags are about creativity, but the rule 'the shorter, the better' applies perfectly when incorporating them. Simplicity is key. You want your hashtag to be easy to remember, so keep it short and sweet.
Long and complex hashtags can be challenging for your guests to remember, and they might make mistakes while typing them. Aim for something concise and catchy that will stick in people's minds.
Check for availability
Before finalizing wedding hashtags, check its availability across social media platforms. If you want to be sure your hashtag is unique, quickly search on Instagram, Twitter, and Facebook to see if others are already using it.
Choosing a hashtag exclusively associated with your wedding is crucial in avoiding confusion.
Incorporate wordplay and puns
Adding humour and creativity to your wedding hashtag will make it memorable and fun for you and your guests. Play with words, use puns, and explore creative ways to incorporate your names, wedding theme, or location into the hashtag.
Here are some ideas for playful and catchy wedding hashtags:
#HappilyEverHanson
#TyingTheKnotters
#LoveInBloomers
#sterningdownthehouse
#ToHaveAndToHoult
#TaylorMadeForLove
Ask for suggestions
Creating an upbeat yet simple hashtag is no easy quest. So, if you're struggling to find something you love, don't hesitate to ask for help. Ask your friends, family, or even your social media followers for suggestions. They might have some unique ideas that you haven't considered. This way, you can involve your loved ones in the process and make it a fun activity leading up to the wedding.