Colourful wedding dresses are making quite the splash these days, and we must admit…we love them! Whether you're a classic romantic, bohemian spirit, or daring trendsetter, there's a colourful gown to fit your style. This is your chance to express your unique personality through a dress as bold and as vibrant as you are. 
Get ready to swoon over these stunning gowns in beautiful shades of blush pink, champagne, gold, red, and more. 
Blush pink: For the romantic bride
If you're a romantic at heart, colourful wedding dresses in blush pink are perfect for your big day. 
Blush pink gowns come in a variety of styles. You can wear an A-line dress with a tulle skirt for a princess vibe or a figure-hugging lace sheath dress for a glamorous look. Lace, chiffon and tulle are all popular fabrics for blush pink dresses.
A tea-length blush pink dress with a swingy skirt is ideal for a vintage-inspired wedding. Pair it with retro accessories like a birdcage veil, peep-toe heels and drop earrings. For a bohemian wedding in a garden or vineyard setting, a blush pink maxi dress or a jumpsuit with a floral crown creates a stylish, laid-back look.
Don't be afraid to mix metals – blush pink pairs well with rose gold, copper and champagne gold tones. Metallic accessories like a rose gold belt, headband or jewelry add a touch of shine. For flowers, consider peonies, roses, ranunculus or garden roses in white, cream or pale pink.
Blush pink is a perfect choice for brides wanting colourful wedding dresses that are soft, romantic and whimsical. It's ideal for any wedding style, from rustic to glamorous. A blush pink gown makes your fun, flirty personality shine on your wedding day.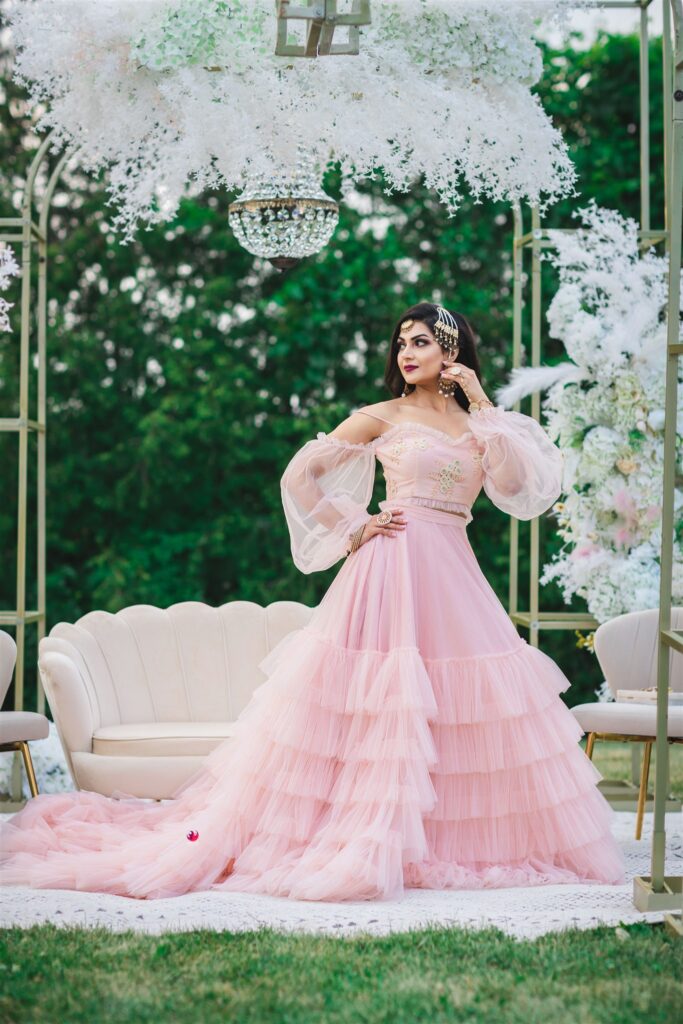 Emerald green: For the glamorous bride
Emerald green is a lush, dramatic colour that will make a stunning statement on your wedding day. 
Consider a jewel-toned green if you want a gown that evokes old Hollywood glamour. An emerald green dress, for example, pairs beautifully with metallic gold or rose gold accessories. Think art deco-inspired drop earrings, a hair comb with Swarovski crystals, or a vintage fur stole. For a modern look, go minimal with a simple diamond pendant necklace and matching bracelet.
Emerald green flatters most skin tones but significantly enhances olive complexions and highlights the green hues in hazel eyes. Plus, an emerald green gown will intensify your natural coppery tones if you have red hair. For makeup, keep it simple with a neutral smoky eye, peach or rose blush and mauve lipstick.
When it comes to flowers, you can't go wrong with roses in shades of pink, burgundy and cream. Baby's breath, eucalyptus and ivy also make lovely greenery accents. 
An emerald green wedding dress is also ideal for an evening ceremony and reception. Consider a luxurious velvet fabric for a winter wedding, or choose a lighter chiffon or tulle for a summer or spring affair. A strapless sweetheart neckline, illusion neckline or off-the-shoulder sleeves are all stunning options with this opulent hue.
Make a dramatic entrance in an emerald green gown that matches your vibrant personality. Your guests will surely gasp when you glide down the aisle in this jaw-dropping colour. A colourful wedding dress in a shade of green is anything but ordinary and ensures your big day will be truly unforgettable.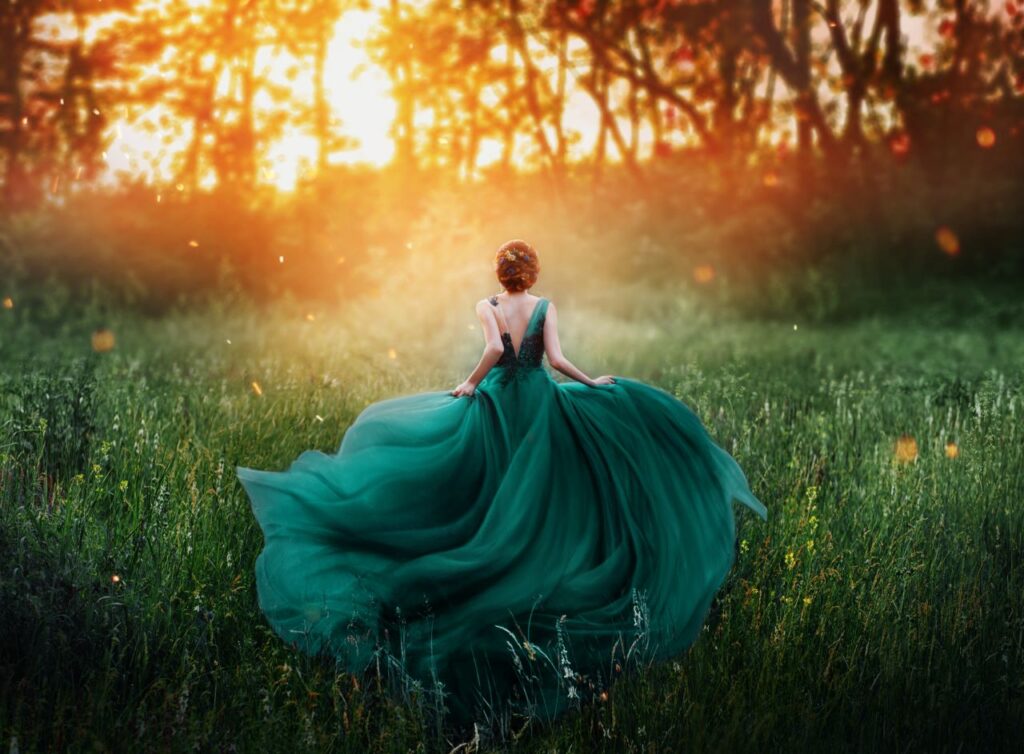 Gold & champagne: For the vintage-inspired bride
The vintage-inspired bride in search of a colourful wedding dress will adore the soft, romantic hues of gold and champagne. These muted metallic shades evoke old Hollywood glamour and the jazz age of the 1920s.
Champagne is a pale, creamy gold that flatters most skin tones. Dresses in this shade are ethereal and whimsical. Delicate lace, tulle skirts, and beading are typical embellishments that enhance the vintage feel. Champagne is a perfect choice for a daytime ceremony or brunch reception.
Rich gold tones range from muted mustard yellow to shimmering amber. Gold lace and taffeta are opulent options for a formal evening wedding. Gold dresses make a lavish statement and pair beautifully with burgundy, forest green or navy blue accents. Sparkling gold sequins or metallic embroidery help capture the glow of candlelight for an indoor reception.
Vintage-style accessories complete the retro look. Consider a birdcage or fingertip veil, peep toe heels, and art deco jewelry. Loose waves, victory rolls or a low chignon bun are glamorous hairstyles from this era. Focus on defined brows, cat eyeliner, rose-coloured lips and cheeks for makeup.
Whether you prefer the pale glow of champagne or the decadent shimmer of gold, these warm metallic shades evoke timeless elegance for your vintage wedding style. Colourful wedding dresses in gold or champagne allow you to make a statement and express your unique style as a bride.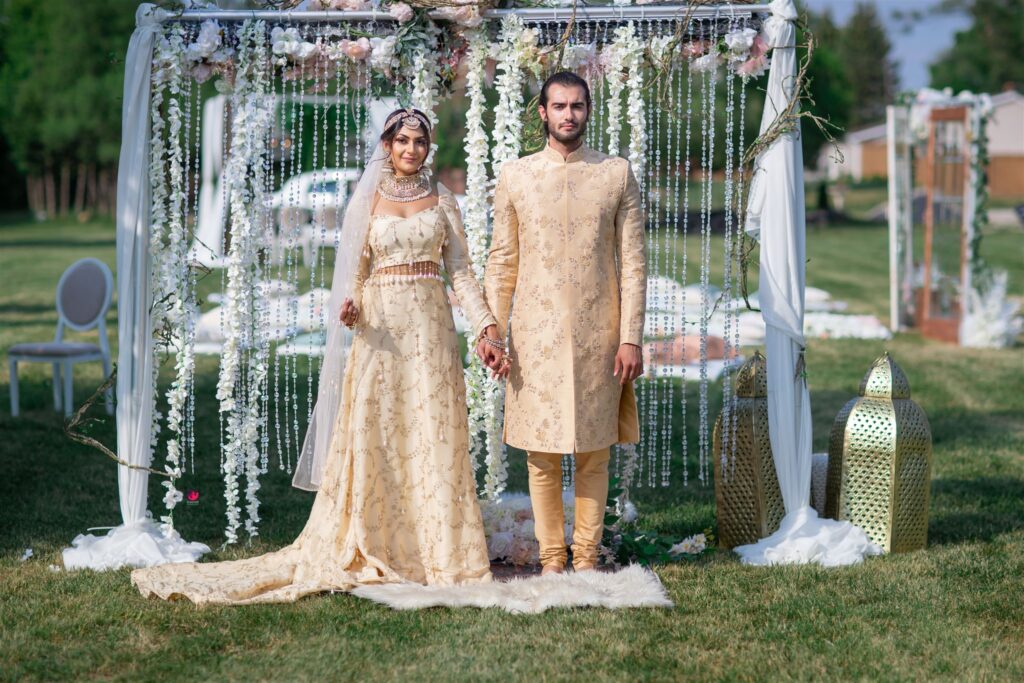 Coral & peach: For the fun-loving bride
Coral and peach colourful wedding dresses are perfect for the fun-loving, romantic bride. These warm, vibrant tones evoke sunset skies and tropical flowers. A coral or peach wedding gown perfectly shows off your bright and bubbly personality on your big day.
A coral dress with an A-line silhouette and lace detailing is whimsical and sweet. Peach tulle ballgowns are fairytale-inspired, with a full skirt perfect for dancing the night away. 
Consider a gown with peach or coral accents, like a sash, embroidery, or beading on an ivory or white dress for a more subtle take. Brides who want to honour cultural wedding dress traditions can also incorporate coral and peach colours into their veil, jewelry, flowers or makeup.
Whether you're planning a beach wedding, garden party or ballroom fete, coral and peach set a fun, summery mood. These warm hues also pair perfectly with metallics like rose gold for a touch of shimmer. And for your bridesmaids, mix and match shades of coral and peach for a bright, bold palette.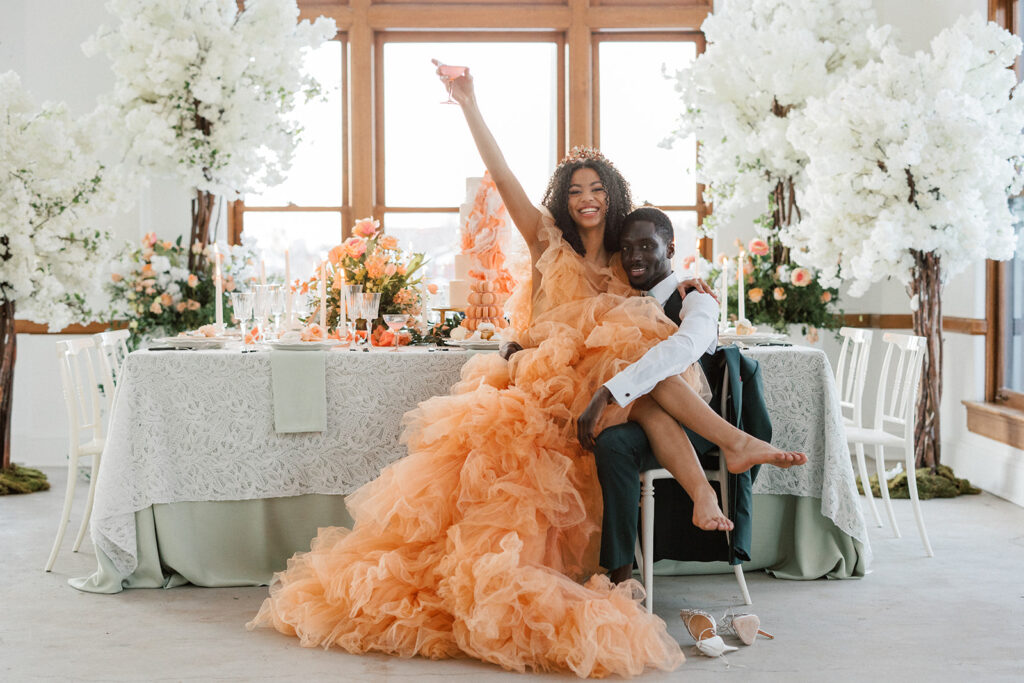 FAQ: Can I wear a colourful wedding dress?
So you've found the perfect colourful wedding dress and dream of walking down the aisle in something other than white. But you have some lingering doubts. Will your guests and family approve? Will it still feel like a real wedding? Can you even pull it off?
Rest assured, brides today are embracing colourful wedding dresses more than ever before. We answer some common questions brides have about opting for a colourful wedding dress that will put your mind at ease.
Will people judge me or think it's not a real wedding?
Some traditionalists may raise an eyebrow, but your true friends and family will support you in wearing whatever makes you feel like a bride. A wedding is about celebrating your love and commitment to your partner. As long as you feel bridal, that's all that matters. Many brides find guests pleasantly surprised and delighted by colourful wedding dresses. It shows your fun and unique style!
Do I have to match my bridesmaids?
Not at all. Your bridesmaids can wear complementary colours, shades of the same colour, or even pastel colours. Contrasting colours can create stunning wedding photos. The most important thing is that you and your bridesmaids feel comfortable and love how you look.
Can I still have a veil, bouquet and other traditions?
Of course! A veil, bouquet, cake cutting and first dance are all optional parts of a wedding that you can include, regardless of your dress colour. Don't feel like you have to skip out on certain traditions just because you're wearing colourful wedding dress. Make the day your own by including or skipping whatever traditions you and your partner want.
Ultimately, the most significant traditions are exchanging vows and committing to the person you love. A colourful wedding dress won't make your wedding less meaningful or bridal. March confidently down the aisle, and enjoy this opportunity to show your true colours on your wedding day!