Looking for wedding centrepiece ideas that go beyond the usual blooms? You're in the right place! Today, we are taking a fresh approach to table decor by revealing some incredible DIY wedding centrepieces. We've put together a collection of one-of-a-kind and truly inspiring ways to beautify your tables, and they go way beyond the usual flower arrangements. 
So, if you want to add some flair to your tables with unique decor, stick around – you'll love the following ideas.
A crate of love 
If you love a rustic farm table aesthetic, upcycle a wooden crate for your wedding centrepieces. Paint, polish, or adopt a distressed crate and fill it with seasonal wildflowers. Not only are crates inexpensive and readily available at yard sales or crafts stores, but they're also larger than vases and appear more substantial as a design element.  
A citrus affair 
Incorporating the popular trend of using citrus fruits as table decor and wedding centrepieces is a fresh and vibrant idea. The colourful array of oranges, lemons, and limes paired with lush greenery, elegant vases, soft candlelight, and delicate flowers creates a captivating visual symphony.
Having a fruit or lime tower as a wedding centrepiece is certainly eye-catching for a summer or spring wedding. If your wedding is in the fall, you can change the limes to autumnal pumpkins and use a tablecloth in orange or earthy tones.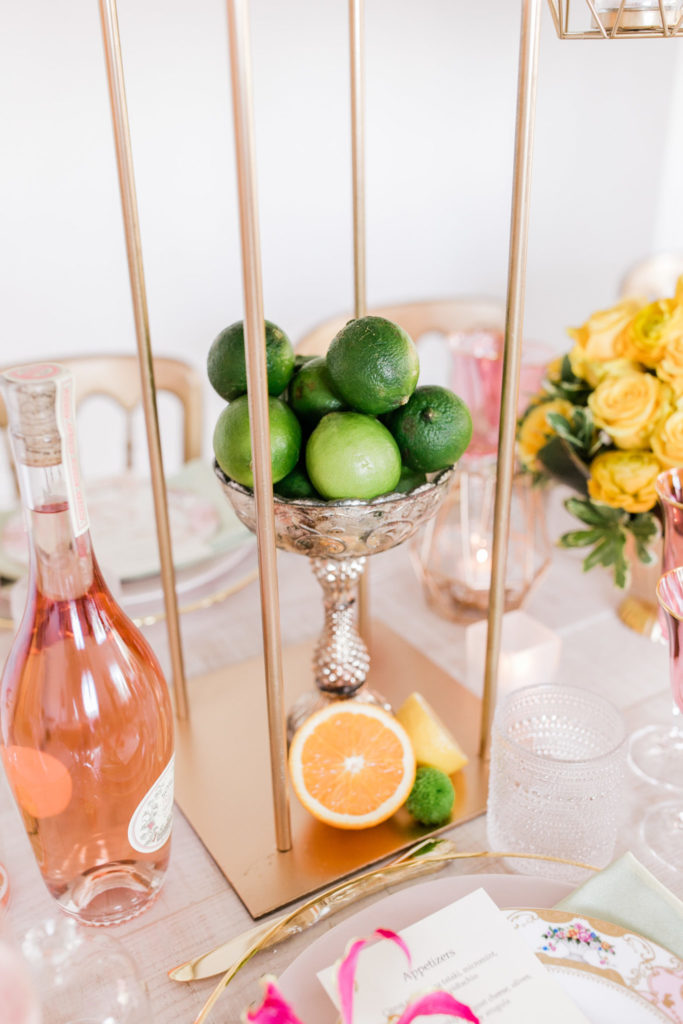 Coloured bottle vases
Recycling or upcycling is a beautiful, intentional way to reduce waste, plus it's a great conversation starter if you're looking to add visually interesting elements to your wedding. So another great idea is to buy some empty glass bottles or recycle ones found in your home to use as DIY wedding centrepieces. 
They can be spray-painted, bedazzled, hand-painted, or covered with fabric for a shabby-chic and artistic vibe. Mason jars are another fun way to create cute and whimsical centrepieces, and they can be painted in any colour and filled with gorgeous seasonal flowers. 
A festive basket
Baskets are inherently very festive and celebratory and, for that reason, make excellent DIY wedding centrepieces. Small or large wicker baskets filled with flowers like daisies and roses look stunning on tables, especially if you're having an outdoor reception in the summer. 
Whimsical Wonderland: Terrarium Magic
Terrariums never fail to capture the hearts of couples seeking a touch of whimsy and enchantment on their wedding day. These mini glass gardens, brimming with life, are ideal for creating DIY wedding centrepieces that tell a story. 
Imagine a world within a glass globe filled with succulents, air plants, or even a tiny garden of vibrant mosses. The possibilities are endless. You can also personalize each terrarium to match your colour scheme, adding unique elements like small figurines or fairy lights.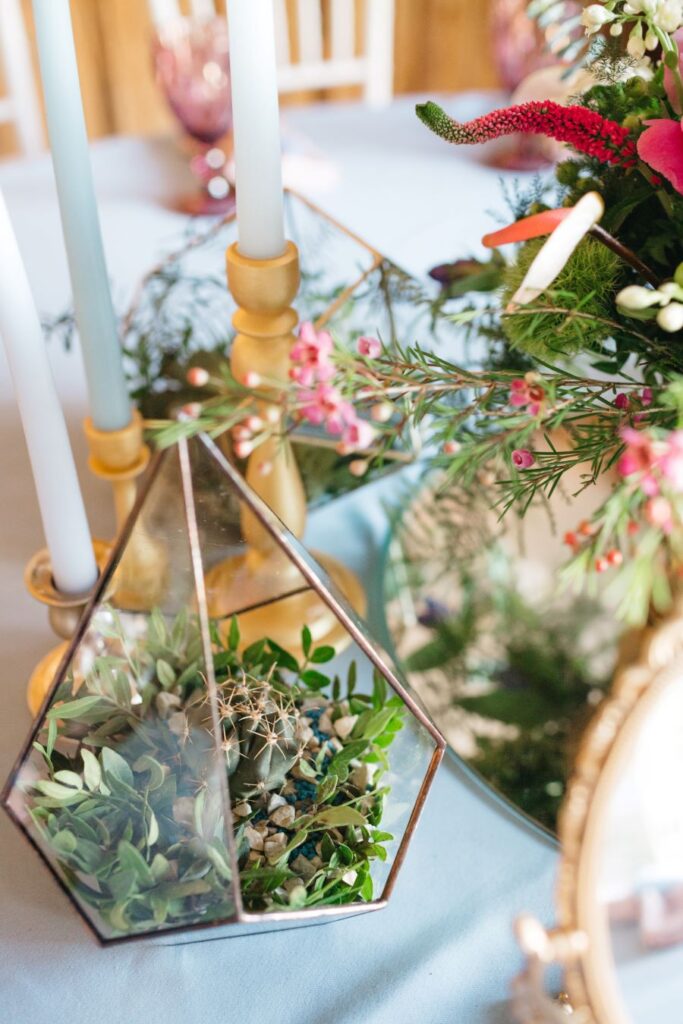 Potted plants 
Potted plants are the most splendid DIY wedding décor for gardening and nature lovers. They cost very little and can be picked up in small pots or planted en masse before the wedding to use as centrepieces. You can use a larger pot as a single centrepiece on round tables, or line up smaller pots in a row on longer tables as a makeshift table runner. 
Light a candle 
Candles never go out of style for a wedding reception, right? Invest in tall pillars or scented, colourful candles and use candelabras or glass candle holders to imbue your celebration with a warm glow. 
Place candles on a slab of wood or a tray of silver or glass for either a rustic or modern touch. Also, don't underestimate little tea lights or even electronic LED candles that can be scattered around tables for added effect. Candles go well with every theme, whether modern or vintage and everything in between. 
Photograph wedding centrepieces 
If you want your wedding centrepieces to say something about you, using framed photographs will do the trick. Pick and print photos of you as a couple and use one or two per table as décor. Handmade frames and stands can hold the pictures up, and small fairy lights or candles can be used to illuminate them.