We know how daunting it is to add pops of colour to your wedding. You want more than a simple, monochromatic look, but you also don't want to run the risk of it looking tacky and gauche. The trick is to add light touches here and there, in varying shades, to create a soft, cohesive look. 
Now the next step? Picking a colour. Purple has become a popular option among couples looking to add a vibrant touch to their big day. From dreamy pale lavenders to deep plums, purple not only photographs beautifully but it can add drama and flair to your wedding without going overboard. 
So if you're looking to be bold – and there's no better day than on your wedding day – here are a few tips on how to pull off the perfect purple wedding.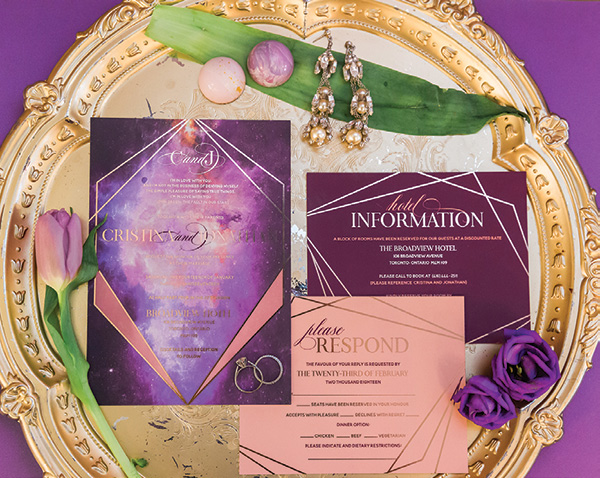 Incorporate royal purple accents
Consider incorporating royal purple accents to achieve a vibrant yet timeless look for your wedding. This deep, rich hue evokes a sense of luxury and glamour that's perfect for a vintage-inspired celebration. To achieve this look, add royal purple, deep amethyst, and majestic indigo shades throughout your wedding. Here are some great ideas: 
Stationery

: Use royal purple ink for your wedding invitations and other paper goods. Or choose stationery with purple floral patterns or filigree designs. This small touch sets the right tone from the start and gives guests a preview of the colour theme.
Flowers

: Ask your florist to include blooms in shades of dark purple, violet, plum and eggplant. Purple hyacinths, delphiniums, orchids and irises all work beautifully and photograph well. You can also add purple ribbon, tulle or gems for an extra pop of colour.
Fashion

: When it comes to your attire and accessories, think royal purple bridesmaid dresses or purple sashes, groomsmen ties or pocket squares, or a purple statement necklace to glam up your bridal look. Don't go overboard, though – a few bold accent pieces are all you need.
Decor

: To carry the theme into your reception decor, use purple linens, charger plates, candles or uplighting. A touch of purple in your centrepieces or a dramatic purple sequin or velvet table runner would be eye-catching additions. And for a real showstopper, serve a purple signature cocktail or have a

purple wedding

cake!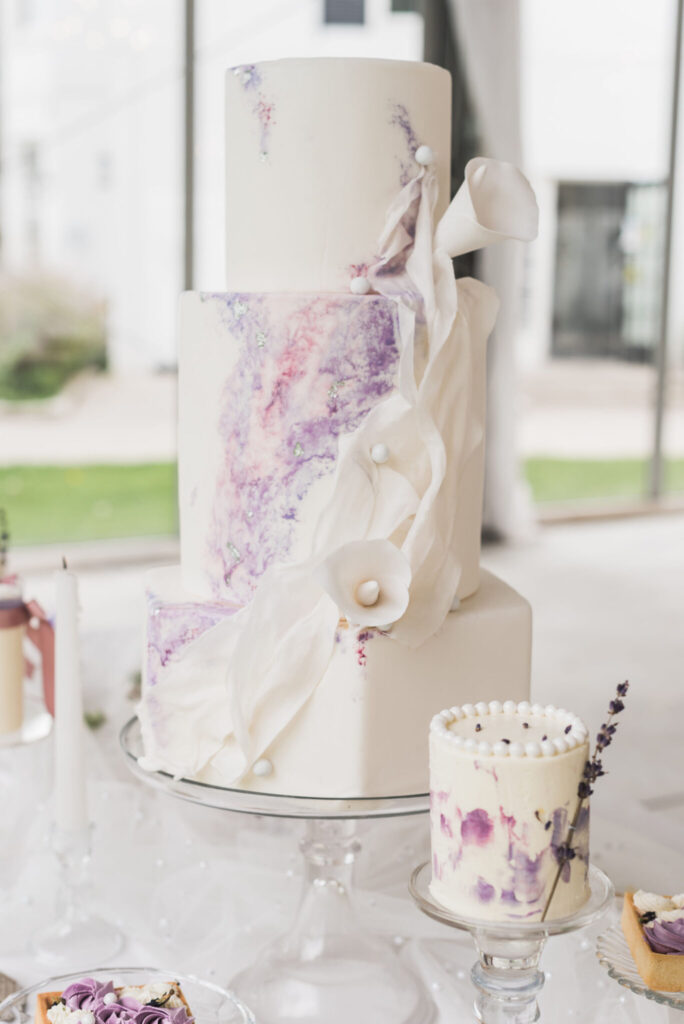 Create vintage-style bouquets and centrepieces 
Adding purple tones to your wedding will naturally create a vintage, glamorous look. If you want to go all in with this look, think big, bold and bursting-with-purple blooms for your bouquets and centrepieces. 
You can create an all-purple bouquet of Cattleya orchids, violets, irises or amaryllis for a real showstopper, or incorporate purple flowers like hyacinths, pansies, lavender or lilacs into a mixed bouquet with greenery for texture. Use purple flowers in shades from pale lilac to deep plum for a dramatic cascading bouquet.
As for reception centrepieces, group multiple smaller vases of purple blooms and greenery, or use a larger vessel to create a lush flower garden down the center of tables. Add candlesticks in shades of purple for a romantic glow, and scatter a few petals around the base. 
For added drama, suspend bouquets upside down over the tables using floral wire and anchors for a whimsical chandelier effect.
Add purple to your attire 
Elegant purple wedding dresses are a timeless choice for a vintage glamour wedding. It may not be for everyone, but a purple wedding gown, either in pale violet or deep eggplant, will make a dramatic statement on your big day. Consider a floor-length A-line or ballgown silhouette in lavender tulle or lace for a romantic look. For even more drama, add some sparkle with a jewelled belt or crystal beading. 
Bridesmaids in matching chiffon gowns in a darker colour than your gown will complete the dreamy esthetic. Look for details like draped cowl necklines, cap sleeves, and low backs for an alluring vintage vibe.
A purple wedding dress is truly fit for a queen on her wedding day. Combined with stylish bridesmaids in harmonizing tones, lush floral arrangements and decorative accents in metallic gold or silver, you'll achieve a stunning vintage glamour wedding with purple reign.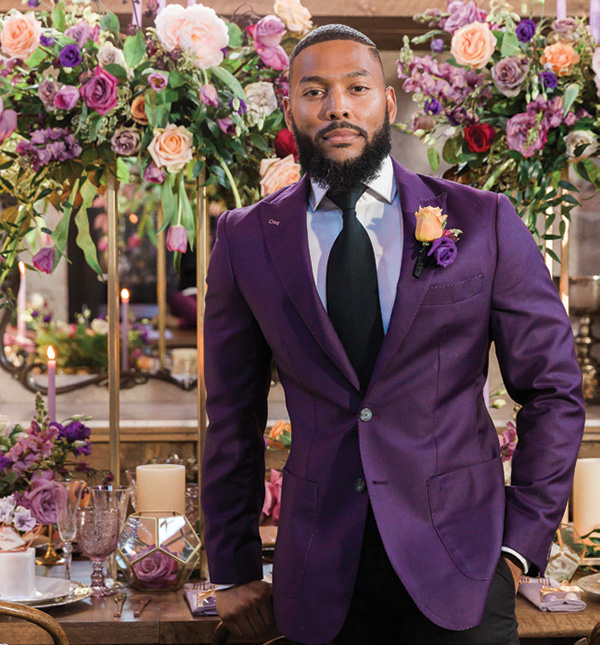 Lavish purple decor for a glamorous reception
A purple wedding reception needs decor to match. Go all out with rich purples, plush fabrics, and luxurious accents to create a dramatic space fit for old Hollywood. Here are a few ideas: 
Lavish linens

: Crushed velvet tablecloths in eggplant or plum instantly elevate the setting. For extra drama, choose floor-length linens that pool elegantly on the floor. Napkins in a complementary shade, like lavender or mauve, will complete the look.
Ornate centrepieces

: Tall centrepieces at a wedding always make a statement. Fill cut glass vases with clusters of purple orchids, irises or hyacinths for a whimsical and elegant look. Then wrap the vases in jewel-toned ribbon and nestle them among the linens.
Seating

: For a glam reception, formal seating is a must. Chiavari chairs with plush purple cushions are ideal. A sweetheart table with a tufted settee gives the newlyweds a place of honour to sit, sip champagne and take everything in.
With luxe decor in jewel tones, your purple wedding reception will channel vintage Hollywood glamour. Lush fabrics, dramatic lighting and ornate accents come together to create an unforgettable space fit for a silver screen siren. Guests will feel like they've stepped into a lavish film set, and your wedding photos will be infused with timeless elegance.