Banff, Alberta is a place of magic and wonder, and Carolyn and Tyler knew it the moment they first set foot in this stunning town. The mountains, the people, and the activities were all a perfect match for this lovely couple. The setting truly stole their hearts, and Tyler knew it would be ideal for getting engaged. But, unfortunately, the pandemic disrupted their plans to return to Banff for Tyler's surprise proposal.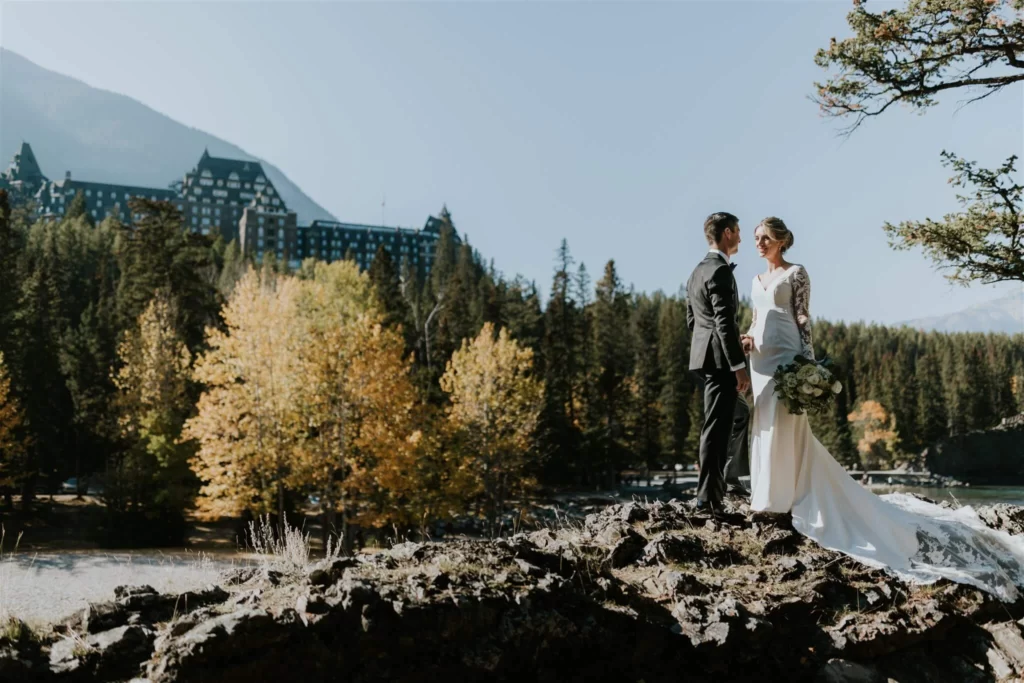 As fate would have it, Tyler ended up popping the big question during a visit to Yosemite National Park. But with Banff still in their hearts, Carolyn knew immediately she wanted their dream wedding to take place at the majestic Fairmont Banff Springs Hotel. With its stunning stone façade and pointed turrets, the hotel is reminiscent of a romantic Scottish castle, but with the added bonus of Banff National Park as a dreamy location. Tyler and Carolyn knew from the start – this wouldn't be your average wedding in a hotel. 
Known as the 'Castle in the Rockies,' the Fairmont Banff Springs Hotel was the perfect venue for their romantic celebration. Carolyn looked stunning in her crepe wedding dress, with long sleeves featuring romantic lace and a sheer back with covered buttons. Tyler was dashing in his traditional black tuxedo. The florals were ivory blooms with lots of greenery, and they perfectly complemented the rugged and majestic scenery that served as the perfect backdrop for their wedding portraits.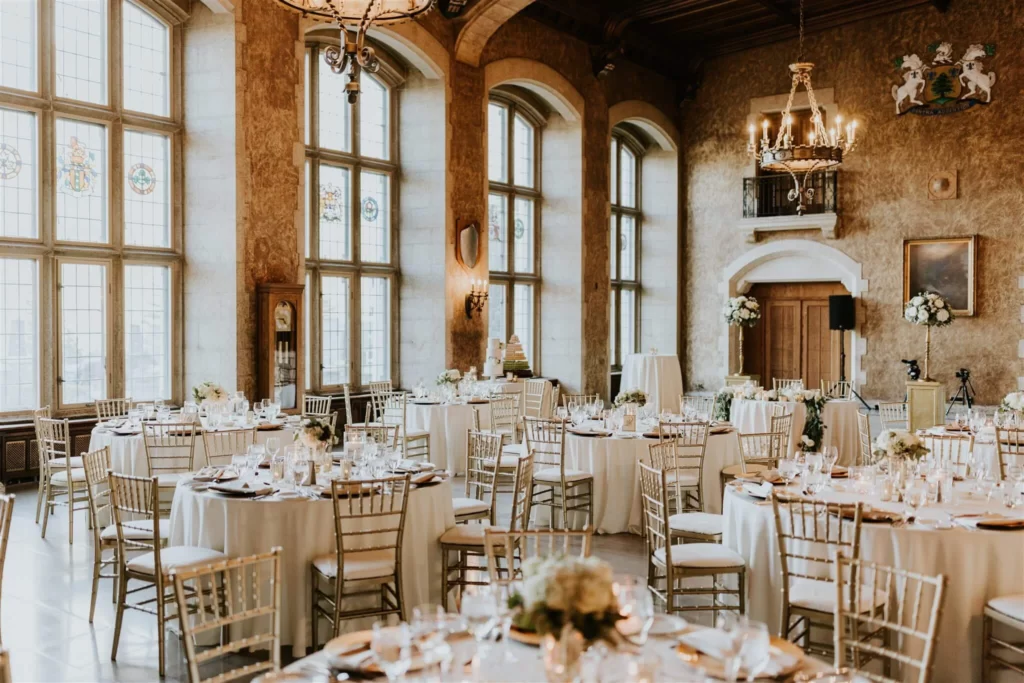 As the reception began, everyone was awed by the castle-like features and grand ballroom of the Fairmont Banff Springs Hotel. The reception space was a luxury scene of gold, ivory, and champagne hues. The bride and groom danced the night away, surrounded by friends and family. 
The wedding planners, Mountainscape Weddings, did an incredible job of bringing Carolyn and Tyler's vision to life for this wedding in a hotel. During the wedding planning process, the couple spoke with Katie, one of the wedding planners, on a brief Zoom call, knowing right away that she and her team were the ones who would make their dream wedding a reality. And, indeed, they did!
Carolyn and Tyler's wedding was a true testament to the power of love and the beauty of Banff, Alberta. It was a day they will cherish forever and one their guests will never forget. With its stunning scenery and magical aura, Banff will always hold a special place in their hearts. 
Ceremony/reception venue: Banff Springs Hotel
Planner: Katie at Mountainscape Weddings
Wedding photographer: Magnifik – Emilia
Cake: Banff Springs Hotel
Photo booth: Flash Booth Co.
Salon Services: Pretty Haus
Videographer:  Castano Media – Oscar
Ceremony & cocktail hour music: Mode Music – Maria
Reception music: Pez Productions – Josue
Read more from our Spring/Summer issue of Today's Bride.