Nestled amidst the majestic Coastal Mountains of Greater Vancouver, Swaneset Bay Resort & Country Club is a grand chateau-style wedding venue that seamlessly blends the beauty of nature with luxurious elegance. Its contemporary architecture and panoramic views of the surrounding mountains were the perfect backdrop for the ultra-romantic wedding of Miles (Camille) and Neil (Emanuelle). 
The couple, who's known for being adventurous with a passion for great food, wanted a modern wedding that reflected their unique personalities. Romantic, faith-based and "one hell of a party" is how they would describe their dream wedding, and by the looks of it, they pulled it off to a T!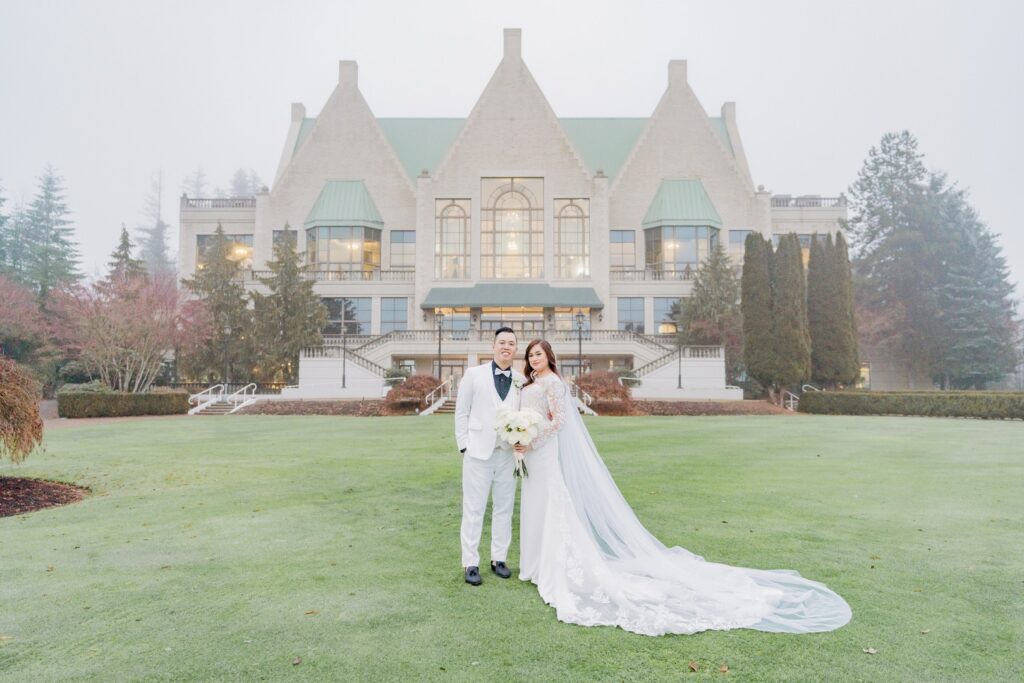 Photo: Chuunice Photography
The breathtaking bride wore a Pronovias gown, a masterpiece of lace with a delicate crepe skirt, detachable long sleeves and the most incredible, long train. Dashing and composed, Neil wore a dapper three-piece white suit, standing tall beside his bride. 
Before the ceremony, Miles and Neil wanted the chance to exchange private vows but they didn't want to spoil the moment of him seeing her for the first time walking down the aisle. So they opted for a "first touch," a beautiful gesture that allowed them to share heartfelt words without actually seeing each other. Chuunice Photography captured this tender moment with a snapshot of their unwavering love.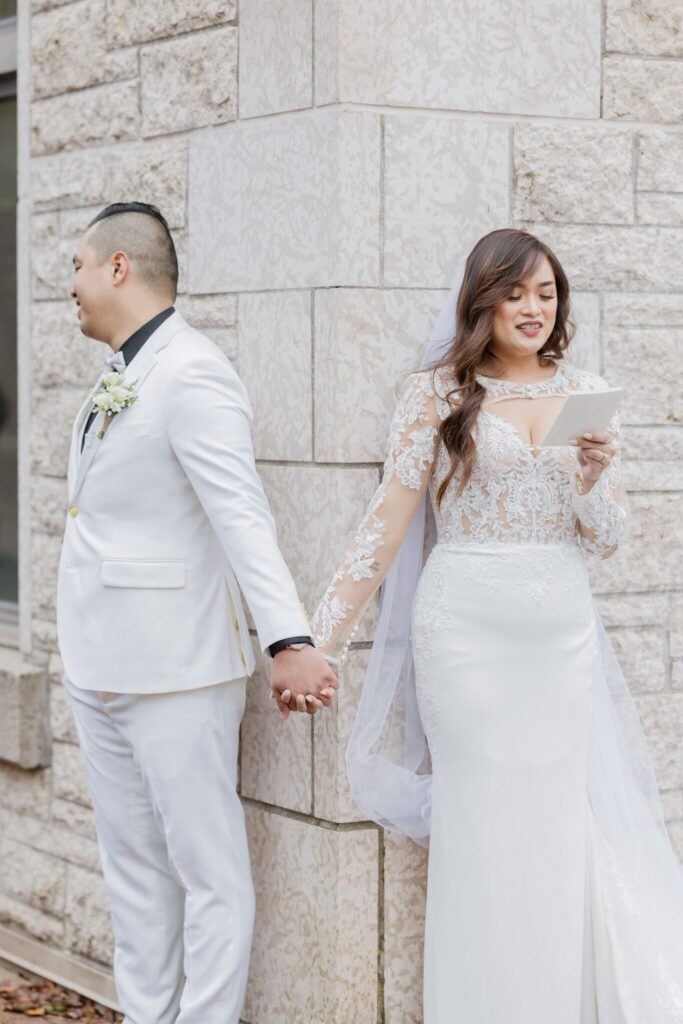 The ceremony was both modern and elegant, with acetate chairs, white roses and whimsical Baby's Breath creating a breathtaking backdrop. The bridal party, dressed in timeless black attire, provided a sophisticated contrast to the white decor. The couple's talented friends played live music as guests arrived. 
The long-awaited moment when Miles walked down the aisle was one Neil would never forget. They both shed tears of joy while exchanging their vows. And as they walked down the aisle as newlyweds, their guests showered them with rose petals in a vibrant celebration of their love.
The evening unfolded in opulent grandeur. The reception hall, adorned with white flowers and lush greenery, exuded elegance and romance. Throughout the evening, every detail spoke of Miles and Neil's journey together. The signs, lovingly crafted by the bride's friend, added a personal touch to the celebration. And true to their shared love for bubble tea, a stall from their favourite store delighted guests with its sweet offerings.
Miles and Neil listened to emotional speeches and played lively wedding games while seated at their sweetheart table, positioned at the heart of the room. The night culminated in a vibrant dance party, a fitting end to what the couple would describe as the best day of their lives.
Looking back on that day, Miles and Neil offer valuable advice to couples embarking on their own wedding journey. They encourage others to stay true to their vision and to prioritize meaningful connections over extended obligations. And above all, treasure the moments that unfold.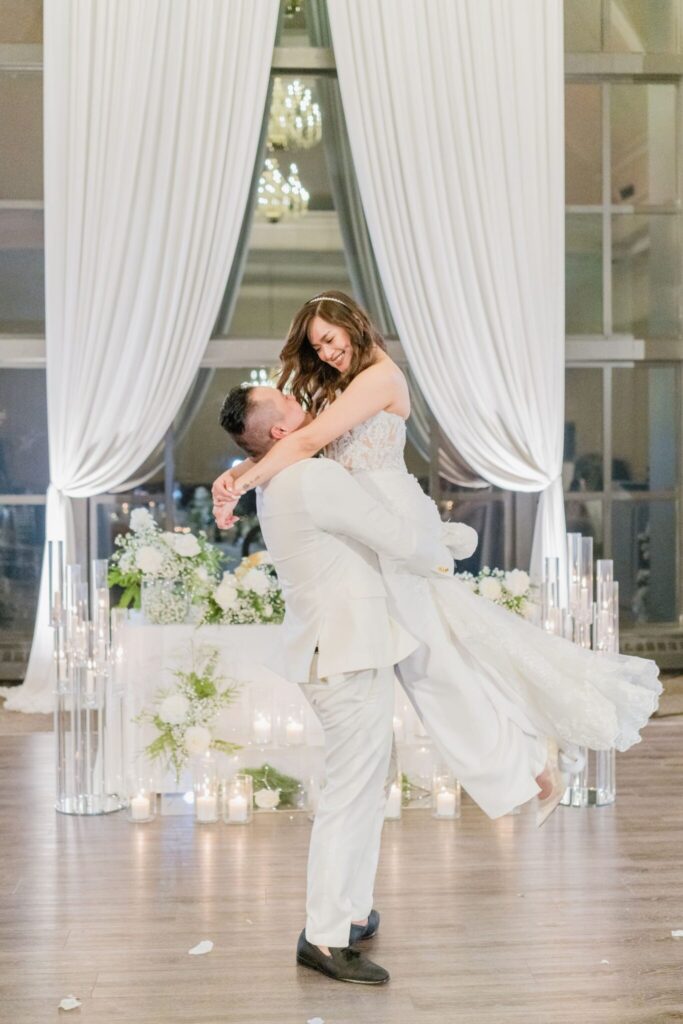 Opulent Swaneset Bay Resort & Country Club wedding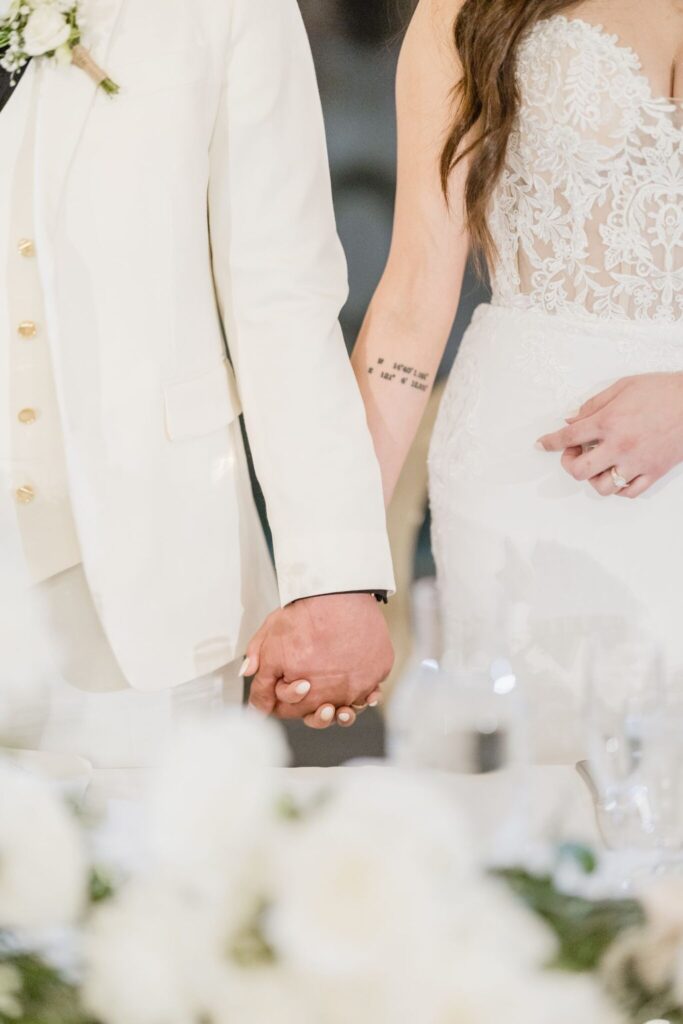 Wedding venue: Swaneset Bay Resort & Country Club
Wedding photographer: Chuunice Photography
2nd shooter (wedding photographer): Vivian Ng Photography
Wedding dress designer: Pronovias
Groom suit: IndoChino
Wedding planner: Live Love Laugh Events
Decor & florals: Fino Decor
Cake: Cakes n Sweet
Custom wedding rings: Gold & Rose Jewellery
Dress boutique: Dress Boutique
Officiant:  Pastor John Crawford
Wedding signs: Bryantt Arias
DJ: Dj Trizzak
Videography: Vancouver Wedding Studios