Nestled among the picturesque beauty of the Elora Gorge, Christie and Cole's wedding at Elora Mill Hotel & Spa in Elora, Ontario was a dreamy affair that captured the essence of classic elegance. The Riverside Chapel was the perfect venue for the couple's ceremony, with its exposed brick walls and modern arbour providing a striking contrast. The day was nothing short of magical, and every detail was thought out and crafted with precision and style.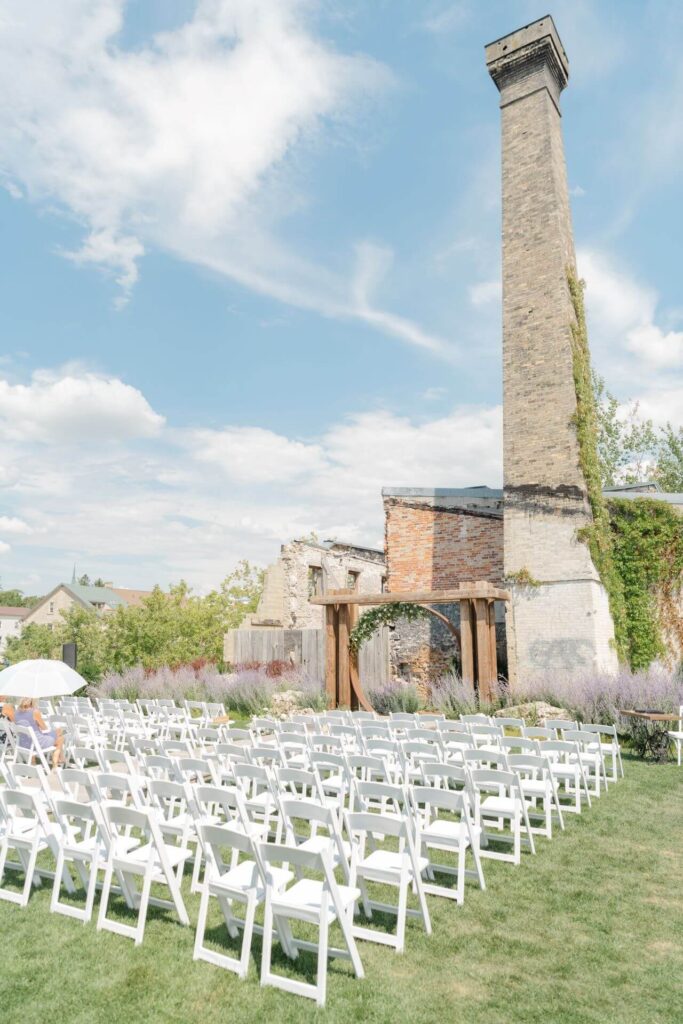 Wedding fashion
As the sun shone down on the altar, draped in greenery and ivory flowers, Christie walked down the aisle in a stunning A-line gown with a beaded lace top and demure straps, a vision of grace and beauty. Cole looked stylishly dapper in his black suit, crisp, white shirt, and a floral tie that complemented the flourishing background.
The ceremony and decor 
The ceremony took place outdoors at the Riverside Chapel, a majestic setting overlooking the Elora Gorge. Christie has always loved the gorge's rugged beauty, so when it came time to choose a venue for her wedding, she knew this was it!
As the celebration moved to the Granary Building, the guests were greeted with the rustic character of the former grain store, now modernized to meet all their wedding needs. The decor in the reception space was light, classic and luxurious, with a touch of old-world charm courtesy of the historical setting.
Laura Olsen Events made Christie's dream come true (and more) with the insanely romantic setup. Every reception detail lived harmoniously with each other; gold Chiavari chairs, greenery and pastel florals, dusty blue napkins, and twinkling blue taper candles created the most breathtaking setting for their celebration.
The Irvine Room provided the perfect space for cocktails and canapes, while the Grand Room, with its rooftop terrace, was where dinner and dancing took place. The floral arrangements by Laura Olsen and her team were breathtaking, effortlessly blending classic and contemporary elements to create an enchanting atmosphere. In addition, the reception tables were adorned with dusty blue candles that cast a soft glow, further enhancing the magical ambiance.
The personal touch
The personalized touches that Christie and Cole infused throughout their wedding made the day entirely unique and special. For example, Christie, who enjoys baking, made over 150 sugar cookies with each guest's name piped onto them as a thoughtful place card. And the giant crossword puzzle during the cocktail hour, created by the couple and their friends, was also a hit with guests who enjoyed trying to solve the clues.
Vendor Team:
Ceremony/reception venue: Elora Mill Hotel & Spa
Planner: Laura Olsen Events
Wedding photographer: Cloud Nine Photography
Flowers: Waxflower Floristry
Officiant: Our Wedding Officiant
Hair & Makeup: Amanda Zack
Videographer:  Eddie Cristobal Videography
Linens: Simply Beautiful Decor
Band & DJ:  Next Level Entertainment
Stationery:  Statue Rue
Transportation:  Brentwood Livery