While the gown lays the foundation for your wedding day look, it's the harmonious blend of finishing touches – impeccable hair and gorgeous makeup – that come together to create a masterpiece. Yet there's one element that can truly complete your bridal ensemble: your wedding jewellery. 
Wearing a beautiful pair of earrings or necklace can not only add sparkle and flair to your wedding day attire, it can also reflect your personality and enhance your natural beauty. But choosing the right jewellery can be a bit tricky, especially since wedding dresses come with all types of necklines. Pairing the right accessories with the right neckline is a must.
For today's guide, we're focusing on V-neck wedding gowns and how to perfectly accessorize them. Whether you want a simple, sophisticated look or one that's more extravagant, the right kind of jewellery can be just what you need to complete your wedding day look.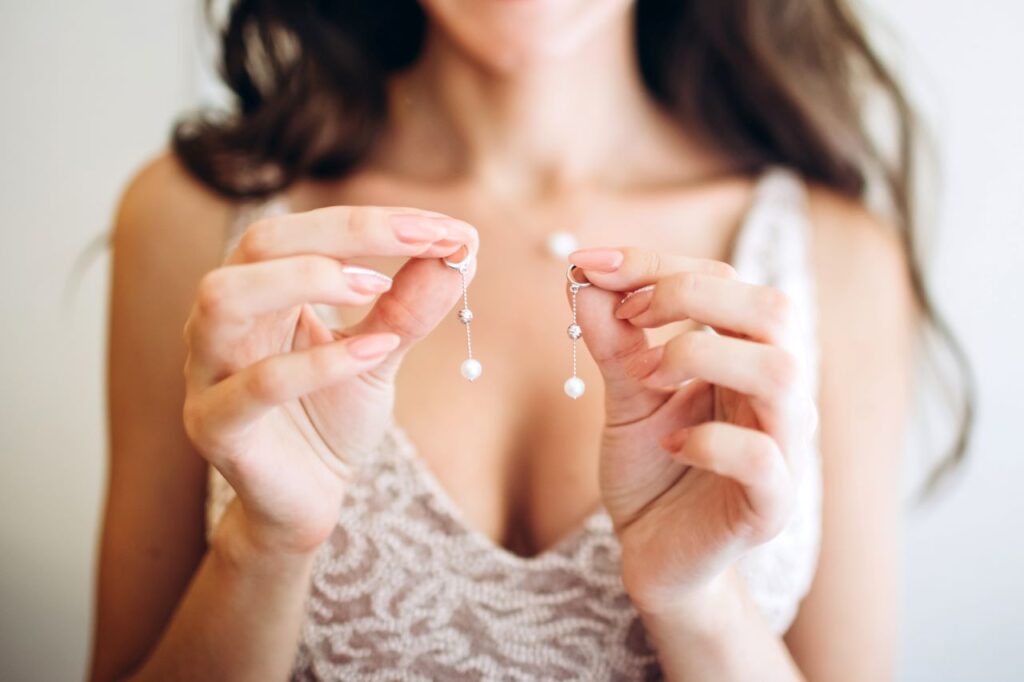 Earrings for V-neck wedding dresses
Earrings are a beautiful accessory for women in everyday life, but on your wedding day they can really elevate your look. From small and dainty options like studs to oversized and dramatic chandelier earrings, there is a look for every bride. 
When choosing the best earrings to complete your wedding day look, you should also consider the details of your gown and how you'll wear your hair. Styled up allows your earrings to shine, but wearing your hair down may end up obscuring them, which could just mean you need a bigger pair. 
Here's a rundown of various earring styles and how they pair with V-neck wedding dresses:
Studs:

Wearing stud earrings with a V-neck wedding dress is a classic choice that enhances your overall bridal style. From small diamonds to pearls, coloured jewels and semi-precious stones, these dainty yet impactful earrings bring an air of timeless elegance to your look, perfectly complementing your dress's neckline. And they're an accessory you can easily wear after the wedding too, which is always a bonus.

Drop

: Drop earrings are a perfect pairing for V-neck dresses as they naturally draw the eye to your deep neckline. These earrings come in various styles, ranging from glamorous to soft and understated. You can choose something classic in gold, platinum or silver with a single stone at the end, or a filigree pattern for a more vintage look, or more ornate drops with crystals for some added sparkle.

Hoops

: For the bride seeking a modern edge, consider the playful trend of hoop earrings to complement your V-neck wedding dress. From delicate metal to crystal-accented hoops, from small and dainty to large and oversized, the variety of styles allows you to create the perfect match for your wedding vibe. 

Chandeliers

:

For an eye-catching, dramatic, and glamorous touch that beautifully complements your V-neck wedding dress, consider chandelier earrings. The intricate design and graceful movement of chandelier earrings bring an enchanting focal point to your overall look. Whether you opt for a more dainty pair or larger ones with several tiers and sparkly stones, they'll make you feel like a million bucks on your big day.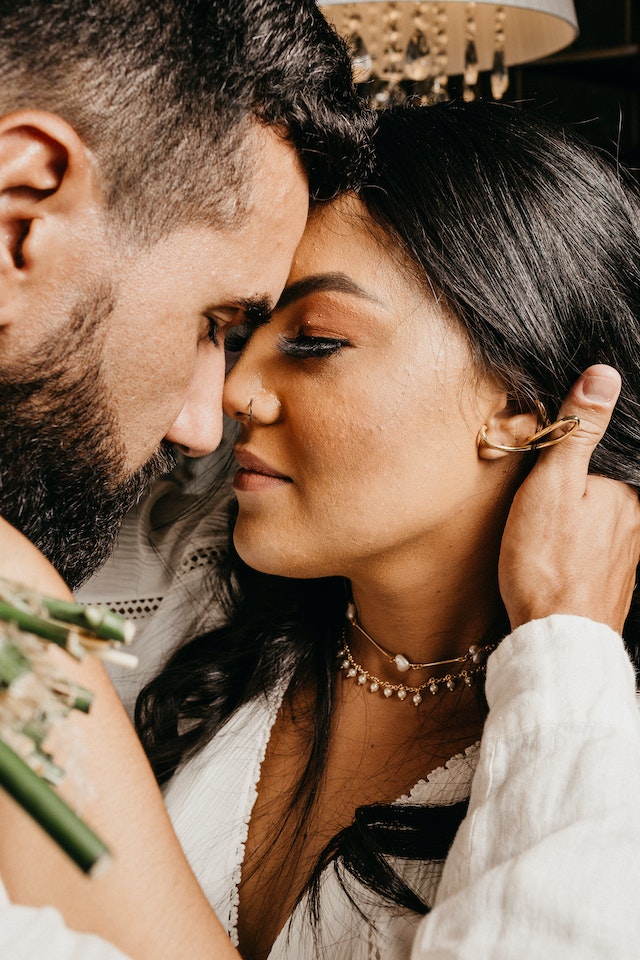 Necklaces for V-neck wedding dresses
When wearing a V-neck wedding dress, consider the neckline details on your gown when deciding if you'll need a necklace. If the bodice of your gown is heavily beaded, for example, you may want to skip wearing a necklace and instead go big with your earrings. But if it's a simple gown without a lot of embellishments, a necklace may be the perfect accessory. 
Here are some ideas for accessorizing V-neck wedding dresses with a necklace:
Drop Pendant:

A drop pendant necklace can be a beautiful choice because it follows a similar shape and silhouette as the neckline of your gown. Generally, they'll have a thin chain with a pendant suspended from the lowest point. This pendant can be small, medium or large in size, depending on the look you want, and come in a wide variety of stones, from diamond and pearl to crystals and coloured gems. When deciding which will work best with your V-neck wedding dress, consider the colour of the fabric and any beadwork on your gown.

Back Necklace:

V-neck wedding dresses can have a high back or the same V-neck style in the back. If your dress features the latter, consider wearing a back necklace for a sexy and romantic look. Back necklaces usually have a choker look in the front and a long necklace that goes down the center of your back. They come  in various styles with delicate chains and pendants, adding a touch of drama and sensuality.

Lariats

: Like a drop necklace, a lariat naturally draws the eye to the deep V of your neckline. But these 'Y' necklaces are typically much longer, which is why they go best with particularly plunging necklines. Sweet and dainty, lariats can also disappear below the neckline entirely, adding a modern and sexy touch to your look.

Chokers

: Chokers are making a comeback, and for good reason! They're fun to wear and, depending on the style, they can add a good dose of drama to your overall look. Plus, they go great with a V-neck dress; its high position on your neck perfectly balances the deep V of your neckline. You can choose a single-stranded diamond choker for a more classic look, or a heavier metallic piece for a bold, modern statement. Other good options include a velvet ribbon, a multi-stranded brocade choker with pearls, and a satin choker with a single fabric flower. However, since chokers are worn so close to your face, it's probably best to forego earrings to avoid an overly busy look.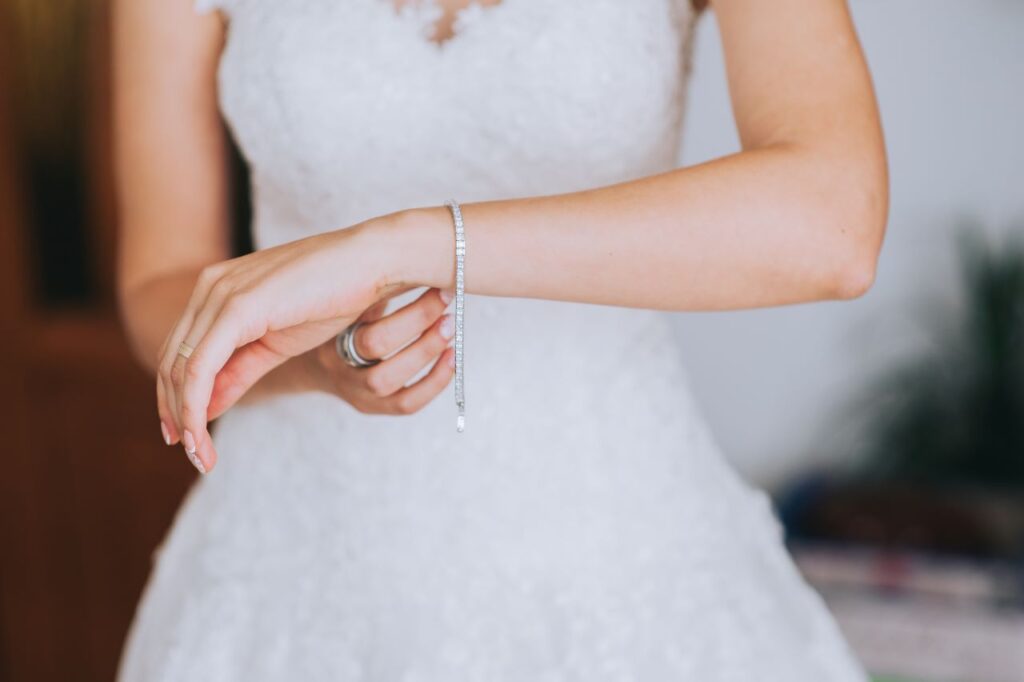 Do I need a bracelet?
A bracelet is a stunning accessory that can definitely help tie your overall look together. But the verdict's still out on whether you actually need one. 
If you decide to forgo a necklace, you may want to wear a bracelet. But if you hate things sliding around on your wrist, you may want to skip it altogether to avoid fidgeting on your wedding day.
If your dress has a lot of embellishments, a bracelet is probably unnecessary, while a simple gown may benefit from the sparkle and timeless beauty of a diamond or pearl bracelet. 
It's often that a bracelet will be a gift from your parents or fiance, or your "something borrowed," giving it great meaning and sentimental value. If one is gifted to you but does not go with your wedding look, you can wrap it around the stems of your bouquet, use it as a hair accessory by wrapping it around your ponytail or half-ponytail, or simply pin it to the underside of your dress.