Saying 'I do' in exotic locations sets the stage for a wedding adventure like no other, and one of the most exciting parts of planning an exotic wedding is deciding what to wear. 
While a classic wedding gown is the obvious choice for a traditional wedding, exotic locations call for something a little more adventure-ready. If you've opted to exchange vows on a remote tropical beach or rugged mountain top, you'll want an outfit that makes a statement, holds up to the weather, and easily transitions from ceremony to reception. 
This is your chance to be bold, get creative and have a bit of fun with your wedding look, one that reflects your beautiful surroundings and local culture. Whether your wedding takes place on a beach in Bali or a mountain lodge in Canada, we've got some gorgeous, breathable, and travel-friendly outfit ideas to help you dress for your dream wedding in an exotic location.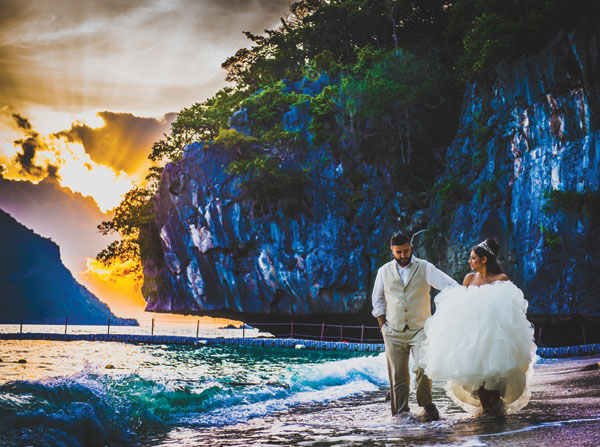 Breezy beach wedding in the tropics
For a beach wedding in an exotic location, you'll want an airy, lightweight dress that suits the casual island vibe. Think breezy fabrics like silk, chiffon, organza or lace, all of which will travel well and help keep you cool under the sun. 
A strapless or halter-style maxi dress is perfect for a beach ceremony. The flowing skirt will billow in the island breeze and your bare shoulders and back will keep the vibe fun and casual. But if you're looking to be more traditional, a lace wedding dress in a simple sheath style is also a great option.
For footwear, skip the heels and opt for bejewelled sandals, sequined flip-flops or even bare feet – your guests will follow suit! A flower crown with tropical blooms like hibiscus or birds of paradise will complete the island bride's look.
To help you transition from day to evening wear, consider a lace kimono, crocheted shawl, or a silk jacket. Add statement earrings, a gemstone necklace or a charm bracelet for some island glam. And no beach look would be complete without a beachy-wave hairstyle and a fresh orchid or frangipani bloom tucked behind your ear.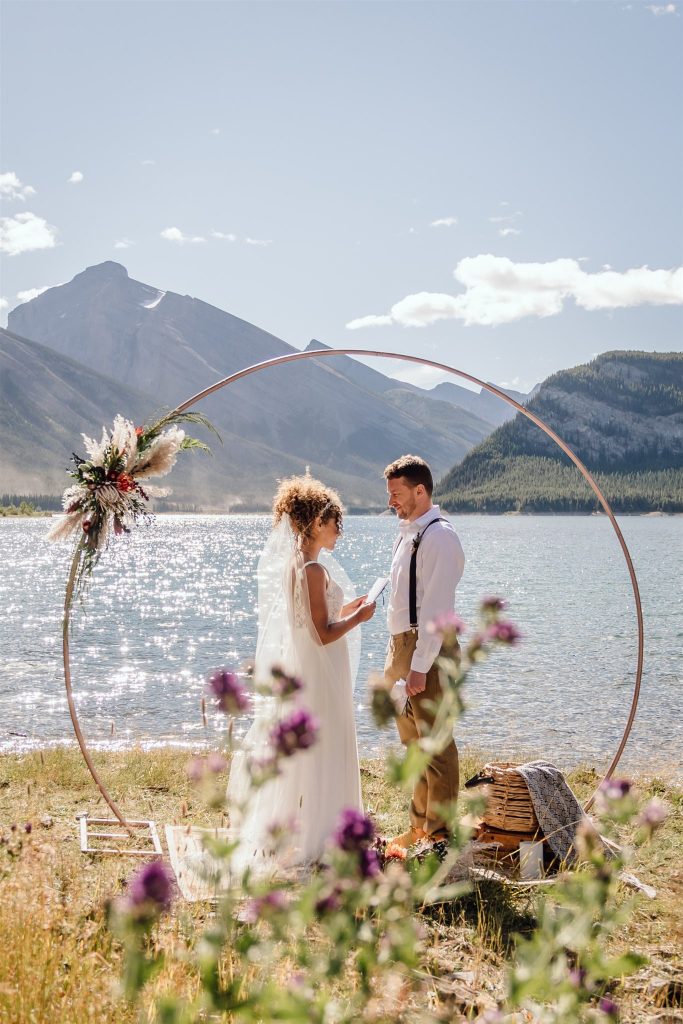 Mountain wedding chic
For a mountain wedding, think cozy chic with a touch of glam. After all, you want to stay warm without compromising your bridal style!
In this exotic location, focus on luxe fabrics like satin, lace, crepe or mikado silk – they'll keep you insulated while still looking elegant. A faux fur, shearling wrap, cape, or jacket is perfect for a mountain ceremony. Pair it with a lace or embroidered gown for a romantic look.
And although killer heels would make any bride look fabulous, you may want to swap them out for some practical footwear like leather or suede booties, wedge heels, or flat snow boots with fur trim that will keep your toes toasty. You can always change into fancier heels for the reception.
Complement your bridal look for your mountain wedding in an exotic location with nature-inspired accessories like a delicate flower crown or a hairpiece adorned with crystals and pearls, adding an ethereal touch that harmonizes with the surrounding wilderness. A cozy and stylish shawl or cape made from luxurious fabrics like cashmere or faux fur will also keep you warm while posing for outdoor photographs. 
For makeup, go with a natural, rosy-cheeked look using creamy blushes and lip stains. Cat eye eyeliner and volumizing mascara make a statement despite the chill.
Finish off your bridal look for these wild and exotic locations with flowers – and lots of them! Consider red blooms, pine cones, berries and greenery for a wintery woodland vibe and a stunning bouquet with deep red roses, burgundy dahlias, and eucalyptus.