Set the stage for an incredible and unforgettable wedding experience by elevating one significant detail – your dance floor. We're talking about the epicentre of the party, where all the action goes down – the bridal party introductions, your first dance, bouquet toss and some pretty epic dance moves! 
Wedding dance floors used to be something no one ever thought about, but that has changed. Nowadays, couples are ensuring that no detail of their wedding gets overlooked, and that includes the dance floor. From personalized decals to overhead floral installations and mesmerizing lighting, you can create a dance floor that perfectly aligns with your wedding theme and decor. 
Here are some of our favourite ways to elevate your wedding dance floor for an epic good time. 
Checkered black and white dance floor
Make a big statement with a checkered black and white dance floor. This iconic idea has been popular for centuries and creates a huge visual impact and an excellent backdrop for pictures. It's a sophisticated way to add style to your floor and works well for all types of weddings.
So, whether you're planning a black tie affair or a backyard soiree, a checkered black and white wedding dance floor is a great option.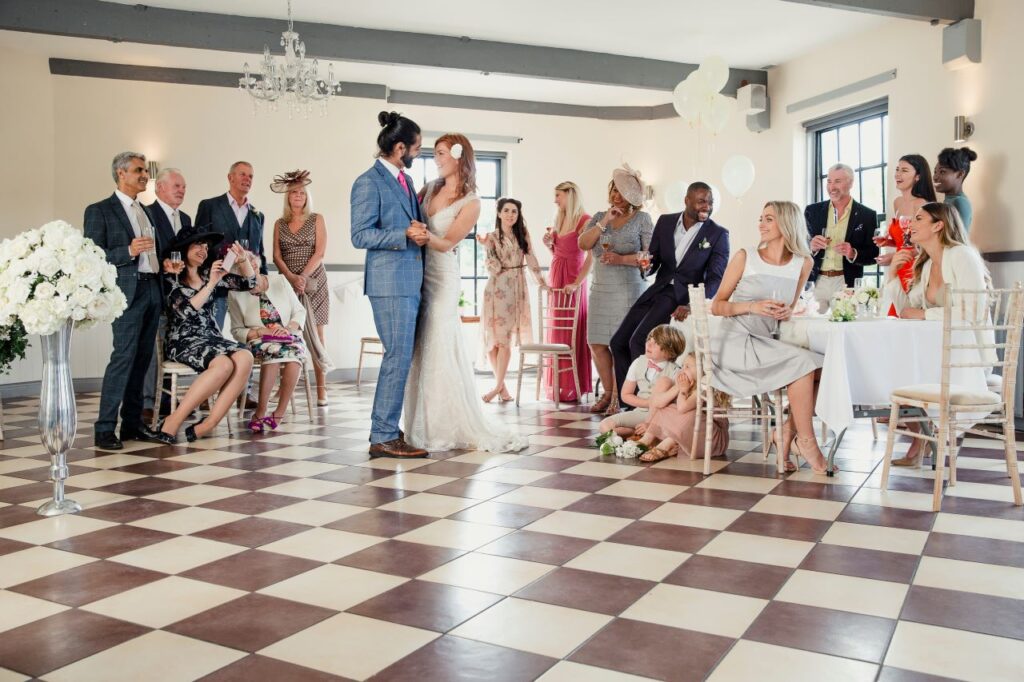 Floral installations
One of our favourite ways to elevate your wedding dance floor is to suspend large floral installations overhead. It's a beautiful and unexpected design element that will wow your wedding guests. And just imagine the incredible photos this dance floor will create, not to mention the decadent fragrance it will emit while dancing the night away!
Vinyl decal dance floors
Vinyl decals are an easy way to add a special touch to your dance floor. They are easy to apply and remove, altering your dance floor to match your wedding's theme. Whether you choose a love quotation with a specific meaning, floral graphics, or a gorgeous monogram displaying your initials, vinyl decals on your wedding dance floor add an unexpected and romantic touch.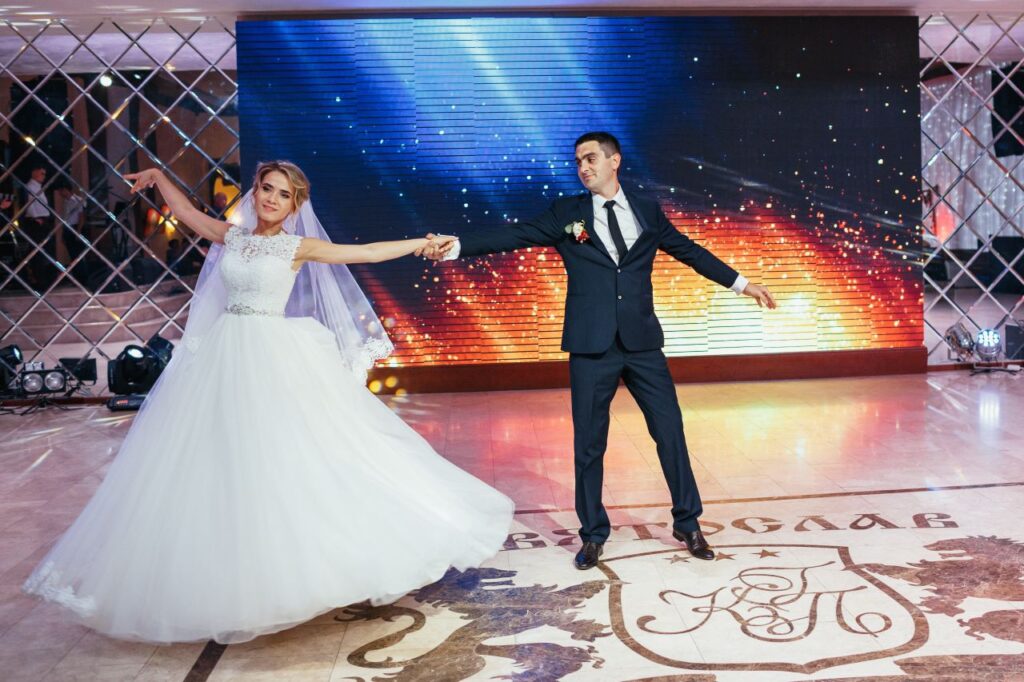 Mirrored dance floor
Consider a mirrored dance floor for some added glamour to your wedding night. The reflective surface adds a sense of grandeur to your venue, making it appear larger and more luxurious. The mirrored dance floor also creates stunning photo opportunities, capturing the beauty and joy of your guests as they dance the night away. This unique dance floor idea will surely leave a lasting impression on everyone.
Floating dance floor
Looking for some dramatic flair? A floating dance floor may be just the thing. It's a clear acrylic floor placed over water, transforming it into a unique space where you and your guests appear to be dancing on water. This is perfect for wedding venues with a pool or water feature, which would otherwise be unusable space.
LED dance floors
An LED dance floor that changes colour in time with the music will liven up the celebration. Different patterns, colours, and personalized messages can be displayed on these interactive dance floors, which will amaze and entertain your guests. 
The lighting effects can be altered to complement your wedding's colour scheme or to harmonize with the music. An LED dance floor enhances the ambiance and entices your wedding guests to get up and dance.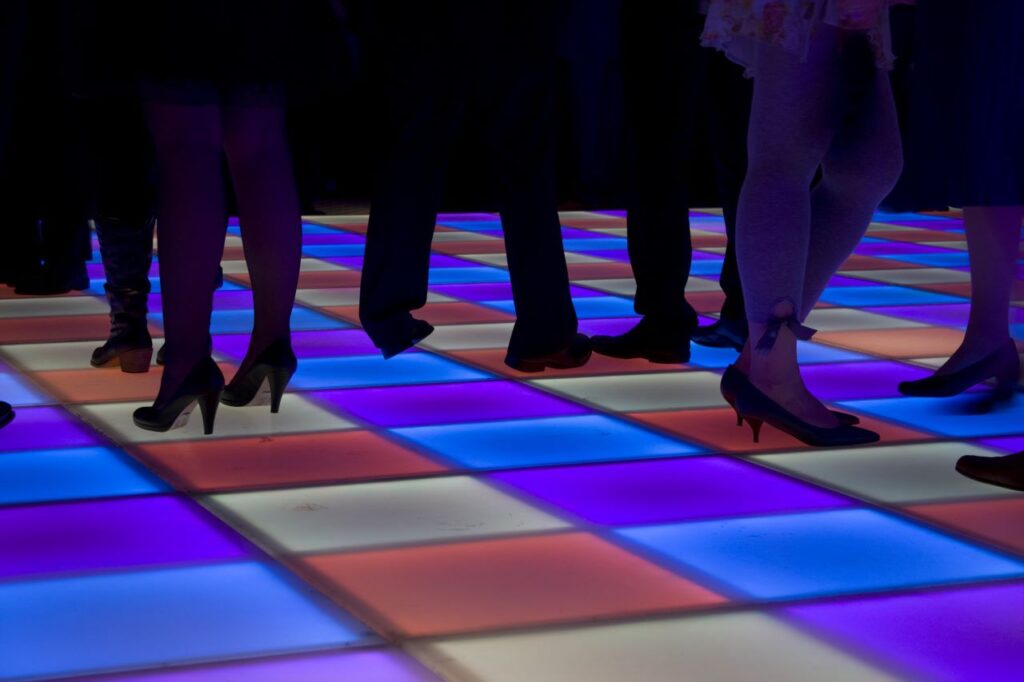 Suspended from above
When you're thinking of how you'll get your guests on the dance floor, it's not only about the floor you're standing on. Creating a visually appealing and exciting wedding dance floor can include suspending cool and unexpected elements from above. 
Use the ceiling above your dance floor to suspend balloon installations, drapery, chandeliers, disco balls or other design elements that fit your theme. It's a beautiful way to draw your guest's attention to the dance floor and hopefully get them out there to bust a few moves.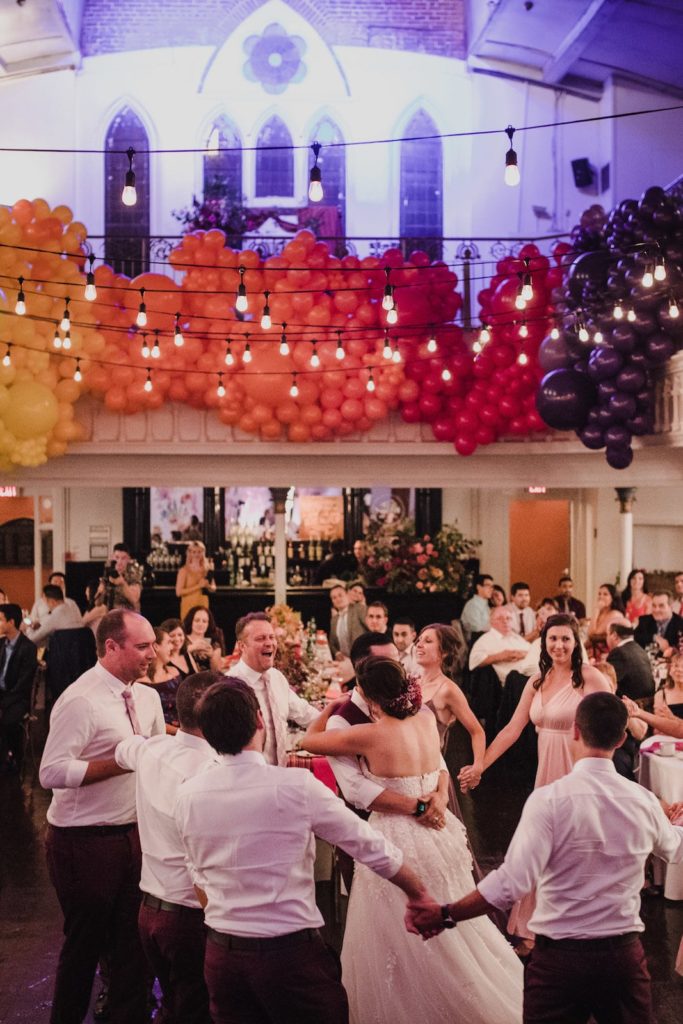 Lighting
One of the most crucial elements of any wedding reception is lighting, and nowhere is this more apparent than on the dance floor. You'll want to have the right balance of darkness and light to entice guests to get up and dance without making them feel self-conscious. But you don't have to settle for only the ready-made venue lights to achieve this. 
Feel free to dress up your dancefloor with additional lighting for added ambiance and romance. Fairy lights can be suspended from the ceiling, while  illuminated signage, hanging lanterns, a canopy of lights, and chandeliers all create a beautiful visual display above your dance floor.