We live and breathe weddings and love to share inspiration with couples who are dreaming of the perfect day. So when a particularly beautiful photo European-styled shoot comes along and lands in our inbox, our first instinct is to share it with all of you! 
Featured in our recent Fall/Winter issue of Today's Bride, available on newsstands now, the following shoot was meticulously planned and designed by Nicoletta from Fino Events, who drew inspiration from her own European heritage. Taking place at Century Weddings & Events in Ottawa, the shoot seamlessly blends opulence with European flair, creating a visual masterpiece that sets a new standard for romantic weddings. If you're looking for inspiration for your own dream wedding, you'll find plenty here.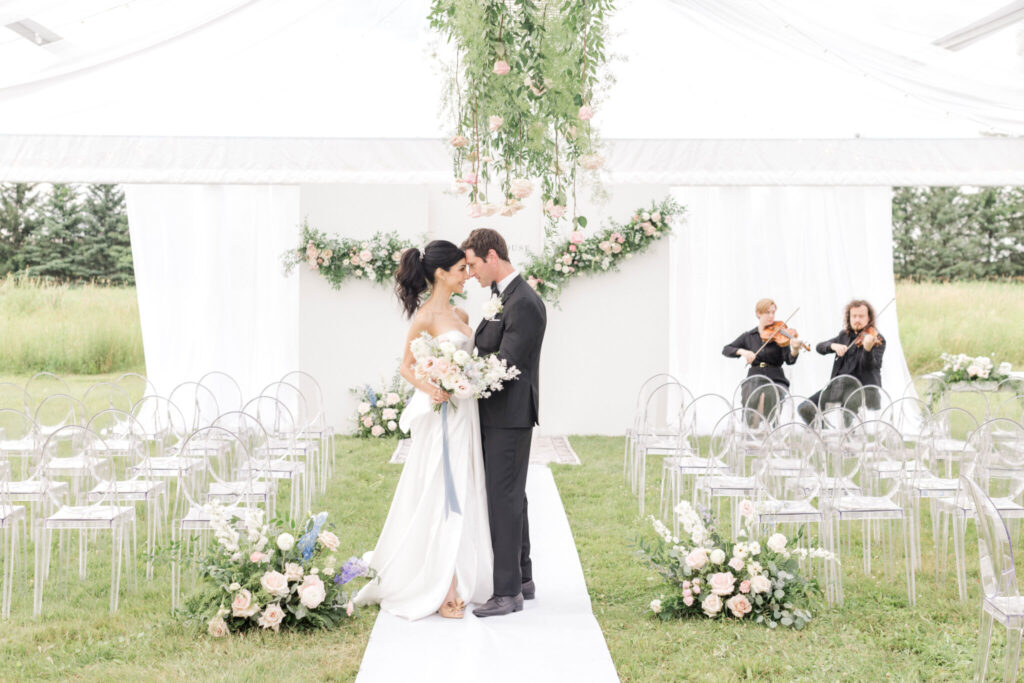 Unveiling European elegance: The venue
Picture this: a sun-kissed cobblestone setting at Century Weddings & Events adorned with a majestic natural ambiance, the perfect backdrop for a wedding-styled shoot for the ages.
The Glass House Mobile Venues added an enchanting touch with their dreamy tent pavilion. The transparent top let the sun in, casting a gentle glow and creating an ultra-romantic atmosphere. Stephanie Mason Photography and Up North Wedding Films captured every intricate detail, allowing us to dive into this editorial love story through their lens.
The setting for "I do"
The ceremony setting was a true embodiment of natural elegance. Set within The Glass House tent, the scene was one of serene white hues, contrasted by modern ghost chairs and the lush green grass underfoot. The altar, adorned with an explosion of florals that incorporated greenery and soft shades of pink and ivory flowers by The Gathering Event Co., radiated romance. 
Yet, the real showstopper was up above: a whimsical floral installation that gracefully floated above the aisle. This delightful touch captured guests' attention and set the stage for an elegantly romantic affair.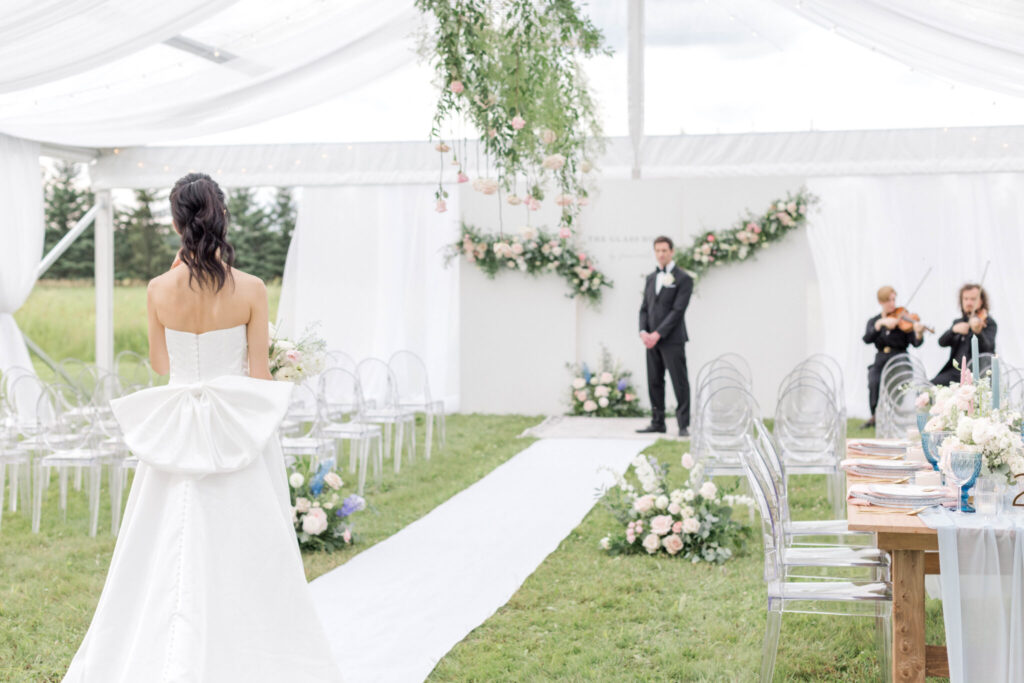 The guest experience: Where luxury meets service
As guests entered the scene, they were immediately greeted with an unforgettable experience tailored to their senses. A refurbished 1982 Italian Piaggio Ape car took centre stage as a fully transformed champagne truck by Champagne & Co. Here, guests were able to indulge in unconventional lavender lemonade and refreshing mocktails that blended lavender buds, sweet syrup, and tonic water.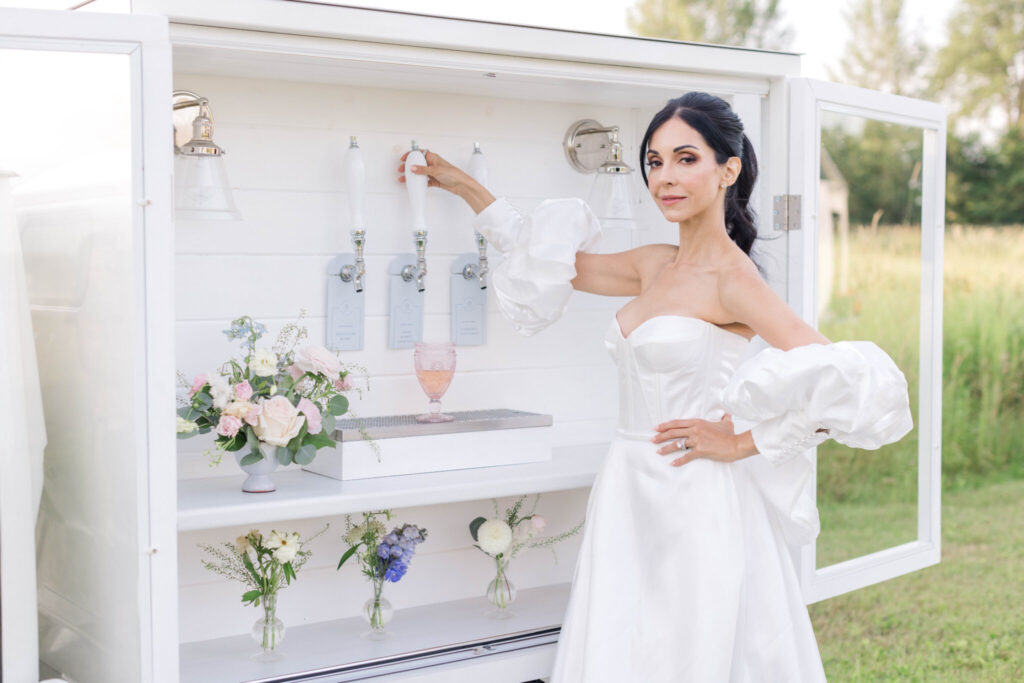 The cocktail hour continued in a Victorian-inspired wood and velvet lounge area by Group ABP. Romantic and whimsical furniture pieces adorned the space, including a linen baron loveseat and a beige Bahama carpet. Ikebana-inspired floral arrangements and coordinating pillows helped weave a vivacious tapestry throughout, while Phosphor String Duo took the entertainment up a notch with their unique classical repertoire and electric violin performance.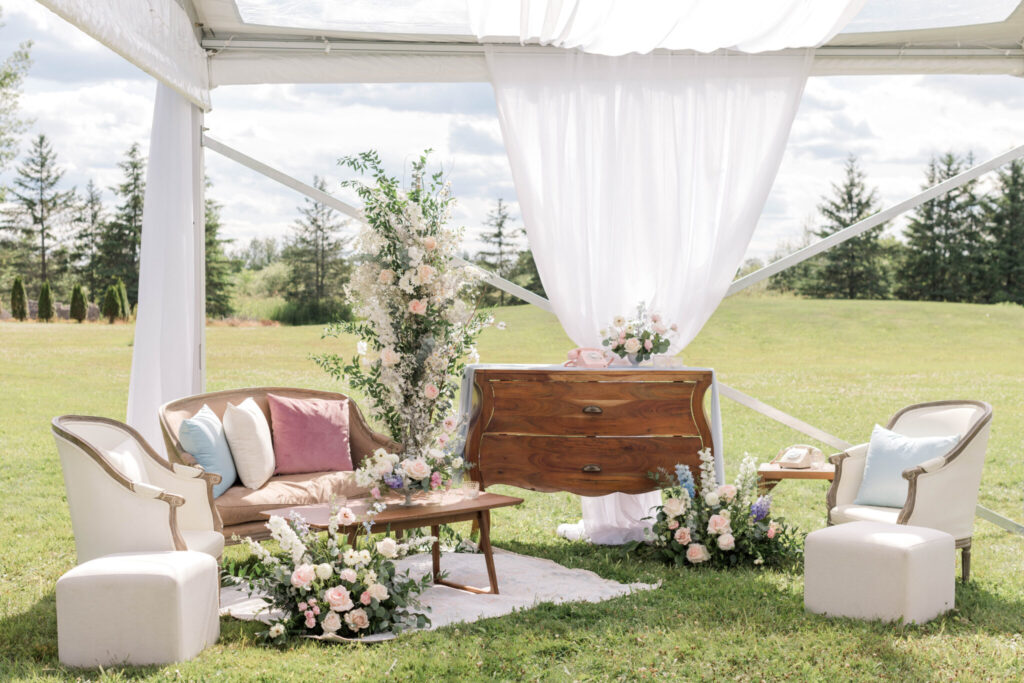 Unique elements make weddings memorable, and they were everywhere at this event. Take, for example, the Gushline Audio Guestbook. Rather than the typical "book" guests simply sign, guests shared well wishes and memories through a vintage phone, leaving heartfelt messages for the newlyweds in their own voice. How incredible is that?
And every grand celebration deserves to be remembered for years to come? MDRN Photobooth's studio-quality photo booth ensured just that, turning memories into tangible keepsakes in a fun and interactive way.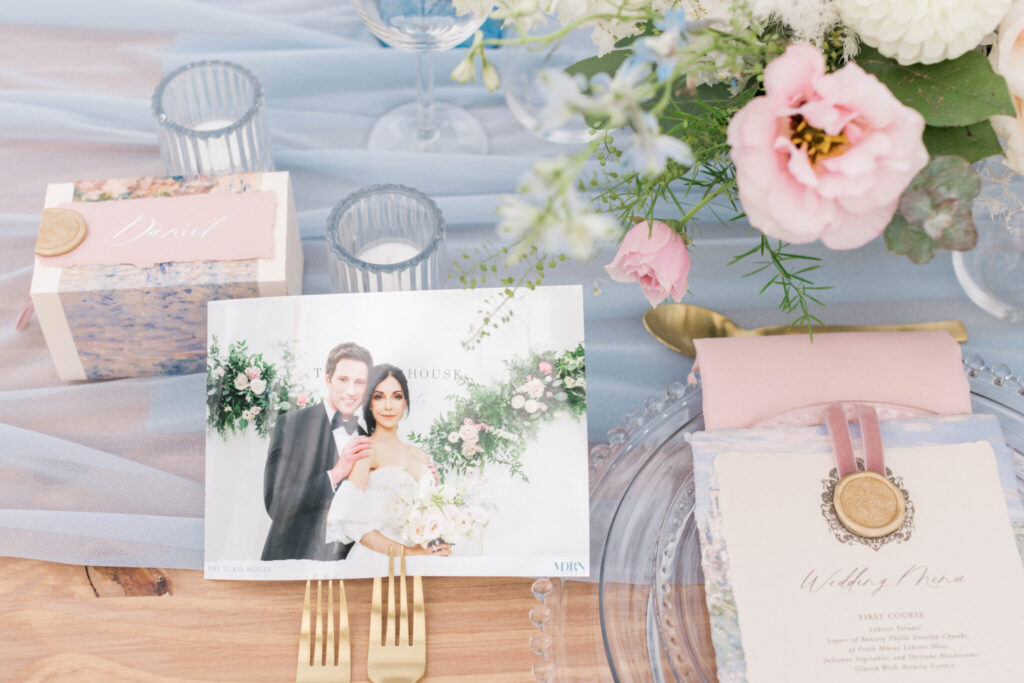 A feast for the senses: Dining and dessert
Transitioning into the dining room, the dining experience was elevated by contemporary tableware by Glass House Mobile Venues, blush-coloured candles, and intricacies by The Gathering Event Co. Handcrafted stationery by Letterland Studio were embossed and sealed with edgeless wax. 
The dessert table, a centrepiece of tantalizing beauty, showcased a four-tier masterpiece by Jules Cakes. Cascading florals and delicate wafer paper sails adorned the cake, captivating both eyes and taste buds. The accompanying handcrafted desserts by Tunies Sweet Shop transformed the table into a confectionery haven, complete with treats like Belgian chocolates with almonds and dried rose petals, white chocolate mousse petit fours, and a medley of other delectable delights.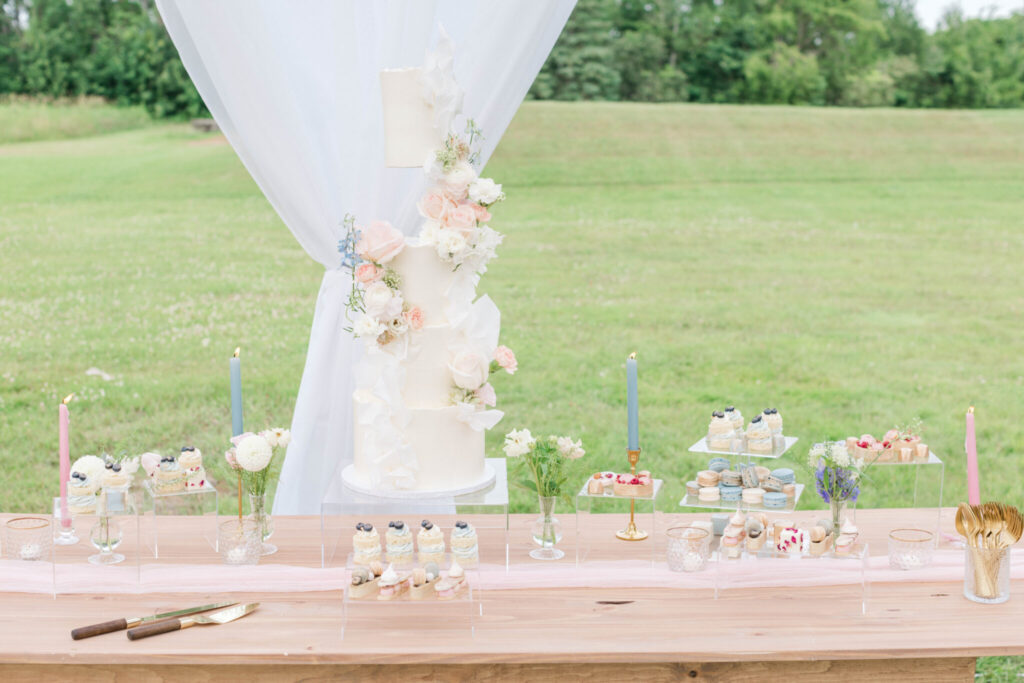 Elegance in every detail: The bride and groom
The bride looked radiant in an exquisite Nerelle gown from Hera Couture, available at Revelle Bridal in Ottawa. The strapless gown boasted a luxurious Narelle bow, voluminous sleeves, and an elegant high split. Versatile and romantic, the dress allowed the bride to transition from day to night with sleeves that could easily be removed. A Dionne Vine headpiece flawlessly completed the look.
A finale of romance: The golden hour
The couple's vows were sealed with a champagne tower, a celebratory prelude to 'golden hour,' a time immediately following the ceremony to take photos. As the sun painted the sky with hues of gold, the couple wandered through fields, immortalizing their love through the lens of Stephanie Mason Photography. It was a breathtaking conclusion to a luxurious and unforgettable affair, a symphony of vintage elegance and timeless romance.
During this photo shoot, Fino Events demonstrated its prowess in crafting an experience that marries luxury and European inspiration. From the enchanting venue to all the sumptuous details, every element spoke to the artistry of design. Not just a photo shoot, this editorial is an invitation to dream, to envision a wedding that marries grandeur and intimacy, and to embark on a journey where luxury knows no bounds.
Vendor team
Planning & Design Fino Events @FinoEvents 
Tent Glass House Mobile Venues @Glasshouseevents.ca 
Venue Century Wedding & Events @Century_Events 
Photographer Stephanie Mason & Co @StephanieMasonAndCo 
Videographer Up North Wedding Films @UpNorthWeddingFilms 
Florals + Décor The Gathering Event Co. @TheGatheringEventCo 
Furniture Group APB @GroupeABP 
Champagne Truck Champagne & Co @ChampagneAndCo.Ca 
Photobooth MDRN Photobooth @MDRNPhotoboothco 
Audio Guest Book Gushline Audio Guestbook @GushlinePhone 
Stationery Letterland Studio @LetterlandStudio 
Signage Glossy Signage @GlossySignage 
Musicians Phosphor String Duo @PhosphorStringDuo 
Dessert Tunies Sweet Shop @TuniesSweetShop 
Cake Jules Cakes @Julescakess 
Dress Revelle Bridal @RevelleBridal 
Hair Pärla Hair @Parla.Hair 
Make-up Stephanie Bullock Make-up @StephBullockMakeup 
Jewelry Stor by Margot @StorbyMargot
Suit Mario Uomo Inc @MarioUomoInc 
Models Angies Models @AngiesModels