It's time to grab that microphone, loosen up those nerves, and prepare to deliver a groom's wedding speech that rocks. But with all eyes on you and everyone hanging onto your every word, the pressure's on to write a speech that's not only heartfelt but also charming, personable, relatable and funny. 
So where to begin? We've compiled a list of handy tips that will help you deliver a groom's wedding speech that hits all the high notes and makes your special day even more unforgettable.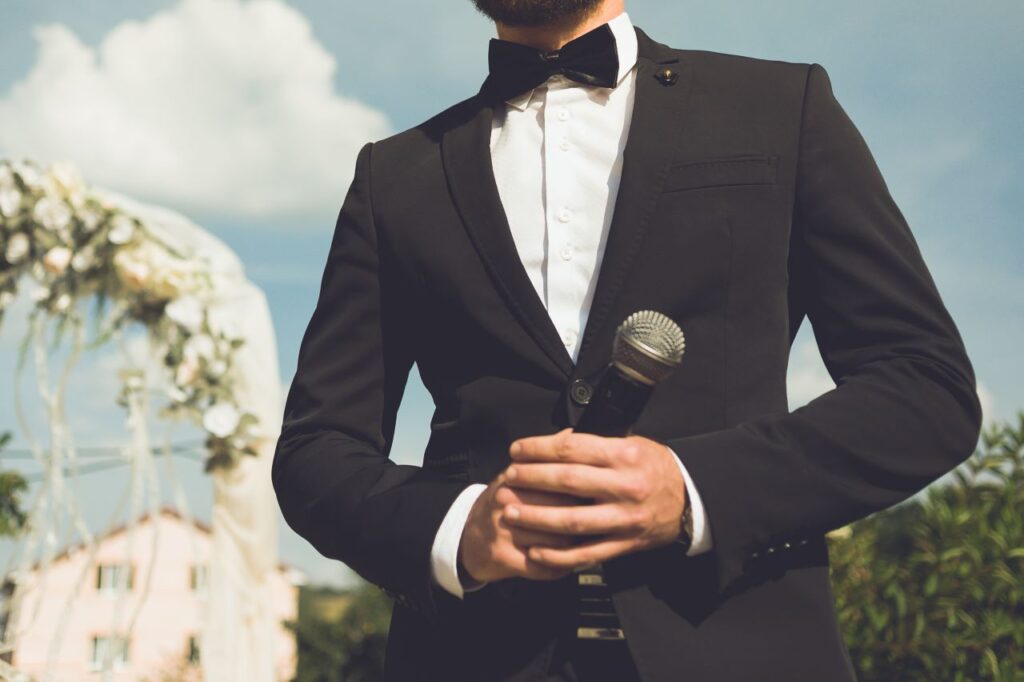 What to include in the groom's speech at a wedding
Nerves will likely play a part in how you deliver your groom's speech, but with proper preparation and practice, you should be able to knock it out of the park. Here are some essential points to include in a groom's speech at a wedding:
Set the stage: Start by introducing yourself and expressing your appreciation for all those in attendance. Tell your guests how their presence has made the day even more special for you and your partner, which will set a warm tone for the rest of your speech.

Love and appreciation: Take a moment to express your love and admiration for your new spouse. Tell her how stunning they look, and share a few qualities that stole your heart. This can be something heartfelt like their generosity, kindness and beauty, or something more lighthearted like their aversion to cooking or their die-hard loyalty to their favourite show.

Journey together: This is one of the best parts of a groom's wedding speech – taking a trip down memory lane and sharing anecdotes that reflect your journey as a couple. Highlight the milestones, adventures, and challenges you have faced together. This helps the audience relate to your relationship and understand the depth of your connection.

Thank the parents: During your groom's wedding speech, it's essential to take a moment to give a shout-out to both sets of parents. They've played a vital role in shaping you and your partner into the incredible individuals you are today, so it's important to recognize their support. Tell them how much you appreciate them and the many lessons they've taught you over the years.
Thank the bridal party: After you thank your parents, extend a heartfelt thank you to the bridal party, including the best man, bridesmaids, and any others who have played a significant role in the wedding preparations. Make note of any specific contributions they've made on your wedding journey, including the bachelorette/bachelor parties, wedding shower, decorations, food, etc.
Toast: To end on a high note, it's always a good idea to include a toast. Raise a glass to your partner, celebrating your love, the journey you have embarked on, and your exciting future. Encourage everyone to join in the toast to celebrate your love.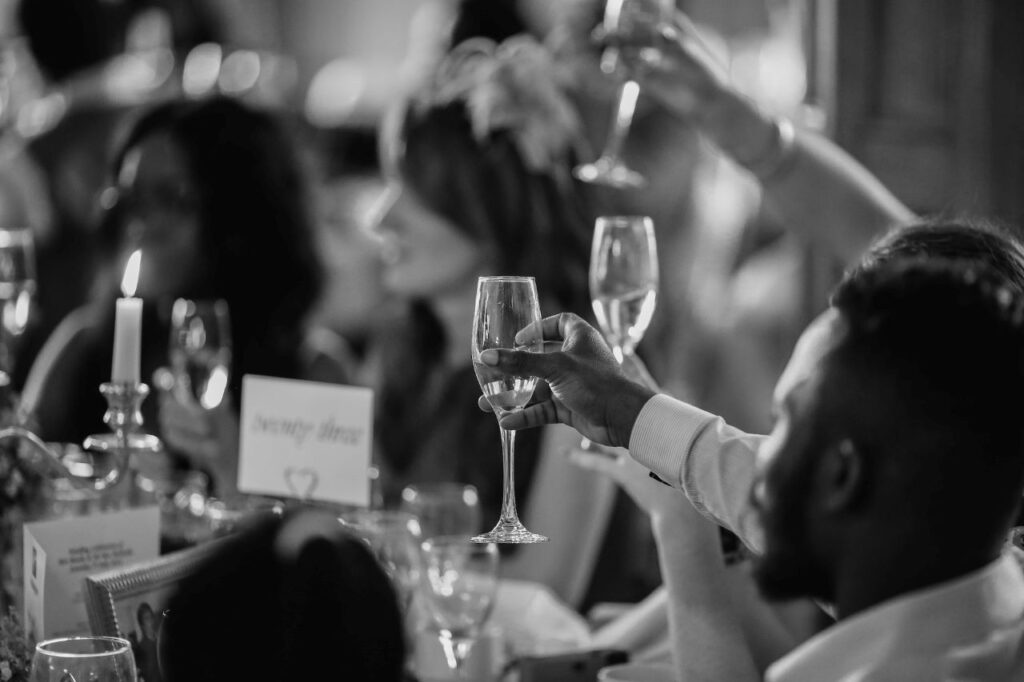 How long should the groom's speech be?
Ideally, a groom's speech should be concise, to the point and entertaining, lasting around 5 to 10 minutes. It's essential to strike a balance between expressing your heartfelt sentiments and keeping your guests engaged without exceeding a length that could cause restlessness or boredom. Quality over quantity is key when delivering a memorable groom's speech.
Writing tips for a groom's speech at a wedding
Since the groom's wedding speech is a major highlight of the night, you'll want to deliver something that's memorable. To make that happen, these helpful tips will come in handy:
Have a strong start: To start on the right foot, begin by capturing the audience's attention with a captivating opening line or a sincere expression of gratitude. Follow it up with a warm introduction that establishes a personal connection and sets the tone for a genuine and engaging speech.
Speak from the heart: While weddings are generally considered formal events, the tone of your groom's wedding speech shouldn't be. You might be hosting an elegant celebration but your guests are your friends and family, so they will expect you to act your usual, genuine self. So speak from the heart and be relaxed.
Include humour: A little humour will make you more relaxed and amuse your guests. But it's all about balance when it comes to comedy. Don't overload your speech with sarcasm, off-the-wall anecdotes or one-liners. Infuse a joke or two at the right times to lighten the mood and ease your nerves.
Be concise: Even if you have a lot of things to say, keep your groom's wedding speech short. Focus on the essential points you wish to communicate and be mindful of the attention span of your audience. Doing this ensures that your message remains impactful and memorable without overwhelming your guests.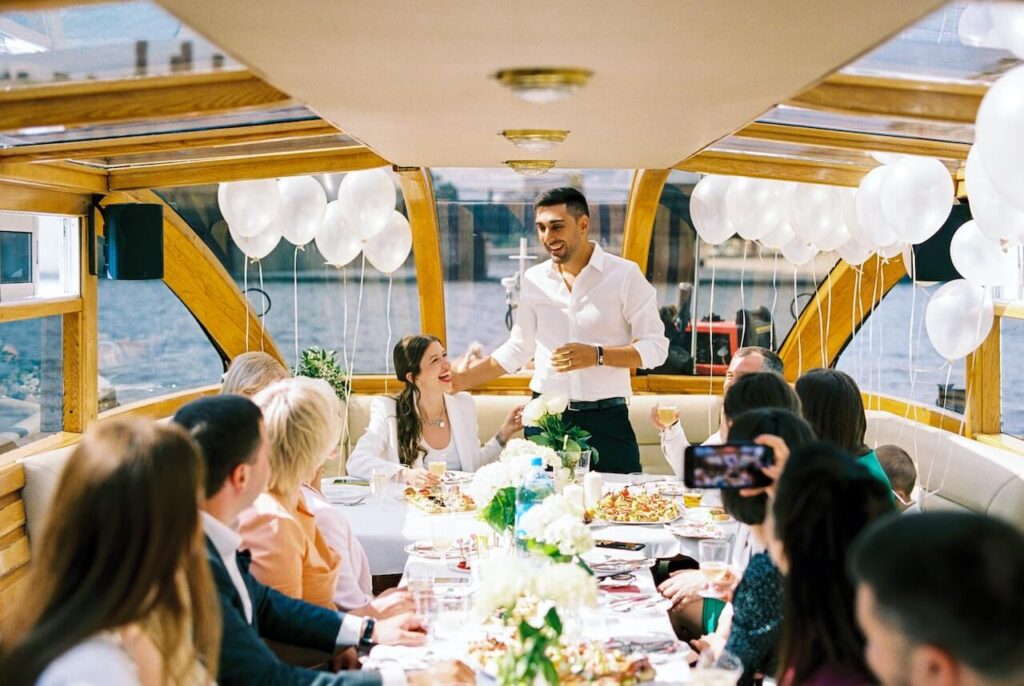 How to nail your groom speech
To deliver a memorable groom's speech, proper preparation is essential. And by that, we don't mean scrambling to put it together the night before! It's best to start a few weeks before the big day, jotting down the key points and ideas you want to express. Then put your wordsmith hat on and craft a speech that flows seamlessly, weaving together all the important elements and heartfelt sentiments throughout. 
If you find yourself struggling or feeling overwhelmed by the task at hand, don't hesitate to ask for help. Consider hiring a professional speechwriter or get input from friends and family who know you and your partner best. They can give you a new perspective, provide an honest critique, and recall memories and details that you never thought of.