Take the Trojan Turn Off and Get Turned On Challenge and Win!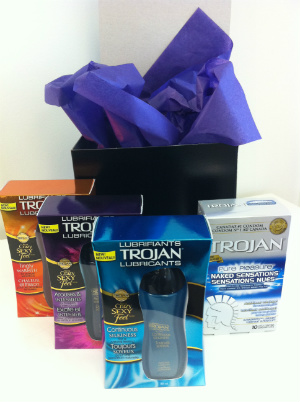 We know that the months spent planning a wedding can be tough. Between running to the florist, negotiating with costs with your reception facility and arguing with your fiance about the menu, exhausted from the stress of planning it can be hard to feel sexy, let alone to find the time to be intimate with your partner. To help you and your partner reconnect, we've teamed up with Trojan on their Turn Off and Get Turned On campaign.
Being sexually healthy contributes to an overall healthy lifestyle. According to sexual health expert Dr. Robin Milhausen, introducing new elements to your intimacy routine is a great way to keep your relationship fresh. For example, introducing lubricants is an exciting way to add something new to your relationship and studies have shows that lubricants are associated with higher ratings of sexual pleasure and satisfaction during solo and partnered sexual events.
This Wednesday, May 29, Trojan wants you to Turn off and Get Turned on. Put the kids to bed early and from 7 p.m. to 12 a.m. turn off all of your devices, turn down the lights and get turned ON!
To help set the mood, your giveaway bundle includes:
Trojan Continuous Silkiness Lubricant
Trojan Arouses and Intensifies Lubricant
Trojan Tingly Warmth Lubricant
Trojan Pure Pleasure Naked Sensations Condoms
For more information on Trojan products visit trojan.ca or join the conversation on May 29, 2013 on Twitter. Be sure to include #TrojanTurnOffTurnOn with your post!
Total value: $70
Contest closes: June 30, 2013.